International Journal of Liability and Scientific Enquiry
This journal also publishes Open Access articles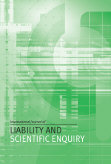 Editor in Chief

Dr. M.A. Dorgham

ISSN online

1741-6434

ISSN print

1741-6426
4 issues per year

IJLSE proposes and fosters discussion on the application of scientific knowledge to litigation, adjudication, legislation and public policy, with emphasis on the implications that informed interpretation of science exert on policy choices. IJLSE serves as a vehicle for exploring systematic approaches to scientific evidence in specific disputes. The journal is particularly interested in issues involving medicine, ecological analysis and risk assessment, and "critical appraisal" (as applied in health care sciences) to assist courts, administrative agencies, and policymakers.
Topics covered include
Rules of evidence and admissibility of scientific evidence in law and litigation
Comparative tort law, e.g. strict liability vs. negligence, product liability standards
Application of specific sciences in litigation (e.g. epidemiology)
Risk assessment and public policy
Legislation and how evidence shapes the law-making process
Environmental law and policy
Ethics and standards in litigation support
Expert witness norms and standards
Administrative proceedings
Scientific issues in international trade and trade policy
Damages calculations
Digital evidence
More on this journal...
Objectives
The objectives of IJLSE are to establish an effective channel of communication between policy makers, the legal community, the expert community, risk and liability managers, government agencies, academic and research institutions and persons concerned with the resolution of complex disputes that are informed by science. It also aims to promote and coordinate developments to encourage the growth of a defined intellectual discipline of evidence-based dispute resolution. The international dimension is emphasised in order to overcome cultural and national barriers and to meet the needs of accelerating technological and ecological change, changes in the global economy, cultural differences in values and toward the application of public knowledge, and comparative law.
Readership
IJLSE addresses itself primarily to a readership expected to include professionals (especially in law, engineering, medicine, and public health), academics, researchers and policy makers, working in the field of law, healthcare, legislation, international trade, technology management, engineering and business education, in order to disseminate information and to learn from each other's work.
Contents
A. IJLSE publishes original papers, review papers, technical reports, case studies, conference reports, management reports, book reviews, notes, commentaries, and news. Special Issues are devoted to important topics in liability and scientific enquiry.
B. IJLSE's editorial board will review contributions based on methodology, presentation, and fit with the purposes and goals of the journal, including the impact on evidentiary, legal, or policymaking approaches. The editors will not undertake any independent review of the scientific validity of assertions in submissions, but submissions should contain sufficient references to peer-reviewed sources to demonstrate the support within the scientific community, or the lack thereof.
Editor in Chief
Dorgham, M.A., International Centre for Technology and Management, UK
(supportinderscience.com)
Editorial Board Members
Adrian, Angela, Southern Cross University, Australia
Bakker, Anuschka, IBFD, Netherlands
Brakensiek, Carlyle, California Society of Industrial Medicine and Surgery, USA
Garon, Jon, Hamline University, USA
Goldsmith, David F., The George Washington University, USA
Guidotti, Tee L., Medical Advisory Services, USA
Gupta, Manish, M&T Bank Corporation, USA
Kierkegaard, Sylvia Mercado, International Association of IT Lawyers, Denmark
Reid, Alan, Napier University, UK
Reynolds, Larry A., Department of Justice Canada, Canada
Saltzburg, Stephen, George Washington University Law School, USA
Siig, Kristina, University of Southern Denmark, Denmark
Smallman, David, Pathfinder Team Consulting, UK
Wolski, Bobette, Bond University, Australia
A few essentials for publishing in this journal
Submitted articles should not have been previously published or be currently under consideration for publication elsewhere.
Conference papers may only be submitted if the paper has been completely re-written (more details available here) and the author has cleared any necessary permissions with the copyright owner if it has been previously copyrighted.
Briefs and research notes are not published in this journal.
All our articles go through a double-blind review process.
All authors must declare they have read and agreed to the content of the submitted article. A full statement of our Ethical Guidelines for Authors (PDF) is available.
There are no charges for publishing with Inderscience, unless you require your article to be Open Access (OA). You can find more information on OA here.



Submission process

All articles for this journal must be submitted using our online submissions system.
View Author guidelines.