International Journal of Internet of Things and Cyber-Assurance
This journal also publishes Open Access articles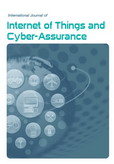 Editor in Chief

Prof. Shingo Yamaguchi

ISSN online

2059-7975

ISSN print

2059-7967
4 issues per year

The Internet of Things must address the reliable and timely delivery of information, regardless of cyber-threats, using secure automatic processes over distributed and heterogeneous computing systems. IJITCA provides an embedded security, information assurance and cyber-security research perspective, illustrating how cyber-assurance must integrate with IoT devices and networks to understand how these individual components interact in ways to resist and avoid intentional attempts to compromise normal operations. IJITCA addresses the protection of IoT networks from mobile devices to complex processing systems.
Topics covered include
Secure algorithms used to spawn and control intelligent agents for embedded processing of IoT devices and networks
Key distribution and management in IoT networks
Secure IoT radio frequency (RF) signal processing
Distributed IoT networks using embedded sensors and actuators
Design tools for integrating RF devices and components, e.g. inductors and optics, on IoT processing chips
Techniques to improve the quality of attack indications or threat warnings for IoT networks
IoT technology for implementing monolithic transceivers on single integrated circuits
IoT processors capable of multiple gigahertz operations
IoT sensor intrusion networking systems, including distributed detection/estimations
Synchronised cyber-attacks against the smart grid and/or SCADA systems
Modelling frameworks for cyber-physical systems under cyber-attacks
Optimal IoT network clustering for distributed procedures in cyber-physical systems
Tools and techniques for automating the creation and distribution of interoperable vulnerabilities in IoT devices and networks
More on this journal...
Objectives
The objective of IJITCA is to increase the visibility of current research in cyber-assurance and emergent trends in information assurance theory, cyber-security application, architecture and information security in the IoT based on theoretical aspects and studies of practical applications. The journal will cover fundamental to advanced concepts necessary to grasp IoT current cyber-assurance issues, challenges and solutions as well as future trends in secure IoT infrastructures, architectures and applications.
Readership
The target audience of IJITCA extends to researchers, professionals and students working in the field of cyber-assurance, secure wireless technologies, information security architecture and cyber-security. The articles published will be written for those who want to gain and/or improve their understanding of the latest developments of cyber-assurance related issues for the IoT.
Contents
IJITCA publishes original research papers, technical reports, case studies, laboratory experiments and book reviews. Special issues devoted to the important topics of information security for the Internet of Things will be published.
Editor in Chief
Yamaguchi, Shingo, Yamaguchi University, Japan
(shingoyamaguchi-u.ac.jp)
Executive Editors
Kotis, Konstantinos, University of the Aegean, Greece
Orebaugh, Angela, University of Virginia, USA
Schmeelk, Suzanna, St. John's University, USA
Editorial Board Members
Abd El-Latif, Ahmed A., Menoufia University, Egypt
Adat Vasudevan, Vipindev, Massachusetts Institute of Technology, USA
Ahmadon, Mohd Anuaruddin Bin, Yamaguchi University, Japan
Alipio, Melchizedek, De La Salle University, Philippines
Alomari, Esraa, University of Wasit, Iraq
Anwar, Adnan, Deakin University, Australia
Babulak, Eduard, Fort Hays State University, USA
Butakov, Sergey, Concordia University of Edmonton, Canada
Chui, Kwok Tai, Hong Kong Metropolitan University, China
Dincelli, Ersin, University of Colorado Denver, USA
Fugkeaw, Somchart, Thammasat University, Thailand
Jolfaei, Alireza, Flinders University, Australia
Köse, Utku, Suleyman Demirel University, Turkey
Krishna, M. Bala, GGS Indraprastha University, India
Leberknight, Christopher, Montclair State University, USA
Murillo, Martin, University of Notre Dame, USA
Park, Joon, Syracuse University, USA
Pedersen, Rasmus Ulslev, Copenhagen Business School, Denmark
Perakovic, Dragan, University of Zagreb, Croatia
Perumal, Thinagaran, Universiti Putra Malaysia, Malaysia
Rajkumar, Rajasekaran, Vellore Institute of Technology, India
Shah, Ghalib Asadullah, University of Engineering and Technology Lahore, Pakistan
Sharma, Shwadhin, California State University, Monterey Bay, USA
Singh, Vijendra, University of Petroleum and Energy Studies, India
Souri, Alireza, Haliç University, Turkey
Veluru, Suresh, ServisBOT, Ireland
Yu, Chia-Mu, National Yang Ming Chiao Tung University, Taiwan, Province of China
Zhou, Honbo, UbiLink Co. Ltd., China
Zissis, Dimitris, University of the Aegean, Greece
A few essentials for publishing in this journal
Submitted articles should not have been previously published or be currently under consideration for publication elsewhere.
Conference papers may only be submitted if the paper has been completely re-written (more details available here) and the author has cleared any necessary permissions with the copyright owner if it has been previously copyrighted.
Briefs and research notes are not published in this journal.
All our articles go through a double-blind review process.
All authors must declare they have read and agreed to the content of the submitted article. A full statement of our Ethical Guidelines for Authors (PDF) is available.
There are no charges for publishing with Inderscience, unless you require your article to be Open Access (OA). You can find more information on OA here.



Submission process

All articles for this journal must be submitted using our online submissions system.
View Author guidelines.