International Journal of Information Quality
This journal also publishes Open Access articles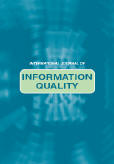 Editor in Chief

Prof. Barbara Klein

ISSN online

1751-0465

ISSN print

1751-0457
4 issues per year

Organisations possess technology to collect, store and process vast volumes of data. However, they are often stymied in their efforts to translate this data into meaningful information that can be used to improve business processes and decision making. The cliché, "drowning in data and starving of information", seems apposite. The reasons are often related to issues which collectively form an emerging field, 'information quality'. IJIQ covers theories, practices, strategies, infrastructure, dimensions, modelling and tools for information quality in modern organisations.
Topics covered include
IQ strategy, policies, standards, concepts, measures, tools
IQ assessment and verification, theory, models and methodologies
Costs of IQ and cost/benefit analysis of IQ improvements
Metadata quality problems and managing information as a product
Information mapping and information sharing
Information quality on the Web and Internet
IQ in e-government, electronic record management and e-business
IQ in data warehousing, data mining and supply chain management
Success factors affecting IQ
Empirical research and new research directions in fields of IQ
IQ applications and case studies
Corporate household data and customer data integration
Data cleansing and reconciliation, data farming
Trust, knowledge and society in the IQ context
IQ education and curriculum development
More on this journal...
Objectives
IJIQ provides an international outlet for the publication of high quality papers in the field of information quality. It aims to promote research on the theory, design, analysis, management and implementation of information quality systems in service industries, manufacturing industries and government organisations. It also encourages research dealing with economic considerations of information quality as well as issues with societal and political priority such as information quality for healthcare systems and information quality in the "war on terror".
IJIQ provides a forum for academics, researchers, practitioners and policy makers to discuss concepts and to disseminate information across the full range of issues within the field. It acts as an effective channel for exchanging innovative ideas and sharing practical experiences in managing information quality in modern organisations. IJIQ also aims to promote and coordinate developments in the field.
Readership
Interest in information quality, both in industry and in academies, has grown rapidly over the past decade, and continues to grow. IJIQ provides insights and support for:
Professionals, academics and researchers working in the field of information and knowledge management in general and in information quality in particular
Practitioners and decision makers in manufacturing and service industries concerned with the management of information
Contents
IJIQ considers original research works. It publishes theoretical papers, review papers, case studies, empirical research, technical notes and book reviews. Special Issues devoted to important topics in information quality will occasionally be published.
Editor in Chief
Klein, Barbara, University of Michigan-Dearborn, USA
(bdkleinumich.edu)
Associate Editor
Scannapieco, Monica, University of Roma "La Sapienza", Italy
Advisory Editor
Al-Hakim, Latif, University of Southern Queensland, Australia
Regional Editor America
Shankaranarayanan, Ganesan, Boston University, USA
Regional Editor Europe
Helfert, Markus, Dublin City University, Ireland
Editorial Board Members
Berti-Equille, Laure, IRISA, France
Bobrowski, Mónica, Pragma Consultores, Argentina
Bowen, Paul L., Florida State University, USA
Burgess, Mikhaila, Cardiff University, UK
Caballero, Ismael, University of Castilla-La Mancha, Spain
Chanana, Vivek, Department of Defence, Australia
Choudrie, Jyoti, University of Hertfordshire, UK
Cooper, Joan, University of New South Wales, Australia
Dogac, Asuman, Middle East Technical University, Turkey
Furtado, Pedro, University of Coimbra, Portugal
Gackowski, Zbigniew J, California State University Stanislaus, USA
Gao, Jing, University of South Australia, Australia
Guah, Matthew W., Claflin University, USA
Kerr, Karolyn, Simpl, New Zealand
Kurosawa, Kaoru, Chuo University, Japan
Kusiak, Andrew, University of Iowa, USA
Mead, Ronald, Defence Science and Technology Group, Australia
Melkas, Helinä, Lappeenranta University of Technology, Finland
Norris, Tony, Massey University, New Zealand
Parlikad, Ajith Kumar, University of Cambridge, UK
Piattini, Mario, Universidad de Castilla-La Mancha, Spain
Roth, Mary, IBM, USA
Sadiq, Shazia, University of Queensland , Australia
Sebastian-Coleman, Laura, Ingenix – UnitedHealthGroup, USA
Su, Ying, Tsinghua University, China
Takagi, Tsuyoshi, Future University Hakodate, Japan
Toleman, Mark, University of Southern Queensland, Australia
Vesonder, Gregg, AT&T Labs - Research, USA
Wickramasinghe, Nilmini, La Trobe University, Australia
Williams, Michael, Swansea University, UK
Woodall, Phil, University of Cambridge, UK
Wright, Jon, AT&T Labs - Research, USA
Yu, Zhenguo, Zhejiang University City College, China
Zailani, Suhaiza Hanim M., Universiti Sains Malaysia, Malaysia
A few essentials for publishing in this journal
Submitted articles should not have been previously published or be currently under consideration for publication elsewhere.
Conference papers may only be submitted if the paper has been completely re-written (more details available here) and the author has cleared any necessary permissions with the copyright owner if it has been previously copyrighted.
Briefs and research notes are not published in this journal.
All our articles go through a double-blind review process.
All authors must declare they have read and agreed to the content of the submitted article. A full statement of our Ethical Guidelines for Authors (PDF) is available.
There are no charges for publishing with Inderscience, unless you require your article to be Open Access (OA). You can find more information on OA here.



Submission process

All articles for this journal must be submitted using our online submissions system.
View Author guidelines.