International Journal of Intelligent Information and Database Systems
This journal also publishes Open Access articles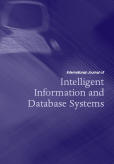 Editor in Chief

Dr. Adrianna Kozierkiewicz

ISSN online

1751-5866

ISSN print

1751-5858
4 issues per year


CiteScore

1.8 (2022)

Intelligent information systems and intelligent database systems are a very dynamically developing field in computer sciences. IJIIDS focuses on research in applications of advanced intelligent technologies for data storing/processing in a wide-ranging context, involving solutions to real-life problems in which it is necessary to apply intelligent technologies to achieve effective results. The emphasis of the reported work is on new and original research and technological developments rather than reports on the application of existing technology to different sets of data.
Topics covered include
Database management technologies
Heterogeneous/distributed/mobile databases
Temporal/active/dynamic databases
Semi-structured and XML-able database systems
Method engineering and meta-modelling
Big data and machine learning; data warehousing/mining
Database models, query languages, security, integrity
Support for virtual teams, mobile collaboration
E-business/m-commerce models and architectures
Enterprise systems and supply chain integration
Information retrieval/intelligent information systems
Information modelling and requirements engineering
Intelligent agents, agent-based applications
Knowledge-based systems, semantic web and ontology
Web databases, web-based information systems
More on this journal...
Objectives
IJIIDS strives to cover all aspects of working out new intelligent technologies for information processing, creating databases and processing data. Papers also highlight advances in uses of intelligent information systems and intelligent database systems for solving tasks in management, industry, engineering, administration and education, and evaluations of existing intelligent systems and tools, emphasising comparative studies and user experiences. Papers on key applications, highlighting methods, time schedules and other relevant materials, are welcome.
Readership
The material published in IJIIDS is appropriate for the following readers: computer science researchers, IT engineers, policy makers, computer science students, managers in IT, business and commerce, and all people whose work is related to information and database systems.
Contents
IJIIDS publishes original papers, review papers, technical reports, case studies, conference reports, management reports and book reviews. Special Issues devoted to important topics in intelligent information and database systems and related subjects are welcome.
Honorary Editor
Nguyen, Ngoc Thanh, Wroclaw University of Science and Technology, Poland
Editor in Chief
Kozierkiewicz, Adrianna, Wroclaw University of Science and Technology, Poland
(adrianna.kozierkiewiczpwr.edu.pl)
Managing Editor
Sitek, Paweł, Kielce University of Technology, Poland
Associate Editors
Chen, Shyi-Ming, National Taiwan University of Science and Technology, Taiwan, Province of China
Filev, Dimitar P., Ford Motor Company , USA
Kacprzyk, Janusz, Polish Academy of Sciences, Poland
Treur, Jan, Vrije Universiteit Amsterdam, Netherlands
Regional Editor
Nguyen, Thi Thuy Loan, International University - Vietnam National University HCM City, Vietnam
Editorial Board Members
Bieliková, Mária, Slovak University of Technology in Bratislava, Slovakia
Cao, Longbing, Macquarie University, Australia
Capkovic, Frantisek, Slovak Academy of Sciences, Slovakia
Davidsson, Paul, Blekinge Institute of Technology, Sweden
Di Marzo Serugendo, Giovanna, Birkbeck College (University of London), UK
Do, Tien Van, Budapest University of Technology and Economics, Hungary
Giorgini, Paolo, University of Trento, Italy
Howlett, Robert J., University of Brighton, UK
Hwang, Dosam, Yeungnam University, South Korea
Jezic, Gordan, University of Zagreb , Croatia
Khosla, Rajiv, La Trobe University, Australia
Kiem, Hoang, University of Information Technology, Vietnam
Langari, Reza, Texas A&M University, USA
Lenz, Richard, University of Erlangenand Nuremberg, Germany
Lingras, Pawan, Saint Mary's University, Canada
Mukhopadhyay, Debajyoti, Bennett University at Greater Noida, India
Nedjah, Nadia, State University of Rio de Janeiro, Brazil
Ng, Wee Keong, Nanyang Technological University, Singapore
Shi, Peng, University of Glamorgan, UK
Skowron, Andrzej, University of Warsaw, Poland
Szczepaniak, Piotr S., Polish Academy of Sciences and Technical University of Lodz, Poland
Szczerbicki, Edward, University of Newcastle, Australia
Vo, Bay, Ho Chi Minh City University of Technology, Vietnam
Wierzchoń, Slawomir, Polish Academy of Sciences, Poland
Yoshida, Katsumi, St. Marianna University, Japan
Zhong, Ning, Maebashi Institute of Technology, Japan
A few essentials for publishing in this journal
Submitted articles should not have been previously published or be currently under consideration for publication elsewhere.
Conference papers may only be submitted if the paper has been completely re-written (more details available here) and the author has cleared any necessary permissions with the copyright owner if it has been previously copyrighted.
Briefs and research notes are not published in this journal.
All our articles go through a double-blind review process.
All authors must declare they have read and agreed to the content of the submitted article. A full statement of our Ethical Guidelines for Authors (PDF) is available.
There are no charges for publishing with Inderscience, unless you require your article to be Open Access (OA). You can find more information on OA here.



Submission process

All articles for this journal must be submitted using our online submissions system.
View Author guidelines.
Journal news
Dr. Adrianna Kozierkiewicz appointed as new Editor in Chief of International Journal of Intelligent Information and Database Systems
28 November, 2023
Dr. Adrianna Kozierkiewicz from Wroclaw University of Science and Technology in Poland has been appointed to take over editorship of the International Journal of Intelligent Information and Database Systems.