International Journal of Electronic Transport
This journal also publishes Open Access articles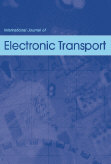 Editor in Chief

Dr. M.A. Dorgham

ISSN online

1742-6960

ISSN print

1742-6952
4 issues per year

Changes in the global transportation landscape have engendered modern organisational objectives of improving revenue by working with just-in-case inventories, achieving minimal carbon footprint, increasing global presence and enhancing logistics efficiency. In light of these developments, IJET envisages innovation and improvements in applications of information and communication technology (ICT), RFID technology, global positioning systems (GPS), electronic road pricing (ERP) and barcode technologies in the logistics and transport sector, thereby improving supply chain efficiency by reducing carbon footprint, inventories and costs.
Topics covered include
Electronic post/express services
Theoretical surveys/case studies
Decision models/support systems, innovative game models
Innovation in technologies, XML/SCML technology issues
Identifying vulnerabilities/mitigating risk
Mergers/acquisitions dynamics, global oil/financial crises impact
Green computing, cloud computing, virtualisation
E-freight forwarding, electronic port management
E-sourcing/outsourcing policies, supply chain
Warehousing, sky storage, just-in-case inventory, inventory models
Governance issues, compliance, regulatory/customs issues
Ship/rail/road/flight scheduling/routing, multi-modal transportation
Supply chain metrics, capability tools, analyst results
Vehicle communication systems
Trends, new e-logistics/transport practices
More on this journal...
Objectives
The main objectives of IJET are:
To present high-quality research and developments in the area of electronics-enabled logistics
To help professionals, researchers, academicians, consultants and practitioners working in the area of logistics to share cutting-edge information on current developments
To envisage new ideas that can lead to innovative findings
To develop new methodologies that can solve complex logistics and transportation problems
The international dimension is emphasised in order to meet the increasing demands of transportation requirements.
Readership
IJET will be of interest to academicians, practitioners, scientists, researchers and industry managers with the drive to explore the field of electronic transport properties and its wide range of applications. The journal will offer a venue for dialogue between academy and practice, between public and private sectors and between national and international communities.
Contents
IJET publishes original research papers, review papers, scientific reports, industry reports, position papers, case studies, innovative ideas, research notes, practice comments, book reviews, commentaries and news. Special Issues devoted to important topics will be published if the Special Issue thrust matches the journal's scope.
Editor in Chief
Dorgham, M.A., International Centre for Technology and Management, UK
(supportinderscience.com)
Associate Editors
Nagel, Pieter J.A., Victoria University, Australia
Van Over, David, University of Wollongong in Dubai, United Arab Emirates
Editorial Board Members
Alavandar, Srinivasan, Caledonian College of Engineering, Oman
Alkhathlan, Khalid, King Saud University, Saudi Arabia
Arunachalam, Subramaniam, University of East London, UK
Asokan, P., National Institute of Technology, India
Banomyong, Ruth, Thammasat University, Thailand
Bourassa, P. Louis, ILOG, USA
Chaovalitwongse, Wanpracha Art, Rutgers University, USA
Cheng, T.C. Edwin, The Hong Kong Polytechnic University, Hong Kong SAR, China
De Souza, Robert, Georgia Institute of Technology, USA
Eberlein, Dominik, Logivations GmbH, Germany
Ganesh, K., McKinsey and Company, India
Goh, Mark, National University of Singapore, Singapore
Govindan, Kannan, University of Southern Denmark, Denmark
Gunasekaran, Angappa, Penn State Harrisburg, USA
Guo, Huaqun, Institute for Infocomm Research, Singapore
Koh, Siau Ching Lenny, University of Sheffield, UK
Koul, Saroj, OP Jindal Global University, India
Lee, Tzong-Ru (Jiun-Shen), National Chung Hsing University, Taiwan, Province of China
Luo, Zhenxing, Washington University in St. Louis , USA
O'Brien, Peter L., Russell Reynolds Associates, Australia
Parthiban, P., National Institute of Technology, India
Pati, Rupesh Kumar, Indian Institute of Management Kozhikode, India
Patnaik, Srikanta, Interscience Institute of Management and Technology, Bhubaneswar, India
Prabakaran, S., King Saud University, Saudi Arabia
Rajamani, Divakar, University of Texas at Dallas, USA
Savory, Paul, University of Nebraska – Lincoln, USA
Shankar, Ravi, Indian Institute of Technology Delhi, India
Sriskandarajah, Chelliah, University of Texas at Dallas, USA
Strata, Rod, SAP Asia Pte. Ltd, Singapore
Tan, Albert, Malaysia Institute for Supply Chain Innovation, Malaysia
Tew, Jeffrey, General Motors Research & Development Center, USA
Viswanadham, N., Indian School of Business, India
Vrat, Prem, Management Development Institute, India
Yadavalli, V.S.S., University of Pretoria, South Africa
Yuan, Xue-Ming, Singapore Institute of Manufacturing Technology, Singapore
A few essentials for publishing in this journal
Submitted articles should not have been previously published or be currently under consideration for publication elsewhere.
Conference papers may only be submitted if the paper has been completely re-written (more details available here) and the author has cleared any necessary permissions with the copyright owner if it has been previously copyrighted.
Briefs and research notes are not published in this journal.
All our articles go through a double-blind review process.
All authors must declare they have read and agreed to the content of the submitted article. A full statement of our Ethical Guidelines for Authors (PDF) is available.
There are no charges for publishing with Inderscience, unless you require your article to be Open Access (OA). You can find more information on OA here.



Submission process

All articles for this journal must be submitted using our online submissions system.
View Author guidelines.