International Journal of the Energy-Growth Nexus
This journal also publishes Open Access articles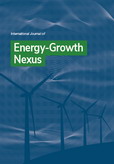 Editor in Chief

Prof. Angeliki N. Menegaki

ISSN online

2753-7617

ISSN print

2753-7609
4 issues per year

The energy-growth nexus is a major field of energy economics and econometrics that informs the transition to green energies, which must happen at a pace that will not retard economic growth. The energy-growth nexus can contribute tremendously to government energy policies and energy company resilience. IJEGN is dedicated to research in the energy-growth nexus field that generates clear and continuously testable results for new energy policy making, which in turn affect economies and societies and their sustainable futures.
Topics covered include
Novel econometric approaches in the energy-growth nexus
Meta-analyses and systematic literature reviews of specified areas in the energy-growth nexus
Case studies of energy policy making that has been informed by the energy-growth nexus
Bridges between various econometric methods and approaches that equip the nexus with resilience and stability of results
Sustainable energy policies derived from the energy-growth nexus
Cyclical economy policies derived from the energy-growth nexus
Energy policy directives information generated by the energy-growth nexus
Theory formation of the energy-growth nexus
Hybrid models of the energy-growth nexus
Interdisciplinary models of the energy-growth nexus
The energy-growth nexus of economic sectors
Micro-economy and the energy-growth nexus
Any other areas related to and in the spirit of the above
More on this journal...
Objectives
The main objective of IJEGN is to establish an effective channel of communication between policy makers, government agencies, academic and research institutions and persons concerned with the complex role of energy in society. The journal wishes to transform energy-growth nexus research results into solid policy recommendations that will be insensitive to various parameter configurations inherent in model setups. IJEGN encourages the adoption of a meta-analytical perspective with the aim of a holistic research outlook that will apply the combined study of appropriate groups of studies, which in turn will generate stable results under dynamic frameworks.
Overall, IJEGN's wider objectives include the following:
Leading energy-growth nexus studies to concrete policy conclusions through the incorporation of novel approaches, with a particular focus on meta-analytical perspectives
Guiding policy makers with solid recommendations concerning the positive and negative effects on economic growth after the implementation of energy conservation programs
Establishing methods and approaches that will make energy-growth studies less sensitive to different econometric methods
Exploiting meta-analytic methods and approaches to bridge results from different studies
Advising economies on energy sustainability and cyclical energy economy implementations
Reconciling energy-growth studies with the demands and consequences of major energy policy directives already in effect in various countries
Introducing the energy-growth nexus to micro-economics (since as yet it has been a macro-economic area)
Contributing to the formation of a solid and testable theory formation around the energy-growth nexus
Advancing the energy-growth nexus in any possible way and removing the veils of controversy
Creating hybrids of the energy-growth nexus with other economic approaches
Readership
IJEGN provides a vehicle to help professionals, academics, researchers and policy makers working in the fields of energy economy, energy management and business education to disseminate information and to learn from each other's work.
Contents
IJEGN publishes original research papers, review papers, research letters, technical reports, case studies and book reviews, and is open to other content that serves the journal's objectives. Special issues devoted to important topics in the energy-growth nexus will occasionally be published.
Editor in Chief
Menegaki, Angeliki N., Cyprus Open University, Cyprus and Agricultural University of Athens, Greece
(amenegakiaua.gr)
Executive Editor
Tiwari, Aviral Kumar, Indian Institute of Management Bodh Gaya, India
Regional Editor Africa
Inglesi-Lotz, Roula, University of Pretoria, South Africa
Regional Editor Asia
Wei, Chu, Renmin University of China, China
Regional Editor Europe
Magazzino, Cosimo, Università degli Studi Roma Tre, Italy
Regional Editor Latin America
Marques, Antonio Cardoso, Universidade da Beira Interior, Portugal
Regional Editor Middle East
Ahmad, Nisar, Sultan Qaboos University, Oman
Subject Editors
Antonakakis, Nikos, Webster Vienna Private University, Austria
Balsalobre-Lorente, Daniel, University of Castilla-La Mancha, Spain
Bulut, Umit, Kirsehir Ahi Evran University, Turkey
Farhani, Sahbi, University of Sousse, Tunisia
Polemis, Michael, University of Pireus, Greece
Editorial Board Members
Bhattacharya, Mita, Monash University, Australia
Bianco, Vincenzo, University of Genoa, Italy
Cai, Yifei, University of Western Australia, Australia
Naveed, Amjad, Aarhus Universitet, Denmark
Nepal, Rabindra, University of Wollongong, Australia
Omri, Anis, Qassim University, Saudi Arabia
Panait, Mirela, Petroleum-Gas University of Ploesti, Romania
Sinha, Avik, Goa Institute of Management, India
Tsani, Stella, University of Ioannina, Greece
Tugcu, Can Tansel, Akdeniz University, Turkey
Uddin, Gazi Salah, Linköping University, Sweden
Vlados, Charis, Democritus University of Thrace, Greece
Wang, Wei, Electric Power University, China
A few essentials for publishing in this journal
Submitted articles should not have been previously published or be currently under consideration for publication elsewhere.
Conference papers may only be submitted if the paper has been completely re-written (more details available here) and the author has cleared any necessary permissions with the copyright owner if it has been previously copyrighted.
Briefs and research notes are not published in this journal.
All our articles go through a double-blind review process.
All authors must declare they have read and agreed to the content of the submitted article. A full statement of our Ethical Guidelines for Authors (PDF) is available.
There are no charges for publishing with Inderscience, unless you require your article to be Open Access (OA). You can find more information on OA here.



Submission process

All articles for this journal must be submitted using our online submissions system.
View Author guidelines.