International Journal of Electronic Democracy
This journal also publishes Open Access articles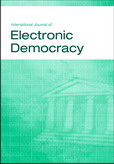 Editor in Chief

Dr. M.A. Dorgham

ISSN online

1742-4232

ISSN print

1742-4224
4 issues per year

Given the increasing ubiquity of technological systems and services, an international platform is needed to research their implementation and influence on democracy. IJED proposes and fosters discussion on the evolution and transformation of political systems by means of technology. However, the concept of e-democracy (also known as digital democracy or internet democracy) is clearly wider than this and IJED also explores issues such as the role of social media, identity theft, forgery/hacking, intellectual property, surveillance and challenges to regulatory power.
Topics covered include
E-democracy, freedom of speech, concepts/models/drivers/barriers
E-voting, e-political campaigns, e-government and future challenges
Big data, information overload and mashups, role of social media
Hacking and hackism, identity theft, forgery
New technologies, artificial intelligence, 3-D printing, open source software
Technology and construction of court jurisdiction, challenges of regulatory power
Public records online, global privacy regulations, copyright law, patents
E-commerce and free stuff, digital divide
Censorship, Big Brother and security, civil liberties online
Surveillance and snooper's charter, email protection/online surveillance
Alternative and online dispute resolution (ADR/ODR)
IT law, defamation and protecting privacy rights
Ethical views and issues, posting and selling sensitive material
International arbitration in cyberspace
International/commercial/industrial/economic espionage
More on this journal...
Objectives
The objectives of IJED are to establish an effective channel of communication between policy makers, government agencies, academic and research institutions and persons concerned with the further evolution of democratic institutions. The international dimension is emphasised in order to successfully face the global challenges ahead in order to adapt current national democratic institutions. The gap between democratic ideals and democratic realities, already large, will grow even greater if democracies all around the globe fail to rise to these challenges.
Readership
IJED provides a vehicle to help policy makers, academics, researchers, and professionals working in the field of political management, public administration, political science, and information technology to disseminate information and to learn from each other's work.
Contents
IJED publishes original research papers and case studies from such fields as information systems, political science, systems theory, communication theory. Published research will be based on diverse methods and approaches as creative insight often occurs outside traditional research approaches and topic areas. Special Issues devoted to important topics in Electronic Democracy will occasionally be published.
Editor in Chief
Dorgham, M.A., International Centre for Technology and Management, UK
(supportinderscience.com)
Associate Editor
Gale, Chris, GSM London, UK
Editorial Board Members
Anttiroiko, Ari-Veikko, University of Tampere, Finland
Capuano, Nicola, University of Salerno, Italy
Dagdilelis, Vassilios, University of Macedonia, Greece
Damiani, Ernesto, Università degli Studi di Milano, Italy
Geczy, Peter, National Institute of Advanced Industrial Science and Technology (AIST), Japan
Grönlund, Ake, Örebro University, Sweden
James, Annabelle, University of Teesside, UK
Karvalics, Laszlo Z., University of Szeged, Hungary
Kikis-Papadakis, Kathy, Foundation for Research and Technology-Hellas, Greece
Mangioni, Giuseppe, University of Catania, Italy
Norris, Pippa, Harvard University, USA
Noveck, Beth Simone, The Democracy Design Workshop, USA
Sabucedo, Luis Álvarez, Universidade de Vigo, Spain
Saeed, Saqib, Bahria University, Pakistan
Van Hoorebeek, Mark, University of Bradford, UK
Zafiropoulos, Kostas, University of Macedonia, Greece
A few essentials for publishing in this journal
Submitted articles should not have been previously published or be currently under consideration for publication elsewhere.
Conference papers may only be submitted if the paper has been completely re-written (more details available here) and the author has cleared any necessary permissions with the copyright owner if it has been previously copyrighted.
Briefs and research notes are not published in this journal.
All our articles go through a double-blind review process.
All authors must declare they have read and agreed to the content of the submitted article. A full statement of our Ethical Guidelines for Authors (PDF) is available.
There are no charges for publishing with Inderscience, unless you require your article to be Open Access (OA). You can find more information on OA here.



Submission process

All articles for this journal must be submitted using our online submissions system.
View Author guidelines.