International Journal of Digital Transformation
This journal also publishes Open Access articles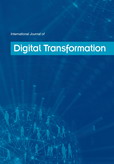 Editor in Chief

Prof. Gordon Fletcher

ISSN online

2754-0774

ISSN print

2754-0766
4 issues per year

IJDT explores the multi-faceted and multi-disciplinary challenges and opportunities presented to organisations through digital transformation. Digital transformation is explored from needs identification, conceptualisation and design perspectives through to implementation, as well as its subsequent consequences. A key feature is the examination of the relationship between strategic management and digital transformation. Digital transformation is seen as a combination of complex processes with the impact of prioritising one over others. This provides a fertile area for critical debate.
Topics covered include
The visionary, strategic and operational alignment of digital transformation
What is an effective digitally transformed business?
Data-driven and evidence-based business models – case studies and evidence for new models
Successful patterns for digital transformation
Successful patterns for organisational change through digital transformation
The relationship of innovation and innovative practice to digital transformation
The 4Vs of big data in the context of digital transformation
Managing the pace of technological change
Future jobs and skills in digitally transformed business
The role of people in digital transformation
The challenge of balancing data-driven with people-centric practice
Critiques of digital transformation, Digital 4.0 and Business 4.0
Rethinking marketing within the digitally transformed business
The changing role of consumers, suppliers and partners in digital transformation
More on this journal...
Objectives
The objective of the journal is to engage with academics, regional and national policy makers and large and small businesses on the benefits and risks of digital transformation. This is done with a continually expanding and authoritative evidence base regarding the impact of digital transformation. This evidence base will draw upon the experiences, quantitative improvements and reflections of organisations worldwide, considered either individually or collectively (as a sector, region or through another unifying theme).
Readership
IJDT
's target audience includes academics who incorporate awareness of the mechanisms and impact of digital transformation into their research. These academics will invariably come from a wide range of disciplines including management, organisational studies, technology studies, information systems, sociology, computer science and engineering.
A further audience is policy makers who want to maximise the benefits and minimise the risks of digital transformation within their own jurisdictions.
Academics from other disciplines wherein the impact of digital transformation is reaching into their own domain (e.g. accounting, law and languages) will also find the journal instructive for the reference it provides to previous similar experiences.
In this way, IJDT acts as a translator between technical and social perspectives, as well as encouraging integrated perspectives. The journal also encourages a critical voice on digital transformation that is beneficial and insightful for its readership.
Contents
The journal publishes original papers that address digital transformation. In addition, IJDT invites specific case studies relating to a single organisation's specific digital transformation. Case studies of digital transformation within a specific region or sector are also encouraged. Book reviews that are relevant to the concerns of the journal are welcome if this relationship is clearly articulated and argued.
The journal will occasionally publish special issues relating to specific threads of interest that can be examined in multi-disciplinary and comparable ways.
Editor in Chief
Fletcher, Gordon, University of Salford, UK
(g.fletchersalford.ac.uk)
Editorial Board Members
Alazzam, Iyad, Yarmouk University, Jordan
AlOkaily, Rasha, Hamdan Bin Mohammed Smart University, United Arab Emirates
Chan, Paul, Technische Universiteit Delft, Netherlands
Donta, Praveen Kumar, TU Wien, Austria
Lapiedra, Rafael, Universitat Jaume I, Spain
Mittal, Prabhat, University of Delhi, India
Ng, Joseph, Inti International University, Malaysia
Stamoulis, Dimitrios S., National and Kapodistrian University of Athens, Greece
A few essentials for publishing in this journal
Submitted articles should not have been previously published or be currently under consideration for publication elsewhere.
Conference papers may only be submitted if the paper has been completely re-written (more details available here) and the author has cleared any necessary permissions with the copyright owner if it has been previously copyrighted.
Briefs and research notes are not published in this journal.
All our articles go through a double-blind review process.
All authors must declare they have read and agreed to the content of the submitted article. A full statement of our Ethical Guidelines for Authors (PDF) is available.
There are no charges for publishing with Inderscience, unless you require your article to be Open Access (OA). You can find more information on OA here.



Submission process

All articles for this journal must be submitted using our online submissions system.
View Author guidelines.