International Journal of the Digital Human
This journal also publishes Open Access articles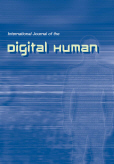 Editor in Chief

Prof. Marina L. Gavrilova

ISSN online

2046-3383

ISSN print

2046-3375
4 issues per year

The digital human domain has witnessed significant advancements that have led to potent research with widespread implications for society. IJDH publishes original research in all fields of the digital human such as modelling, simulation, anatomy, computer graphics, robotics, biomechanics, biometrics, health informatics and collaborative spaces. The journal focuses on novel theories, methodologies, applications, reviews and technological implementations, aimed toward ensuring smarter and safer societies for the future. Particular emphasis is placed on real-world applications supported by experimental or empirical studies.
Topics covered include
Augmented reality and virtual reality
Anthropometrics, 3D surface anatomy, 4D physiology
Artificial intelligence and digital humans
Sentiment analysis and natural language processing
Cybersecurity, digital worlds and digital humans
Games, behaviour modelling and 3D human simulation
Human-robot and robot-robot collaboration
Machine learning and deep learning for digital human society
Multi-modal and multi-sensor systems, information fusion
Physiological, behavioral and social behavioral biometrics
Posture, motion and activity recognition
Pattern recognition and image processing, including face, speech and gait recognition
Smart systems, smart society and human-centred design
Trust and trustworthy decision making for digital human systems
Applications in education, commerce, health informatics, medicine, kinesiology, psychology, information security, smart homes and robotics
More on this journal...
Objectives
The objectives of IJDH are to create a platform where researchers, scientist, practitioners and industrialists can communicate, promote and coordinate the developments of digital humans in society. The journal provides a channel for people from multiple disciplines to have a common goal to advance the development of digital human research.
Readership
IJDH provides a vehicle to help professionals, academics, researchers, doctors and industrialists working in the fields of digital humans, product design and evaluation, game design, animation and visualisation to disseminate information and to learn from each other's work.
Contents
IJDH publishes original papers, review papers, technical reports and case studies. Special Issues devoted to important topics will occasionally be published.
Editor in Chief
Gavrilova, Marina L., University of Calgary, Canada
(marinacpsc.ucalgary.ca)
Associate Editors
Hsu, Frank, Fordham University, USA
Iglesias Prieto, Andres, University of Cantabria, Spain
Kacprzyk, Janusz, Polish Academy of Sciences, Poland
Magnenat-Thalmann, Nadia, University of Geneva, Switzerland
Saeed, Khalid, Bialystok University of Technology, Poland
Wang, Yinxu, University of Calgary, Canada
Editorial Board Members
Burke, Maria E., University of Winchester, UK
Chaki, Nabendu, University of Calcutta, India
Chaki, Ritparna, University of Calcutta, India
Chawla, Anoop, Indian Institute of Technology, Delhi, India
Goonetilleke, Ravindra, Khalifa University, United Arab Emirates
Hanson, Lars, University of Skövde and Scania CV, Sweden
Kovalerchuk, Boris, Central Washington University , USA
Li, Peng, US Army Natick Soldier Research, Development and Engineering Center, USA
Luximon, Yan, Hong Kong Polytechnic University, Hong Kong SAR, China
Marshall, Russell, Loughborough University, UK
Mohammadi, Arash, Concordia University, Canada
Porwik, Piotr, University of Silesia, Poland
Regazzoni, Daniele, University of Bergamo, Italy
Sharma, Ojaswa, Indraprastha Institute of Information Technology, India
Smith, Shana, National Taiwan University, Taiwan, Province of China
Szymkowski, Maciej, Bialystok University of Technology, Poland
Tsihrintzis, George A., University of Piraeus, Greece
Vink, Peter, Delft University of Technology , Netherlands
Zhang, Ming, Hong Kong Polytechnic University, Hong Kong SAR, China
Zhao, Wenbing, Cleveland State University , USA
A few essentials for publishing in this journal
Submitted articles should not have been previously published or be currently under consideration for publication elsewhere.
Conference papers may only be submitted if the paper has been completely re-written (more details available here) and the author has cleared any necessary permissions with the copyright owner if it has been previously copyrighted.
Briefs and research notes are not published in this journal.
All our articles go through a double-blind review process.
All authors must declare they have read and agreed to the content of the submitted article. A full statement of our Ethical Guidelines for Authors (PDF) is available.
There are no charges for publishing with Inderscience, unless you require your article to be Open Access (OA). You can find more information on OA here.



Submission process

All articles for this journal must be submitted using our online submissions system.
View Author guidelines.
Journal news
Optimising gesture recognition system design
29 August, 2023
Research published in the International Journal of the Digital Human reveals a new model for computerised human gesture recognition. The tool, VirSen1.0, developed by Kana Matsuo, Chengshuo Xia, and Yuta Sugiura of the Department of Information and Computer Science at Keio University in Yokohama, Japan uses cutting-edge sensor simulation and user-centric design to overcome various obstacles and open up new ways for people to interact with technology. Gesture recognition technology has long been plagued by the conundrum of efficiently configuring and placing the requisite sensors, interpreting the results, and ensuring the accuracy of the machine learning system that will recognise those gestures. The team has developed VirSen1.0, as a virtual environment paired with a tailor-made user interface to underpin the development of gesture recognition systems [...]
More details...