International Journal of Cognitive Biometrics
This journal also publishes Open Access articles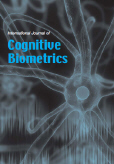 Editor in Chief

Dr. M.A. Dorgham

ISSN online

2042-647X

ISSN print

2042-6461
4 issues per year

Cognitive biometrics acquires information from users through collection of one or more biosignals. This relies on the presentation of one or more external or imagined stimuli. The subsequent response(s) are acquired and used for verification and authentication. IJCB addresses all aspects of cognitive biometrics, which aims to extract a unique signature from the user based on the cognitive, affective and conative state of the individual, either alone or more typically in various multi-modal combinations involving conventional and soft biometrics.
Topics covered include
Biosignal recognition deployment for EEG, ECG, EOG, EMG, PPG, etc.
Event-related audio-visual stimuli design and resulting response component extraction for person ID
Virtual reality deployment as a means of stimulus presentation
Subliminal stimulus presentation utilisation in user authentication schemas
Signal processing (linear and nonlinear) for time-invariant biometric feature extraction
Novel machine learning algorithms for user-dependent/independent classification
Genetic basis of biosignals and heritability
Cognitive neuroscience deployment for biometric authentication purposes
Multimodal approaches involving biosignals

conventional: fingerprints, palm prints, retinal scan, iris recognition, voice recognition, keystroke patterns, etc.
soft biometrics: odour scent, skin colour, eye colour, etc.
token based methods: personal ID number, passwords, etc.

Related algorithms, enrolment procedures, systems/devices, security, applications, standardisation for user verification and authentication
More on this journal...
Objectives
The primary objective of
IJCB
is to provide a medium through which researchers in
all
fields relevant to cognitive biometrics can exchange their ideas. Biometrics is ultimately a process that investigates and develops strategies that enable secure access to information. The domain is therefore global, and
IJCB
emphasises this aspect of biometrics. We encourage the dissemination of data through the use of online data repositories, allowing research groups on a global scale to utilise common datasets. Publicly-available datasets provide the opportunity for researchers to compare their specific approaches, fostering a comparative and collaborative approach to the discipline. In addition, the establishment of an international standard(s) for cognitive biometrics would provide a means for integrating this branch of biometrics within government frameworks, engendering widespread integration into a common global biometric framework. The ultimate goal of academic publications is to provide a medium that informs the community at large on the latest advances within a domain - for us, this domain is cognitive biometrics.
Readership
IJCB provides a medium that facilitates the exchange of ideas and latest results among members of academia, industry, and legislative bodies alike. Papers included in IJCB will be relevant to a wide-ranging audience, including members of the engineering, computer science, biometrics, and related fields.
Contents
IJCB publishes a wide variety of manuscripts types such as book reviews, major topic reviews, original papers, technical reports, short communications, and news reports. Special Issues devoted to important aspects in cognitive biometrics will be published at periodic intervals.
Editor in Chief
Dorgham, M.A., International Centre for Technology and Management, UK
(supportinderscience.com)
Editorial Board Members
Alonso Hernández, Jesús B., University of Las Palmas de Gran Canaria, Spain
Balli, Tugce, Istanbul Kemerburgaz University, Turkey
Chandran, Vinod, Queensland University of Technology, Australia
Cho, Sungzoon, Seoul National University, South Korea
Cota, Navin, Mind Research Network, USA
Deravi, Farzin, University of Kent, UK
Gorunescu, Florin, University of Medicine and Pharmacy of Craiova, Romania
Huang, Huang-Nan, Tunghai University, Taiwan, Province of China
Jin, Zhanpeng, Binghamton University - State University of New York, USA
Majumdar, Kaushik, Indian Statistical Institute, India
Murugappan, M., Kuwait College of Science and Technology, Kuwait
Nakanishi, Isao, Tottori University, Japan
Patnaik, Lalit M., National Institute of Advanced Studies, India
Salem, Abdel-badeeh M., Ain Shams University, Egypt
Samraj, Andrews, Mahendra Engineering College, India
Zhang, Heye, Shenzhen Institute of Advanced Technology, China
A few essentials for publishing in this journal
Submitted articles should not have been previously published or be currently under consideration for publication elsewhere.
Conference papers may only be submitted if the paper has been completely re-written (more details available here) and the author has cleared any necessary permissions with the copyright owner if it has been previously copyrighted.
Briefs and research notes are not published in this journal.
All our articles go through a double-blind review process.
All authors must declare they have read and agreed to the content of the submitted article. A full statement of our Ethical Guidelines for Authors (PDF) is available.
There are no charges for publishing with Inderscience, unless you require your article to be Open Access (OA). You can find more information on OA here.



Submission process

All articles for this journal must be submitted using our online submissions system.
View Author guidelines.