International Journal of Big Data Management
This journal also publishes Open Access articles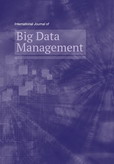 Editor in Chief

Dr. Riad Shams

ISSN online

2631-8687

ISSN print

2631-8679
2 issues per year

Big data research has attracted considerable academic attention. However, simplifying the data management structure in order to generate optimum insights from large amounts of data is an ongoing management concern. In this context, IJBDM encourages research at the intersection of strategic management and big data analytics to understand how large amounts of data could systematically and strategically be managed, in order to improve the practical implications of data for managerial decision making, along with socio-economic development.
Topics covered include
Any study would be relevant to IJBDM that focuses on the strategic management of data analytics to optimise the implications of large amounts of data for managerial decision making. Some examples of prospective thematic areas are presented below; however, they are not exhaustive:
Different strategic management theories and concepts (i.e. resource-based view, dynamic capabilities, organisational sustainability, organisational ambidexterity, etc.) and big data management
Insights from different management perspectives (e.g. corporate social responsibility, cause-related marketing, public relations, HRM, mergers and acquisitions, promotion management, consumer behaviour, entrepreneurship, international business, etc.) for big data exploration, visualisation and analysis
Stakeholder relationship management and marketing for big data management
Impact of cross-cultural management on big data analytics
Ethical concerns, data privacy and legal issues in big data management
Timely recognition and proactive categorisation of increasing volumes of data from multiple data streams/sources
Using common business/management terms to scale big data, so that the data analysis terms can be understood easily across different departments of an organisation
Effectual interactive (large data) exploration, visualisation, analysis and exploitation techniques for large and dynamic sets of volatile raw data, based on a stable method for information abstraction, sampling and summarisation for addressing management problems
IT-enhanced business and management platforms and their implications for big data management
Knowledge management and knowledge transfer and big data management
Cross-disciplinary and cross-functional studies on the strategic management of big data
Comparative studies across different markets, sectors and industries to underpin the big data management process
Influence of different political, environmental and non-government perspectives on big data analytics and management
Public and private sector collaboration and big data management
Any other relevant perspectives
More on this journal...
Objectives
IJBDM aims to be a flagship journal in the field of strategic management of big data. It intends to attract rigorous research from scholars all over the world that will significantly contribute to the evolution of novel thought in the strategic management of big data research and practice. IJBDM disseminates cutting-edge theoretical developments and phenomena including best practices that are instrumental to bridging the research and practice gap in data management, with an aim of undertaking accurate management decisions, at the right time, centred on the right dataset and focusing on the right target audience.
Readership
IJBDM is essential reading for academics, research students and professionals at all levels in public and private sectors for access to novel insights into the strategic management of big data. IJBDM articles are valuable in understanding how we could establish a simplified data management system to develop greater insights from ongoing inflows and outflows of large amounts of data.
Contents
IJBDM is interested in original conceptual and empirical (qualitative, quantitative or mixed) studies on the strategic management of big data, and publishes research papers; viewpoints; practical (reflection on experience) papers; conceptual papers; case studies; systematic literature reviews; general reviews; thought-leadership commentary; policy dialogue; essays; short generative interest papers to introduce new ideas and debates on timely topics; book reviews; interviews with and bio-notes of elite scholars of the field; news and information.
Editor in Chief
Shams, Riad, Northumbria University, UK
(shamsriadgmail.com)
Editor
Nair, Suja R., Educe Micro Research, India
Associate Editors
Hasan, Fakhrul, Northumbria University, UK
Rangaiah, Pramod K. B., Uppsala University, Sweden
Siddappa, Sheela, Robert Bosch Engineering and Business Solutions Private Limited, India
Advisory Board
Akter, Shahriar, University of Wollongong, Australia
Belyaeva, Zhanna S., Ural Federal University, Russian Federation
Contò, Francesco, University of Foggia, Italy
Kotabe, Masaaki (Mike), Temple University, USA
Thrassou, Alkis, University of Nicosia, Cyprus
Vrontis, Demetris, University of Nicosia, Cyprus
Editorial Board Members
Battisti, Enrico, University of Turin, Italy
Birkenkrahe, Marcus Speh, Berlin School of Economics and Law, Germany
Camilleri, Mark Anthony, University of Malta, Malta
Comai, Alessandro, International University of Japan, Japan
Ferraris, Alberto, University of Turin, Italy
Fiore, Mariantonietta, University of Foggia, Italy
Galati, Antonino, Università degli Studi di Palermo, Italy
Santoro, Gabriele, University of Turin, Italy
Vukovic, Darko B., Saint Petersburg School of Economics and Management, HSE; Serbian Academy of Sciences and Arts Geographical Institute, Russian Federation
Yousaf, Anish, ICFAI Business School, India
A few essentials for publishing in this journal
Submitted articles should not have been previously published or be currently under consideration for publication elsewhere.
Conference papers may only be submitted if the paper has been completely re-written (more details available here) and the author has cleared any necessary permissions with the copyright owner if it has been previously copyrighted.
Briefs and research notes are not published in this journal.
All our articles go through a double-blind review process.
All authors must declare they have read and agreed to the content of the submitted article. A full statement of our Ethical Guidelines for Authors (PDF) is available.
There are no charges for publishing with Inderscience, unless you require your article to be Open Access (OA). You can find more information on OA here.



Submission process

All articles for this journal must be submitted using our online submissions system.
View Author guidelines.