International Journal of Behavioural Accounting and Finance
This journal also publishes Open Access articles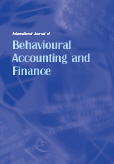 Editor in Chief

Dr. Matteo Rossi

ISSN online

1753-1977

ISSN print

1753-1969
4 issues per year

IJBAF publishes research focusing on behavioural issues in accounting and finance across financial markets, corporate or governmental contexts in different countries. IJBAF welcomes theoretical or empirical papers demonstrating how human behaviour affects accounting or finance or vice-versa. The scope of the journal is broad. It includes behavioural research in major disciplines in accounting such as financial accounting, management accounting, and auditing, and in finance such as corporate, investments and financial markets.
Topics covered include
Judgment and decision-making
Human information processing
Behavioural issues in financial accounting, management accounting and auditing
Behavioural issues in corporate financing, investment, and mutual funds
Investors' behaviour and sentiments
Calendar effects and other anomalies in financial markets
Fundamental and non-fundamental equilibria in financial markets
Gender issues in finance and accounting
Behavioural implications of corporate governance systems
Experimental studies in accounting and finance
Survey analysis
Game theory
More on this journal...
Objectives
IJBAF aims to be a leading journal for publishing original papers reporting the results of research that address behavioural issues in accounting or finance. The term 'behavioural issues' is interpreted widely and includes but is not limited to economic, managerial, psychological and social issues underpinning individuals, groups, organisations, financial markets, and society. The majority of the papers in IJBAF employ empirical methods (econometric or experimental) as a central feature of their research design. Alternative research methods such as case studies will be considered where these are appropriate for the research question. Commentaries or discussions of previously published papers are also welcome but these would usually be shorter papers.
Readership
Educational institutes around the world (e.g., universities, polytechnics, colleges)
Public and university libraries
Financial institutions and banks around the world
Professional bodies in accounting and finance
Contents
IJBAF publishes original papers, review papers, technical reports, case studies, conference reports, management reports, book reviews, notes, commentaries, and news. Special Issues devoted to important topics in behavioural accounting and finance will occasionally be published.
Editor in Chief
Rossi, Matteo, University of Sannio, Italy
(mrossiunisannio.it)
Associate Editors
Chelley-Steeley, Patricia, Aston University, UK
Rathinasamy, Rathin S., Ball State University, USA
Steeley, James M., Aston University, UK
Regional Editors
Guney, Yilmaz, Coventry University, UK
Mai, Yiyuan, Huazhong University of Science and Technology, China
Editorial Board Members
Abate, Guido, University of Brescia, Italy
Abdallah, Abed Al-Nasser, American University of Sharjah, United Arab Emirates
Ackert, Lucy F., Kennesaw State University, USA
AlGhazali, Abdullah, Dhofar University, Oman
Ashton, John, Bangor University, UK
Barone, Elisabetta, Brunel University London, UK
Basili, Marcello, University of Siena, Italy
Bregn, Kirsten, Roskilde University, Denmark
Carè, Rosella, University Magna Graecia of Catanzaro, Italy
Chatterjee, Sris, Fordham University, USA
Chen, Louisa X. H., Bank of England, UK
Chowdhury, Reza, University of Northern British Columbia , Canada
Church, Bryan K., Georgia Institute of Technology, USA
Coakley, Jerry, University of Essex, UK
Cooper, Philip, University of Bath, UK
Corter, James E., Columbia University , USA
Crawford, Ian, University of Bath, UK
Cumming, Douglas J., York University, Canada
De Bondt, Werner, DePaul University, USA
Drouvelis, Michalis, University of Birmingham, UK
Duxbury, Darren, Newcastle University Business School, UK
Eshraghi, Arman, University of Edinburgh , UK
Fairchild, Richard, University of Bath, UK
Fontana, Stefano, University of Rome "Sapienza", Italy
Gervais, Simon, Duke University, USA
Goodwin, Paul, University of Bath, UK
Gordon, Cameron, University of Canberra, Australia
Gounopoulos, Dimitrios, University of Bath, UK
Hassan, Mostafa Kamal, Qatar University, Qatar
Hudson, Robert, Newcastle University , UK
Ismail, Ahmad, The American University of Beirut, Lebanon
Jaworski, Jacek, WSB University in Gdańsk, Poland
Kleinman, Gary, Montclair State University , USA
Kluger, Brian D., University of Cincinnati, USA
Kostyuk, Alexander, Sumy State University, Ukraine
Krause, Andreas, University of Bath, UK
Lucey, Brian, Trinity College, Ireland
Mansour, Walid, University of Sousse, Tunisia, and Research Affiliate, USA
Marnet, Oliver, University of Southampton Business School, UK
Muradoglu, Gulnur, Queen Mary, University of London , UK
Perdichizzi, Salvatore, University of Bologna, Italy
Pradhan, Roli, Maulana Azad National Institute of Technology (MANIT), India
Ricciardi, Victor, Social Science Research Network, USA
Saad, Mohsen, American University of Sharjah, United Arab Emirates
Summers, Barbara, University of Leeds, UK
Taffler, Richard, Warwick Business School, UK
Tourani-Rad, Alireza, Auckland University of Technology, New Zealand
Vitolla, Filippo, LUM Jean Monnet University, Italy
A few essentials for publishing in this journal
Submitted articles should not have been previously published or be currently under consideration for publication elsewhere.
Conference papers may only be submitted if the paper has been completely re-written (more details available here) and the author has cleared any necessary permissions with the copyright owner if it has been previously copyrighted.
Briefs and research notes are not published in this journal.
All our articles go through a double-blind review process.
All authors must declare they have read and agreed to the content of the submitted article. A full statement of our Ethical Guidelines for Authors (PDF) is available.
There are no charges for publishing with Inderscience, unless you require your article to be Open Access (OA). You can find more information on OA here.



Submission process

All articles for this journal must be submitted using our online submissions system.
View Author guidelines.