International Journal of Banking, Accounting and Finance
This journal also publishes Open Access articles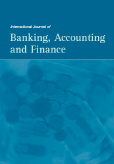 Editors in Chief

Prof. Philip Molyneux, Fotios Pasiouras, Prof. Andrea Resti

ISSN online

1755-3849

ISSN print

1755-3830
4 issues per year


CiteScore

0.7 (2022)

IJBAAF provides an outlet for empirical research on all aspects of accounting, banking and finance. Theoretical research with the potential for empirical applications and in-depth literature reviews will also be considered. IJBAAF particularly welcomes papers dealing with topics that link accounting and banking such as: auditing of banks; the use of cost accounting in banks and financial firms; corporate governance of banks; financial reporting of banks; and the impact of accounting and auditing regulations in the banking and financial industry.
Topics covered include
Asset-liability management, corporate governance
Auditing, bank assurance, banking crises, investment banking, central banks
Derivatives, structured financial products
Efficiency, performance, technological progress
Financing decisions, financial institution management
Regulation, supervision, standards, accountability
Environmental/financial/management/social accounting
Risk management, internal control
Asset pricing, financial engineering
Bankruptcy prediction/determinants
Corporate finance, venture capital
Credit risk modelling/management
Foreign exchange markets
Law and finance, mergers and acquisitions
Mutual funds/portfolio management
More topics...
Banking

Asset-liability management
Auditing
Bank assurance
Banking crises
Corporate governance
Derivatives and structured financial products
Efficiency and performance of financial institutions and bank branches
Financing decisions of banks
Investment banking
Management of financial institutions
Regulation and supervision of the banking industry, both nationally and internationally
Technological progress and banking
The role of central banks
Accounting

Accountability
Accounting standards and regulations
Auditing
Auditing standards and regulations
Corporate governance
Environmental accounting
Financial accounting
Management accounting
Risk management and internal control
Social accounting
Finance

Asset pricing
Bankruptcy prediction and determinants
Corporate finance
Credit risk modelling and management
Financial engineering
Foreign exchange markets
Law and finance
Mergers and acquisitions
Mutual funds management
Portfolio management
Regulations of financial markets
Venture capital
More on this journal...
Objectives
The objectives of IJBAAF are to establish a forum of communication for academics, researchers, practitioners, and policymakers in the areas of accounting, banking, finance, auditing as well as the regulation and supervision of the related industries. Through its broadly defined scope, it attempts to bring together expert writers and readers from different disciplines.
Readership
Academics and researchers, accountants, auditors, bank managers, financial analysts and managers, regulatory and other governmental agencies from around the world.
Contents
IJBAAF
publishes high quality empirical, theoretical and survey papers providing meaningful insights in accounting, banking, and finance. Contributions may be by submission or invitation. Suggestions for special issues that address important questions related to the subject areas, in the specific context of a region or topic, are welcome.
Editors in Chief
Molyneux, Philip, University of Bangor, UK
(p.molyneuxbangor.ac.uk)
Pasiouras, Fotios, Technical University of Crete, Greece
(ijbaafgooglemail.com)
Resti, Andrea, Bocconi University, Italy
(andrea.restiunibocconi.it)
Associate Editors
Altman, Edward I., New York University, USA
Chatterjee, Sris, Fordham University, USA
Francis, Bill, Rensselaer Polytechnic Institute , USA
Ioannidis, Christos, University of Bath, UK
Kara, Alper, University of Huddersfield, UK
Klumpes, Paul, Aalborg University, Denmark
Lozano-Vivas, Ana, University of Malaga, Spain
Tarazi, Amine, Université de Limoges, France
Zopounidis, Constantin, Audencia Nantes School of Management, France and Technical University of Crete, Greece
Regional Editor America
Cummins, David, Temple University, USA
Regional Editor Australia
Williams, Barry, Bond University, Australia
Editorial Board Members
Abdallah, Abed Al-Nasser, American University of Sharjah, United Arab Emirates
Andriosopoulos, Kostas, ESCP Europe, UK
Calice, Giovanni, Loughborough University, UK
Calomiris, Charles, Columbia University, USA
Christodoulakis, George, University of Manchester, UK
Cooper, Philip, University of Bath, UK
Dermine, Jean, INSEAD, France
DeYoung, Robert, University of Kansas, USA
Doumpos, Michael, Technical University of Crete, Greece
Drake, Leigh, Nottingham University Business School, UK
Errunza, Vihang, McGill University, Canada
Evanoff, Douglas, Federal Reserve Bank of Chicago, USA
Fiordelisi, Franco, University of Rome III, Italy
Gaganis, Chrysovalantis, University of Crete, Greece
Girardone, Claudia, University of Essex, UK
Hasan, Iftekhar, Fordham University, USA
Hassan, Mohammad Kabir, University of New Orleans, USA
Kwan, Simon, Federal Reserve Bank of San Francisco, USA
Laitinen, Erkki K., University of Vaasa, Finland
Leal, Ricardo P. C., Federal University of Rio de Janeiro, Brazil
Mester, Loretta, Federal Reserve Bank of Philadelphia, USA
Montiel, Eduardo Luis, INCAE Business School, Nicaragua
Sironi, Andrea, Bocconi University, Italy
Staikouras, Sotiris, City University London, UK
Tanna, Sailesh, Coventry University, UK
Trinh, Vu, Newcastle University, UK
Tsaklanganos, Angelos, Aristotle University of Thessaloniki, Greece
Van Bommel, Jos, University of Luxembourg , Luxembourg
Vennet, Rudi Vander, Ghent University, Belgium
Verousis, Thanos, University of Essex, UK
Wachtel, Paul, New York University, USA
Waisman, Maya, Fordham University, USA
Wall, Larry, Federal Reserve Bank of Atlanta, USA
A few essentials for publishing in this journal
Submitted articles should not have been previously published or be currently under consideration for publication elsewhere.
Conference papers may only be submitted if the paper has been completely re-written (more details available here) and the author has cleared any necessary permissions with the copyright owner if it has been previously copyrighted.
Briefs and research notes are not published in this journal.
All our articles go through a double-blind review process.
All authors must declare they have read and agreed to the content of the submitted article. A full statement of our Ethical Guidelines for Authors (PDF) is available.
There are no charges for publishing with Inderscience, unless you require your article to be Open Access (OA). You can find more information on OA here.



Submission process

All articles for this journal must be submitted using our online submissions system.
View Author guidelines.