International Journal of Artificial Intelligence and Soft Computing
This journal also publishes Open Access articles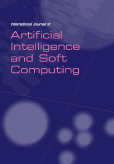 Editor in Chief

Prof. Gai-Ge Wang

ISSN online

1755-4969

ISSN print

1755-4950
4 issues per year

IJAISC provides a new forum for dissemination of knowledge on both theoretical and applied research on artificial intelligence and soft computing with an ultimate aim to bridge the gap between these two non-coherent disciplines of knowledge. This forum accelerates interaction between the above two bodies of knowledge, and fosters unified development in next generation computational models for machine intelligence.
Topics covered include
Intelligent search
Automated reasoning and logic programming
Machine learning
Intelligent planning
Visual/linguistic perception
Evolutionary and swarm algorithms
Derivative-free optimisation algorithms
Fuzzy sets and fuzzy logic; rough sets
Neural computing
Multi-agent systems
Data and web mining
Emotional intelligence
Hybridisation of intelligent models/algorithms
Parallel and distributed realisation of intelligent algorithms/systems
Applications
More on this journal...
Objectives
The primary objective of IJAISC is to establish an effective channel of communication between theoretical researchers and practitioners. The theoretical research outcome provides necessary support to practitioners in the design and development of intelligent systems, and the difficulties faced by the practitioners in using the theoretical results provide feedback to the theoreticians to revalidate their models. IJAISC thus meets the demands of both theoretical and applied researchers in artificial intelligence and soft computing.
Readership
IJAISC provides a vehicle to help professionals, academicians and researchers working in the field of artificial intelligence and soft computing. Special issues addressing current research directions will be useful to academic-minded researchers. Experimental findings and design issues will be useful to practitioners and system developers.
Contents
IJAISC publishes original unpublished works, review papers, technical reports, book reviews, conference reports and news about new conferences/seminars/workshops on topics covered in the journal. Special Issues devoted to topics of current interest will be published occasionally.
Editor in Chief
Wang, Gai-Ge, Ocean University of China, China
(wggouc.edu.cn)
Associate Editor
Konar, Amit, Jadavpur University, India
Editorial Board Members
Chakraborty, Aruna, St. Thomas' College of Engineering and Technology, India
Chakraborty, Uday K., University of Missouri - St. Louis, USA
Chatterjee, Amita, Jadavpur University, India
Cheong, France, RMIT University, Australia
Chowdhury, Ananda, National Institutes of Health, USA
Das, Swagatam, Indian Statistical Institute (ISI), India
Foo, Check Teck, Nanyang Technological University, Singapore
Ha, Sungho, Kyungpook National University (KNU), South Korea
Hong, Wei-Chiang, Jiangsu Normal University, China
Kanellopoulos, Dimitris, University of Patras, Greece
Li, Guo-Zheng, Tongji University, China
Majumder, Arun K., Indian Institute of Technology, Kharagpur, India
Rao, R. Venkata, Sardar Vallabhbhai National Institute of Technology (SVNIT), India
Roy, P. K., National Brain Research Centre, India
Saha, Parbati, Bengal Engineering and Science University (BESU), India
Sanyal, Salil K., Jadavpur University, India
Shukla, Anupam, Indian Institute of Information Technology and Management, Gwalior (ABV-IIITM), India
Sil, Jaya, Bengal Engineering and Science University (BESU), India
Sural, Shamik, Indian Institute of Technology, Kharagpur, India
Tounsi, Mohamed, Prince Sultan University, Saudi Arabia
Vasilakos, Athanasios, Lulea University of Technology, Sweden
Wang, Ling, Tsinghua University, China
Xiong, Ning, Mälardalen University, Sweden
A few essentials for publishing in this journal
Submitted articles should not have been previously published or be currently under consideration for publication elsewhere.
Conference papers may only be submitted if the paper has been completely re-written (more details available here) and the author has cleared any necessary permissions with the copyright owner if it has been previously copyrighted.
Briefs and research notes are not published in this journal.
All our articles go through a double-blind review process.
All authors must declare they have read and agreed to the content of the submitted article. A full statement of our Ethical Guidelines for Authors (PDF) is available.
There are no charges for publishing with Inderscience, unless you require your article to be Open Access (OA). You can find more information on OA here.



Submission process

All articles for this journal must be submitted using our online submissions system.
View Author guidelines.