International Journal of Adaptive and Innovative Systems
This journal also publishes Open Access articles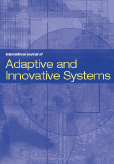 Editor in Chief

Dr. M.A. Dorgham

ISSN online

1740-2115

ISSN print

1740-2107
4 issues per year

IJAIS is an interdisciplinary, referred international journal soliciting high quality original research papers on innovative solutions to develop effective and efficient adaptive and innovative complex software systems. Presented solutions for development and management of adaptive and innovative complex software systems provide a cross-learning platform between scientific and technological disciplines comprising energy and financial systems, environmental and ecological systems, computer and automation systems and processes, risk and engineering management.
Topics covered include
Parallel computing
Database and data mining applications
Artificial intelligence and agent technology
Machine vision, image processing and pattern recognition
Multimedia systems and virtual reality
Systems for biological and medical applications
Embedded systems
Wireless sensor, ad hoc and mesh networks
Internet, technologies and semantic web
Pervasive, ubiquitous, and mobile computing
Socially inspired computing and computational intelligence
Security and trusted computing
Energy aware information systems
P2P, grid, and cloud data technologies
Human-computer interaction
More on this journal...
Objectives
IJAIS publishes state-of-the-art international research in all areas of adaptive and innovative complex software systems. The mission of IJAIS is to improve international research on new and valuable complex software systems technology by publishing high-quality articles and to expose the reader to the various relevant methodologies and article types.
Readership
Professors and graduate students in computer science, information technology, electrical engineering and electronics engineering in universities, colleges and research laboratories
Researchers, engineers and managers in industry
General participants in effective and efficient adaptive and innovative complex software systems development
Contents
IJAIS addresses research on adaptive and innovative complex software systems being undertaken by an increasingly interdisciplinary research community - and provides a common platform under which this work can be published and disseminated. IJAIS publishes research contributions that significantly advance the state-of-the-art research in this area. Contributions are expected to be based on sound and innovative theoretical models, algorithms, engineering and programming techniques, infrastructures and systems, and/or technological and application experiences.
Editor in Chief
Dorgham, M.A., International Centre for Technology and Management, UK
(supportinderscience.com)
Associate Editor
Lim, Yuto, Japan Advanced Institute of Science and Technology, Japan
Regional Editor Africa
Nayel, Mohamed, Assiut University, Egypt
Regional Editor Asia
Lee, Sangmin, Inha University, South Korea
Regional Editor Europe
Ratnayake, R.M. Chandima, University of Stavanger, Norway
Regional Editor North America
Yoon, Byung-Jun, Texas A&M University, USA
Editorial Board Members
Al-Tahat, Mohammad D., University of Jordan, Jordan
Bahri, Imen, Paris-Sud University, France
Devaraj, Durairaj, Kalasalingam University, India
Issac, Biju, Northumbria University, UK
Kanellopoulos, Dimitris, University of Patras, Greece
Kim, Kyeong Soo (Joseph), Xi'an Jiaotong-Liverpool University, China
Lau, Bee Theng, Swinburne University of Technology, Malaysia
Park, Herie, Yeungnam University, South Korea
Veselý, Vladimír, Brno University of Technology, Czech Republic
Editorial Assistant
Zheng, Pan, University of Canterbury, New Zealand
A few essentials for publishing in this journal
Submitted articles should not have been previously published or be currently under consideration for publication elsewhere.
Conference papers may only be submitted if the paper has been completely re-written (more details available here) and the author has cleared any necessary permissions with the copyright owner if it has been previously copyrighted.
Briefs and research notes are not published in this journal.
All our articles go through a double-blind review process.
All authors must declare they have read and agreed to the content of the submitted article. A full statement of our Ethical Guidelines for Authors (PDF) is available.
There are no charges for publishing with Inderscience, unless you require your article to be Open Access (OA). You can find more information on OA here.



Submission process

All articles for this journal must be submitted using our online submissions system.
View Author guidelines.