2010 Journal news
1. World Review of Science, Technology and Sustainable Development
Dr. Farhad Memarzadeh, Director of the Division of Technical Resources (DTR) at the National Institutes of Health (NIH) in Bethesda, MD has taken over as Editor-in-Chief of the World Review of Science, Technology and Sustainable Development. Dr. Memarzadeh was awarded 2009 Top 10 Federal Engineer of the Year by the National Society of Professional Engineers (NSPE) (www.nspe.org).
Dr. Memarzadeh is an internationally recognized expert on biomedical research laboratories and has conducted pioneering research using advanced numerical analysis to study different aspects of infection transmission, including the interaction between the human cough and the building ventilation system. Through his research, he was able to optimize building systems to simultaneously improve energy efficiency and infection control. His innovative design approach, which will be reflected in the 2010 Health Care Guidelines, will revolutionize the construction of new isolation rooms and the renovation of existing ones. In addition to this work, Dr. Memarzadeh spearheaded the development of American National Standard Institute Standard Z9.11-Laboratory Decommissioning standard which provides the research community the first authoritative guidelines on decommissioning a research laboratory in preparation for renovation or demolition. Dr. Memarzadeh has been the principal investigator on numerous groundbreaking research studies. His findings have set Standards for better indoor air quality and greater energy conservation. The American National Standards Institute (ANSI), the American Society of Heating, Refrigerating and Air-Conditioning Engineers (ASHRAE) and the America Institute of Architects (AIA) -Hospitals and Clinics Design Manual have adopted findings of his research. Memarzadeh has authored 4 books and written over 45 scientific research and technical papers in peer reviewed journals. He has been a guest and keynote speaker at over 50 international scientific and engineering conferences and symposia. Memarzadeh has received numerous national awards and commendations including;
Five (5) NIH Director's awards,
Four (4) NIH Merit Awards,
Three (3) National Society of Professional Engineers- Top Ten Federal Engineer of the year awards,
Two (2) Public Health Service- Engineer of the Year awards,
Five (5) Scientific/Engineering Literary awards for outstanding scientific publications and;
Several commendations from the United States Senate for outstanding research on energy and environmental measures.
The National Society of Professional Engineers is the national society of licensed professional engineers from all disciplines that promotes the ethical and competent practice of engineering, advocates licensure, and enhances the image and well-being of its members. The National Society of Professional Engineers' Federal Engineer of the Year Award (FEYA) program, now in its 30th year, is the only national award specifically recognizing and highlighting outstanding engineers employed by the Federal government. Hailing from all federal agencies, departments, and military branches, the nominated engineers are evaluated based on factors such as engineering achievements, education, professional and technical activities, awards and honours, and civic and humanitarian activities.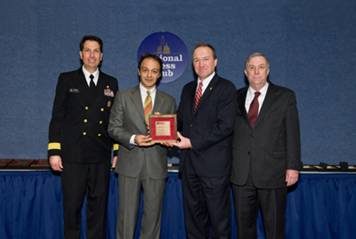 Farhad Memarzadeh, Ph.D., P.E. Receiving Plaque for HHS and NIH 2009 Top 10 Federal Engineers of the Year
World Review of Science, Technology and Sustainable Development will increase its issues this year (2010) from four to six.
2. World Review of Entrepreneurship, Management and Sustainable Development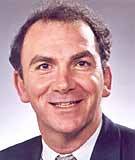 Professor Leo Paul Dana is the new Editor-in-Chief of the World Review of Entrepreneurship, Management and Sustainable Development Professor Dana works in the Department of Management section of the College of Business and Economics at the University of Canterbury, New Zealand. His fields of research include aboriginal business, animal husbandry, food and fibre, government policy, indigenous entrepreneurship, international business and viticulture. Specifically, his interests include cross-cultural studies and subsistence micro-enterprise among Inuit, Sami and Canadian First Nations, with a focus on animal husbandry. Thanks to a US$100,000 grant from Royal Dutch Shell, he is also doing a great deal of work with the oil and gas industry in the Arctic and in the Russian sub-Artic. Future research will involve the internationalisation of NZ SMEs.
3. International Journal of Food Safety, Nutrition and Public Health
Professor Saundra Glover, Associate Dean for health disparities and social justice in the Arnold School of Public Health, University of South Carolina, has undertaken to develop the International Journal of Food Safety, Nutrition and Public Health. Professor Glover is faculty recipient of the 2010 Martin Luther King Day Social Justice Award.Professor Glover, who has been on the Arnold School faculty for 19 years, was lauded for her "consistent commitment to educational outreach and research aimed at eliminating disparities." She also is director of the Institute for Partnerships to Eliminate Health Disparities (IPEHD) and associate director of the S.C. Rural Health Research Center.
Her research interests include:
Center of Excellence in Cancer and HIV Research, a $7.5 million, 5-year partnership between the University of South Carolina and Claflin University to eliminate health disparities in HIV/AIDS and cancer in the Palmetto State.
Ft. Jackson Identifying Health Barriers Project, a $1.1 million contract with the Department of Defense to examine attrition rates in military recruits.
Project MATCH (Mobilizing Against Threats of Community Health), a program comprising the Arnold School, the American Public Health Association and Michigan State University, to address the convergence of animal health and public health issues.
Professor Glover was jointly successful in securing approval of a $7.2 million Center of Economic Excellence in Prostate Cancer with two lead investigators from the Medical University of South Carolina and South Carolina State University.