International Journal of Business Intelligence and Systems Engineering
This journal also publishes Open Access articles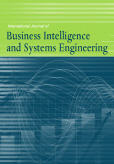 Editor in Chief

Prof. Rashmi Malhotra

ISSN online

2051-5855

ISSN print

2051-5847
4 issues per year

IJBISE focuses on business intelligence and decision support, together with system strategy, policy and application. It also covers production planning, scheduling and operation management along with advanced information systems, including theoretical foundations, infrastructure, architecture and algorithms. The journal proposes and fosters discussion on new system theory and information technology, including state-of-the-art research reports, important techniques and practical applications in emerging topics in the area.
Topics covered include
Data warehousing/mining, database processing/schema
Data and knowledge visualisation, knowledge discovery and management systems
Intelligent decision support, business intelligence architecture
Lean/active/dynamic systems
Information retrieval, human-computer interaction
Enterprise/organisational information strategy, enterprise performance management
Information quality, security, privacy
Soft/hybrid computing, agent architectures/systems
Organisational operation management and strategy
Uncertainty management, insufficient information decisions
Production planning, scheduling
Supply chain management
Artificial intelligence applications to business decision making
Online analytical processing, predictive analysis, text mining
Applications: biomedical systems, intelligent services, cloud computing, etc.
More on this journal...
Objectives
The objectives of IJBISE are to establish an effective channel and international forum for researchers and professionals to share their knowledge, explore new methodologies and report new advances on all topics related to business intelligence, decision support strategy and algorithms, system integration technology, data mining and advanced information systems. It also aims to build bridges across the academic and industry communities to promote the new technology of business intelligence and information technology with systematic principles.
Readership
IJBISE provides a vehicle to help professionals, academics, researchers and professionals, working in the field of information technology, system engineering and strategy management, to disseminate information and to learn from each other's work.
Contents
IJBISE
publishes original papers, review papers, technical reports, case studies and book reviews. Special Issues devoted to important topics in business intelligence and systems engineering will occasionally be published.
Editor in Chief
Malhotra, Rashmi, Saint Joseph's Univeristy, USA
(rmalhotrsju.edu)
Editorial Board Members
Bialaszewski, Dennis W., Indiana State University, USA
Chaturvedi, H., Birla Institute of Management Technology, India
Correa, Henrique Luiz, Rollins College, USA
Iam-On, Natthakan, Mae Fah Luang University, Thailand
Joshi, Amit, University of Central Florida , USA
Kohli, Amapreet S., University of Southern Maine, USA
Malhotra, D.K., Thomas Jefferson University, USA
Misra, Ram B., Montclair State University, USA
Mokhtari, Hadi, University of Kashan, Iran
Muttoo, Sunil Kumar, University of Delhi, India
Nicholson, Darren B., Rowan University, USA
Pauleen, David J., Massey University, New Zealand
Rodger, James A., Indiana University of Pennsylvania , USA
Rushinek, Sara F., University of Miami, USA
Saklani, Alok, Apeejay School of Management, India
Sambasivan, Murali, Taylor's University, Malaysia
Sawhney, Rajeev, Western Illinois University, USA
Sztandera, Les, Philadelphia University , USA
A few essentials for publishing in this journal
Submitted articles should not have been previously published or be currently under consideration for publication elsewhere.
Conference papers may only be submitted if the paper has been completely re-written (more details available here) and the author has cleared any necessary permissions with the copyright owner if it has been previously copyrighted.
Briefs and research notes are not published in this journal.
All our articles go through a double-blind review process.
All authors must declare they have read and agreed to the content of the submitted article. A full statement of our Ethical Guidelines for Authors (PDF) is available.
There are no charges for publishing with Inderscience, unless you require your article to be Open Access (OA). You can find more information on OA here.



Submission process

All articles for this journal must be submitted using our online submissions system.
View Author guidelines.