Journal of Design Research
This journal also publishes Open Access articles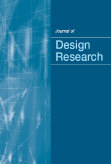 Editor in Chief

Prof. Jouke Verlinden

ISSN online

1569-1551

ISSN print

1748-3050
4 issues per year


CiteScore

0.9 (2022)

JDR is an interdisciplinary journal, emphasising human aspects as a central issue of design through integrative studies of social sciences and design disciplines. Originally published as an electronic journal publishing articles including multimedia applications and hence allowing visual knowledge transfer, it is now also available in print.
Topics covered include
Expertise in design
Design learning strategies and design pedagogy
Design as a social process
Gaming and simulation in design
Designing user interfaces
The role of visual techniques in the design process
Design tools
Sustainability
More on this journal...
Objectives
To bring together theories, models and actual products from related design areas, including engineering, architecture, industrial design and planning
To emphasise human aspects as a central issue of design through integrative studies of social sciences and design disciplines
To offer a platform for high-quality research, theory making, analysis, education, and practice
To support the dialogue between practitioners and academics, avoiding a purely academic discussion on design science
To highlight new developments in artifact design
Readership
Design is an interdisciplinary and integrative process constituting an intellectual field of thinking and research and a professional field of practice and applied research. Therefore, design research will play one of two roles: (1) the scientific study of the process and the content of design, and (2) the development of methods and tools to enhance the quality of design practice based on the body of knowledge developed by the scientific study. JDR provides knowledge in both areas and helps academics, researchers and professional designers working in the field of design and design engineering to disseminate information and to learn from each other's work.
Contents
JDR publishes original papers, review papers, case studies, conference reports, book reviews, notes, and commentaries. Special Issues devoted to important topics in design will occasionally be published.
Editor in Chief
Verlinden, Jouke, University of Antwerp, Belgium
(editor.jdrgmail.com)
Editors
Ludden, Geke D.S., University of Twente, Netherlands
Rognoli, Valentina, Politecnico di Milano, Italy
Wever, Renee, Linköping University, Sweden
Editorial Board Members
Ahmadpour, Naseem, University of Sydney, Australia
Amatullo, Mariana, Parsons School of Design, USA
Bhamra, Tracy, Loughborough University , UK
Boks, Casper, Norwegian University of Science and Technology (NTNU), Norway
Christiaans, Henri, Ulsan National Institute of Science and Technology (UNIST), South Korea
de Carvalho, Marly Monteiro, University of São Paulo, Brazil
Evans, Martyn, Manchester Metropolitan University, UK
Friedman, Ken, Tongji University, China
Gaziulusoy, Idil, Aalto University, Finland
Lindemann, Udo, Technical University of Munich, Germany
Love, Terence, Design Out Crime and CPTED Centre, Australia
Manzini, Ezio, Politecnico di Milano, Italy
McMahon, Chris, University of Bristol, UK
Mellick Lopes, Abby, University of Technology Sydney, Australia
Mugge, Ruth, Delft University of Technology, Netherlands
Poldma, Tiiu, University of Montreal, Canada
Pombo, Fátima, Aveiro University, Portugal
Sariyildiz, Sevil, Delft University of Technology, Netherlands
Sosa, Ricardo, Monash University, Australia
Subrahmanian, Eswran, Carnegie Mellon University, USA
Summers, Joshua D., The University of Texas at Dallas, USA
Winschiers-Theophilus, Heike, Polytechnic of Namibia, Namibia
A few essentials for publishing in this journal
Submitted articles should not have been previously published or be currently under consideration for publication elsewhere.
Conference papers may only be submitted if the paper has been completely re-written (more details available here) and the author has cleared any necessary permissions with the copyright owner if it has been previously copyrighted.
Briefs and research notes are not published in this journal.
All our articles go through a double-blind review process.
All authors must declare they have read and agreed to the content of the submitted article. A full statement of our Ethical Guidelines for Authors (PDF) is available.
There are no charges for publishing with Inderscience, unless you require your article to be Open Access (OA). You can find more information on OA here.



Submission process

All articles for this journal must be submitted using our online submissions system.
View Author guidelines.
Journal news
Nostalgia ain't what it used to be
15 September, 2023
Research in the Journal of Design Research, introduces an innovative approach that combines co-creation and follow-up interviews to use nostalgia effectively in the realm of design and innovation. The objective is to harness nostalgia as a valuable tool for creating meaningful and user-centric experiences, products, and services. Co-creation is a collaborative tool used by designers who collaborate closely with users during the initial, and sometimes all, stages of the process to understand more clearly the wants and desires of their putative users. Renu Zunjarwad of the Herberger Institute for Design and the Arts at Arizona State University has illustrated the approach by examining the cultural significance of street-food in Mumbai and comparing it with production, distribution, and consumption practices of street-food in Phoenix, Arizona, USA. Zunjarwad's research highlights the importance of focusing on the cultural networks surrounding an artefact in design research. She concludes that co-creation is a powerful technique for exploring abstract concepts such as trust, nostalgia, and social anxiety. When effectively implemented, co-creation can provide valuable insights for developing user-centric experiences and products [...]
More details...