International Journal of Transitions and Innovation Systems
This journal also publishes Open Access articles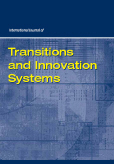 Editor in Chief

Prof. Luca Gnan

ISSN online

1745-008X

ISSN print

1745-0071
4 issues per year

Over the past two decades, transition and innovation in organisations as a field of research has grown significantly, and its interdisciplinary connections with management, entrepreneurship, economics, psychology and sociology have encouraged its legitimacy. Recent developments have supported the recognition that organisations show heterogeneous behaviours and performances with respect to transition and innovation issues. This heterogeneity arises from intra-organisational and extra-organisational sources. The main goal of IJTIS is to encourage studies exploring all organisations in unique transitional and innovative contexts.
Topics covered include
Traditional strategy research topics (such as internationalisation, corporate entrepreneurship, cooperation, competitive dynamics, economic and non-economic performance, among others), but contextualised for organisations in emerging, developing and transition economies, with a specific focus on family firms
Traditional management research topics (such as managerial succession, corporate governance, inter-generational entrepreneurship and management practices, among others), but contextualised in emerging, developing and transition economies, with a specific focus on SMEs
Cultural aspects that frame organisations' values, norms and ethics in emerging, developing and transition economies
Historical, sociological and anthropological perspectives to study organisations in emerging, developing and transition economies
The role of government policies in the start-up, development or death of organisations in emerging, developing and transition economies
Strategies adopted by organisations to counteract/compromise/comply with institutional isomorphism in emerging, developing and transition economies
The economic and social impact of organisations in emerging, developing and transition economies
Comparative studies considering differences and similarities between organisations in developed and developing countries, or among developing countries
More on this journal...
Objectives
IJTIS aims to contribute to management practice and research in different ways. Firstly, replication studies in new contexts enable the generalisation and potential expansion of current knowledge and findings. Secondly, by emphasising the importance of environment, studies can contextualise the relationship between organisations and environments. The overall objective is to improve our understanding of how and why some theories are more dominant than others in specific contexts.
Readership
IJTIS provides a vehicle to help professionals, academics researchers and policy makers working in the field of transitions and innovation systems to disseminate information and to learn from each other's work.
Contents
We invite submissions from various disciplines, such as organisational behaviour, HRM, organisation theory, management, strategy, family business, or combinations thereof. Contributions can be conceptual (including critical literature reviews or state-of-the-art articles) and/or empirical (qualitative, quantitative or mixed methods). Papers which adopt innovative approaches or challenge our understanding of how organisations cope with transition and innovation issues are welcome. Action research papers with an intervention focus are also welcome. Review papers as well as empirical and theoretical papers will be considered.
Editor in Chief
Gnan, Luca, University of Tor Vergata, Italy
(luca.gnanuniroma2.it)
Associate Editors
Bojadjiev, Marjan I., University American College Skopje, Macedonia, F.Y.R.
Czakon, Wojciech, Jagiellonian University, Poland
Flamini, Giulia, University of Rome Tor Vergata, Italy
Lundberg, Hans Martin, Ibero University, Mexico
Pellegrini, Massimiliano M., University of Rome "Tor Vergata", Italy
Regional Editor North America
Daim, Tugrul U., Portland State University, USA
Editorial Advisory Board
Dabic, Marina, Nottingham Trent University, UK and University of Zagreb, Croatia
Lundvall, Bengt-Åke, Aalborg University, Denmark
Soete, Luc, Maastricht University, Netherlands
Editorial Board Members
Afonso, Óscar Joao Atanázio, Universidade do Porto, Portugal
Cassiolato, Jose Eduardo, Universidade Federal do Rio de Janeiro , Brazil
Garengo, Patrizia, University of Padova, Italy
Kaynak, Erdener, The Pennsylvania State University at Harrisburg, USA
Löfsten, Hans, Chalmers University of Technology, Sweden
Lee, Chang Won, Hanyang University, South Korea
Moeller, Miriam, University of Queensland, Australia
Nuvolari, Alessandro, Sant'Anna School of Advanced Studies, Italy
Radošević, Slavo, University College London, UK
Raith, Matthias, Otto-von-Guericke-Universität Magdeburg, Germany
Roth, Steffen, La Rochelle Business School, France
Schwartz, Michael, Halle Institute for Economic Research, Germany
Sharma, Dharam Deo, Stockholm School of Economics, Sweden
Sinkovics, Rudolf R., University of Glasgow, United Kingdom and LUT University, Finland
Smallbone, David, Kingston University , UK
Starnawska, Marzena, University of Warsaw, Poland
Steiner, Gerald, Danube University Krems, Austria
Vuong, Quan Hoang, Université Libre de Bruxelles and Phenikaa University, Belgium
Welsh, Dianne H.B., University of North Carolina at Greensboro, USA
West, Jonathan, University of Tasmania , Australia
Wright, Diane, Manchester Metropolitan University, UK
A few essentials for publishing in this journal
Submitted articles should not have been previously published or be currently under consideration for publication elsewhere.
Conference papers may only be submitted if the paper has been completely re-written (more details available here) and the author has cleared any necessary permissions with the copyright owner if it has been previously copyrighted.
Briefs and research notes are not published in this journal.
All our articles go through a double-blind review process.
All authors must declare they have read and agreed to the content of the submitted article. A full statement of our Ethical Guidelines for Authors (PDF) is available.
There are no charges for publishing with Inderscience, unless you require your article to be Open Access (OA). You can find more information on OA here.



Submission process

All articles for this journal must be submitted using our online submissions system.
View Author guidelines.