International Journal of Sustainable Society
This journal also publishes Open Access articles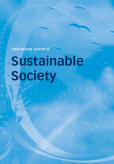 Editor in Chief

Prof. John Wang

ISSN online

1756-2546

ISSN print

1756-2538
4 issues per year


CiteScore

0.9 (2022)

The impacts of society touch everyone. They may be considerable, even critical. Societal problems, especially those remaining unchecked and unmanaged, can weaken, threaten, or even destroy, society. Production produces pollution; medication generates side-effects; pesticide causes poisoning; innovation can lead to unemployment, etc. IJSSoc deals not only with whether modern society should be sustainable, but also the ways in which this could/should come about, balancing economic development/environmental protection, real aggregate demand/aggregate supply, human beings/nature, consumption/preservation, material/spiritual pleasures, civil liberty/self-restraint, hedonism/practicality, science/society.
Topics covered include
Corporate social responsibility
Ecological economics, sustainability accounting
Emerging issues
Nature-society interactions
Sustainable agriculture, bioresource use, ecology
Sustainable cities, communities, construction, consumption
Sustainable corporations, organisations, development/planning
Sustainable economy, education
Sustainable energy, fisheries, food production, forestry
Sustainable future, policies, innovation, investment funds
Sustainable product design, technology, supply chain networks
Sustainable social change, [sub]urban development
Sustainable [strategic] management
Sustainable tourism, transportation, waste/water management
Sustainable workplaces
More on this journal...
Objectives
Sustainability is usually associated with ecological and political economics, as well as social and economic development: the associated consequences on national and global levels and the related trade-off and compromises between social, environmental and economic benefits. Furthermore, "society systems science" or "society science", as we have termed it, is the interface of natural science and social science, where both natural scientists and social scientists confront the real-world problems and challenges that exist in our society, and work towards formulating effective solutions.
IJSSoc aims to provide a professional forum for formulating, discussing and disseminating these solutions, which relate to the design, development, deployment, management, measurement, and adjustment of these social networks. They should form a common ground on which a sustainable society can be built, shared and supported by professionals from different disciplines. The universal goal of achieving peace, prosperity, and harmony in our society should go beyond disciplines, and ultimately be coordinated across different nationalities, cultures, races, and religions, and be sustainable.
Readership
IJSSoc presents a forum to help policy makers, planners, researchers, educators, students, citizens, and professionals exchange their innovative ideas and thought-provoking opinions. It also creates a communication channel between practitioners and academics to discuss problems, challenges and opportunities in all aspects of our society.
Contents
IJSSoc publishes research papers, innovative ideas, reviews, surveys, debates, reports, case studies, position notes, practice comments, book reviews, commentaries, and news. Special Issues devoted to important topics in sustainable society management will occasionally be published.
Editor in Chief
Wang, John, Montclair State University, USA
(prof.johnwanggmail.com)
Editor
Shen, Zhenjiang, Kanazawa University, Japan
Managing Editor
Teng, Xiao, Cross-Strait Tsinghua Research Institute, China
Associate Editors
Bell, Michael M., University of Wisconsin-Madison, USA
Desai, Anand, The Ohio State University, USA
Evers, Mariele, Bonn University, Germany
Pillai, Vijayan, The University of Texas at Arlington, USA
Portnov, Boris A., University of Haifa, Israel
Rauner, Marion S., University of Vienna, Austria
Sajjad, Aymen, Massey University, New Zealand
American Editor
Huang, Zhimin, Adelphi University, USA
Assistant Editor
Cao, Zhejing, Tsinghua University, China
European Editor
Knights, David, University of Keele, UK
Far East Editor
Liang, Liang, University of Science and Technology of China, China
Editorial Board Members
Abas, Muhamad Azahar, Universiti Malaysia Kelantan, Malaysia
Ajayi, Adeyinka, Redemmers' University, Nigeria
Ali, Qaisar, Sultan Sharif Ali Islamic University, Brunei Darussalam
Alizadeh, Reza, University of Oklahoma, USA
Ang, Sheng, University of Science and Technology of China, China
Bagodi, Virupaxi, Government Engineering College Talakal, India
Baker, Timothy, Washington State University, USA
Banaszak, Ilona, Slovak Academy of Sciences, Slovakia
Bangur, Ruchi, Banasthali University, India
Bazin, Damien, University of Nice Sophia Antipolis, France
Bithas, Kostas, Panteion University, Greece
Blengini, Gian Andrea, Politecnico di Torino, Italy
Bowker, J. Michael, USDA Forest Service, USA
Byon, Young-ji, Northwestern College, USA
Carolan, Michael S., Colorado State University, USA
Carvalho, Maria Leonor, Universidade de Évora, Portugal
Chadchan, Jayprakash, Christ University, India
Chatveera, Burachat, Thammasat University, Thailand
Chen, Yunhao, Beijing Normal University, China
Cheung, William W. L., University of East Anglia, UK
Delang, Claudio, Hong Kong Baptist University, Hong Kong SAR, China
Dinica, Valentina, Victoria University of Wellington, New Zealand
Fallah Zavareh, Mohsen, Kharazmi University, Iran
Félix, Elisabete, University of Évora, Portugal
Ferreyra, (Maria) Cecilia, Alberta Environment, Canada
Friberg, Lars, Embassy of Sweden, USA
Games, Donard, Universitas Andalas, Indonesia
Garvin, Theresa, University of Alberta, Canada
Getzner, Michael, Vienna University of Technology, Austria
Gopakumar, Govind, Concordia University, Canada
Graymore, Michelle, University of Ballarat, Australia
Hamaide, Bertrand, Facultés Universitaires Saint-Louis, Belgium
Harsanto, Budi, University of Padjadjaran, Indonesia
Hiedanpää, Juha, Finnish Game and Fisheries Research Institute , Finland
Hills, Peter, The University of Hong Kong, Hong Kong SAR, China
Hodges, Donald G., The University of Tennessee, USA
Huang, Gordon, University of Regina, Canada
Jackson, Anthony (Tony) A., University of Dundee, UK
Jamieson, Andrew C., Llenroc Research, USA
Johansson, Maria Vredin, Uppsala University, Sweden
Kamppinen, Matti, University of Turku, Finland
Kanathanavanich, Chokdee, Claremont Graduate University, USA
Kellenberg, Derek K., University of Montana, USA
Kharazmi, Omid Ali, Ferdowsi University of Mashhad, Iran
Lamb, Berton Lee, U.S. Geological Survey, USA
Li, Hui, Eastern Illinois University, USA
Li, Wenyue, Tsinghua University, China
Li, Ziming, University of Florida, USA
Lin, Yumin, Kanazawa University, Japan
Lipschutz, Ronnie, University of California Santa Cruz, USA
Liu, Hongrui, San Jose State University, USA
Lu, Yongmei, Texas State University, USA
Lybecker, Donna, Idaho State University, USA
M. De Freitas, Debora, University of Wollongong, Australia
Manou, Dimitra, Aristotle University of Thessaloniki, Greece
Massoud, May, American University of Beirut, Lebanon
Mayer, Audrey, Michigan Technological University, USA
Mehra, Anjali, Guru Nanak Dev University, India
Molla, Alemayehu, RMIT University, Australia
Mont, Oksana, Lund University, Sweden
Morelli, Nicola, Aalborg University, Denmark
Muller, Logan, AIT Asian Institute of Technology, Thailand
Navratil, Gerhard, Vienna University of Technology, Austria
Neto, Belmira, Oporto University, Portugal
Osman Salleh, Khairulmaini, University of Malaya, Malaysia
Palazzo, Maria, University of Salerno, Italy
Papathanasiou, Jason, University of Macedonia, Greece
Parolin, Bruno, University of New South Wales, Australia
Patulny, Roger V., University of New South Wales, Australia
Pei, Yu, Tsinghua University, China
Pinheiro, António C., University of Evora, Portugal
Prosperi, David, Florida Atlantic University, USA
Radwan, Ahmed Farouk, University of Sharjah, United Arab Emirates
Ratamäki, Outi, University of Eastern Finland, Finland
Söderholm, Kristina, Luleå University of Technology , Sweden
Saarela, Jan, Åbo Akademi University, Finland
Sakkas, Nikos, East Med Technology Transfer Unit, Greece
Scavarda, Annibal, Brigham Young University, USA
Schaeffer, Peter V., West Virginia University, USA
Semple, Bill, Canada Mortgage and Housing Corporation, Canada
Shields, Deborah, Politecnico di Torino and Colorado State University, USA
Singh, Gangaram, San Diego State University, USA
Söderholm, Patrik, Luleå University of Technology, Sweden
Stanganelli, Marialuce, University of Naples "Federico II", Italy
Sunmola, Funlade, University of Hertfordshire, UK
Tarigan, Josua, Universitas Kristen Petra, Indonesia
Vanloqueren, Gaetan, Université catholique de Louvain, Belgium
Verburg, Peter, VU University Amsterdam, Netherlands
Wagner, Marcus, Julius-Maximilians Universität Würzburg and Bureau d'Economie Théorique et Appliquée, Germany
Wan Abdullah Zawawi, Noor Amila, University Teknologi Petronas, Malaysia
Weidner, Helmut, Wissenschaftszentrum Berlin für Sozialforschung (Social Science Research Center Berlin), Germany
Williams, Jeremy B., Zayed University, United Arab Emirates
Wood, Georgina, Coventry University, UK
Yao, Xiaobai, University of Georgia, USA
Zhang, Zhang, Tsinghua University and Ministry of Education, China
Zhang, Zuopeng (Justin), State University of New York at Plattsburgh, USA
Zuo, Wei, China Territory Surveying and Planning Institute, China
A few essentials for publishing in this journal
Submitted articles should not have been previously published or be currently under consideration for publication elsewhere.
Conference papers may only be submitted if the paper has been completely re-written (more details available here) and the author has cleared any necessary permissions with the copyright owner if it has been previously copyrighted.
Briefs and research notes are not published in this journal.
All our articles go through a double-blind review process.
All authors must declare they have read and agreed to the content of the submitted article. A full statement of our Ethical Guidelines for Authors (PDF) is available.
There are no charges for publishing with Inderscience, unless you require your article to be Open Access (OA). You can find more information on OA here.



Submission process

All articles for this journal must be submitted using our online submissions system.
View Author guidelines.
Journal news
India battles toxic air
16 August, 2023
Cities across India face escalating air pollution. Now, a study in the International Journal of Sustainable Society looks at the inherent conflict in reconciling economic growth with ecological sustainability. Sunil Barthwal of the University of Petroleum and Energy Studies in Dehradun, India, scrutinizes the multifaceted efforts of citizens, industries, and government to address the issues. In his paper, Barthwal highlights the delicate balance between economic needs and sustainable development as well as emphasising the concentrated pockets of pollution experience in northern Indian cities. There are many quick fixes being suggested but a long-sighted vision is needed, the work suggests [...]
More details...