International Journal of System of Systems Engineering
This journal also publishes Open Access articles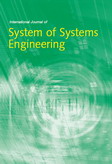 Editor

Prof. Dr. Adrian V. Gheorghe

ISSN online

1748-068X

ISSN print

1748-0671
4 issues per year


CiteScore

1.2 (2022)

IJSSE proposes and fosters discussion on the evolution and current developments in the field of system of systems and systems engineering concepts, with emphasis on the implications of the fact that new developments on technical and non-technical systems are merging. This perspective acknowledges the complexity of the current man-made, ecological as well as societal systems, their interfaces and socio-economic perspectives, in parallel with different space-time scales, as well as the reflexive characteristic of human systems.
Topics covered include
Integrating complex meta-systems
Interoperability, platform integration, system architecture and information technology
Metropolitan transportation system of systems
Sustainable development and large scale system of systems integration, e.g. technology, ecosystems, economics, societal aspects
Satellite technology assisting critical infrastructures operation and secure management
Homeland security aspects and traceability of large scale logistic systems
National security as a system of systems conceptualised approach
Modelling and management in view of extended dimensions and interdependencies, etc.
More on this journal...
Objectives
The objective of
IJSSE
is to develop the concept, foundations, research directions, and practice implications for systems of systems engineering. Among the goals of the journal are to introduce the nature of the complex systems problems faced by the mega-class of systems of systems, and to explore the perspectives of systems of systems as well as their engineering and management standpoint.
IJSSE aims to establish an effective channel of communication between various types of actors currently involved in using the systems thinking and systems engineering approaches at a different scale of applicability and complexity, namely policy makers, government agencies, academic and research institutions and persons concerned with the complex role of science, engineering, economics, living systems, organisational bodies, information and communication technologies, agriculture and emerging aspects related by the new risks and vulnerabilities to which these complex and sophisticated systems are prone to be exposed. It also aims to promote and coordinate developments in the field of agricultural resources.
The international dimension is emphasised in order to overcome methodological and interdisciplinary barriers and to meet the needs of accelerating technological and ecological change and changes in the global economy, and the needs for tools, analytical instruments and adequate approaches under the current developments of supercomputers, agent based models, data warehousing, etc.
Readership
IJSSE provides a vehicle to help professionals, academics, researchers, engineering, ecologists and policy makers, working in the field of systems science, information technology as well as in the science of complexity analysis and management, to identify new approaches, assessment solutions and non-typical approaches to a new generation of problems related to high level interdependencies among, for example, critical infrastructures, economy and commerce, natural sciences and the possible advent of profound technical and climate changes. IJSSE aims to disseminate information and to assure knowledge transfer among various fields of theoretical developments and application areas, which are today high on the agenda of work and needed solutions.
Contents
IJSSE publishes original papers, review papers, technical reports, case studies, conference reports, management reports, book reviews, notes, commentaries, and news. Special Issues devoted to important topics in complexity engineering, interdependencies among vital systems, technology management and systems of systems engineering solutions will occasionally be published.
Editor
Gheorghe, Adrian V., Old Dominion University, USA
(agheorghodu.edu)
Editorial Board Members
Apostolakis, George, Massachusetts Institute of Technology, USA
Haimes, Yacov, University Of Virginia, USA
Handley, Holly, Old Dominion University, USA
Katina, Polinpapiliñho F., University of South Carolina Upstate, USA
Keating, Charles, Old Dominion University, USA
Kroger, Wolfgang, Swiss Federal Institute of Technology (ETH) Zurich, Switzerland
Kryazhimskii, Arkadii, International Institute Applied Systems Analysis, IIASA, Austria
Masera, Marcelo, Institute for the Security and Protection of the Citizen, Italy
Moreland, Jr., James D., George Washington University, USA
Okada, Norio, Kyoto University, Japan
Paté-Cornell, M. Elisabeth, Stanford University, USA
Setola, Roberto, Universitá Campus Bio-Medico Di Roma, Italy
Shebalin, Paul, Naval Postgraduate School, USA
Shi, Peijun, Beijing Normal University, China
Sokolowski, John A., Old Dominion University, USA
Vamanu, Dan, 'Horia Hulubei' National Institute of Physics and Nuclear Engineering, Romania
A few essentials for publishing in this journal
Submitted articles should not have been previously published or be currently under consideration for publication elsewhere.
Conference papers may only be submitted if the paper has been completely re-written (more details available here) and the author has cleared any necessary permissions with the copyright owner if it has been previously copyrighted.
Briefs and research notes are not published in this journal.
All our articles go through a double-blind review process.
All authors must declare they have read and agreed to the content of the submitted article. A full statement of our Ethical Guidelines for Authors (PDF) is available.
There are no charges for publishing with Inderscience, unless you require your article to be Open Access (OA). You can find more information on OA here.



Submission process

All articles for this journal must be submitted using our online submissions system.
View Author guidelines.