International Journal of Social Network Mining
This journal also publishes Open Access articles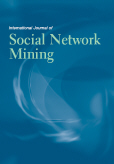 Editor in Chief

Dr. M.A. Dorgham

ISSN online

1757-8493

ISSN print

1757-8485
2 issues per year

In recent years, social network research has advanced significantly with the rapid development of online social websites and instant messaging systems. People increasingly perceive the Web as a social medium that fosters interaction among people, sharing of experiences and knowledge, group activities, community formation and evolution. IJSNM addresses important aspects of interest to practitioners and researchers with a specific focus on the emerging trends and industry needs associated with using data mining techniques for social networking analysis.
Topics covered include
Discovering influential members/implicit relationships
Discovering implicit social graphs/temporal patterns
Misbehaviour in web communities, mining social interactions for viral marketing
Detecting popular emerging events in social communities
Compressing large social networks for analysis, scalability
Data preparation/pre-processing for mining large social networks
Community discovery in social networks, drift/evolution in web communities
Mining stream data in evolving social networks, real-time mining
High performing algorithms, graph search algorithms
Multi-agent-based modelling/analysis
Data mining for security, malware analysis in social networks
Data mining in mobile social networks and in semantic web platforms
Mining semantic web data from social software applications
Data mining/knowledge discovery in natural languages
Social recommender systems, personalisation for search, social interaction
More on this journal...
Objectives
The objective of IJSNM is to establish an effective channel of communication between policy makers, intelligence agencies, law enforcement, academic and research institutions and persons concerned with the complex role of social network mining in society.
Readership
IJSNM provides a vehicle to help professionals, intelligence agencies, academics, researchers and policy makers working in the fields of knowledge management, engineering and business education to disseminate information and to learn from each other's work.
Contents
IJSNM publishes original papers, review papers, case studies, occasional technical reports, conference reports and book reviews. Special Issues devoted to important topics in knowledge management, social network analysis, information visualisation, music information retrieval and link analysis will occasionally be published.
Editor in Chief
Dorgham, M.A., International Centre for Technology and Management, UK
(supportinderscience.com)
Regional Editor Asia and Far East
Liu, Jiming, Hong Kong Baptist University, Hong Kong SAR, China
Regional Editor Europe
Malerba, Donato, Università degli Studi di Bari, Italy
Regional Editor USA
Cook, Diane J., Washington State University, USA
Editorial Board Members
An, Aijun, York University, Canada
Bry, Francois, Ludwig-Maximilians-Universität München, Germany
Cao, Longbing, University of Technology, Sydney, Australia
Carminati, Barbara, University of Insubria, Italy
Ceci, Michelangelo, Università degli Studi di Bari, Italy
Cong, Gao, Nanyang Technological University, Singapore
Cremilleux, Bruno, Université de Caen, France
Elomaa, Tapio, Tampere University of Technology, Finland
Esposito, Floriana, Università degli Studi di Bari, Italy
Friemel, Thomas N., University of Zurich – IPMZ, Switzerland
Guillet, Fabrice, Nantes University, France
Hacid, Hakim, Zayed University, United Arab Emirates
Hadzikadic, Mirsad, University of North Carolina at Charlotte, USA
Hamilton, Howard J., University of Regina , Canada
Holder, Larry, Washington State University , USA
Japkowicz, Nathalie, American University, USA
Kostek, Bozena, Gdansk University of Technology, Poland
Morzy, Mikolaj, Poznan University of Technology, Poland
Paik, Hye-Young Helen, University of New South Wales, Australia
Ramakrishnan, Naren, Virginia Tech, USA
Rybinski, Henryk, Warsaw University of Technology, Poland
Skowron, Andrzej, University of Warsaw, Poland
Ting, I-Hsien (Derrick), National University of Kaohsiung, Taiwan, Province of China
Wu, Xintao, University of Arkansas, USA
Xhafa, Fatos, Technical University of Catalonia, Spain
Zighed, Djamel, Université Lumière Lyon 2, France
A few essentials for publishing in this journal
Submitted articles should not have been previously published or be currently under consideration for publication elsewhere.
Conference papers may only be submitted if the paper has been completely re-written (more details available here) and the author has cleared any necessary permissions with the copyright owner if it has been previously copyrighted.
Briefs and research notes are not published in this journal.
All our articles go through a double-blind review process.
All authors must declare they have read and agreed to the content of the submitted article. A full statement of our Ethical Guidelines for Authors (PDF) is available.
There are no charges for publishing with Inderscience, unless you require your article to be Open Access (OA). You can find more information on OA here.



Submission process

All articles for this journal must be submitted using our online submissions system.
View Author guidelines.