International Journal of Sensor Networks
This journal also publishes Open Access articles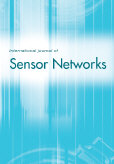 Editor in Chief

Prof. Yang Xiao

ISSN online

1748-1287

ISSN print

1748-1279
12 issues per year


Impact factor (Clarivate Analytics) 2023

1.1 (5 Year Impact Factor 0.9)
JCI 0.27

CiteScore

2.3 (2022)

IJSNet proposes and fosters discussion on and dissemination of issues related to research and applications of distributed and wireless/wired sensor and actuator networks. Sensor networks is an interdisciplinary field including many fields such as wireless networks and communications, protocols, distributed algorithms, signal processing, embedded systems, and information management.
Topics covered include
Energy efficiency, energy efficient protocols
Applications
Location techniques, routing, medium access control
Coverage, connectivity, longevity, scheduling, synchronisation
Network resource management, network protocols, lightweight protocols
Fault tolerance/diagnostics
Foundations
Data storage, query processing, system architectures, operating systems
In-network processing and aggregation
Learning of models from data
Mobility
Performance analysis
Sensor tasking and control
Security, privacy, data integrity
Modelling of systems/physical environments, simulation tools/environments
More on this journal...
Objectives
The objectives of IJSNet are to establish an effective channel of communication between industry, government agencies, academic and research institutions and persons concerned with related problems in sensor networks. It also aims to promote and coordinate developments in the field of sensor networks.
Readership
IJSNet provides a vehicle to help professionals, academics, researchers, developers, working in the field of sensor networks to disseminate information and to learn from each other's work.
Contents
IJSNet publishes original papers, short papers, and review papers. Special Issues devoted to important topics in sensor networks will also be published.
Editor in Chief
Xiao, Yang, University of Alabama, USA
(yangxiaocs.ua.edu)
Advisory Board
Hossain, Ekram, University of Manitoba, Canada
Tseng, Yu-Chee, National Chiao Tung University, Taiwan, Province of China
Editorial Board Members
Abawajy, Jemal, Deakin University, Australia
Cai, Zhipeng, Georgia State University, USA
Chen, Hsiao-Hwa, National Cheng Kung University, Taiwan, Province of China
Chen, Hui, Virginia State University , USA
Chen, Zesheng, Purdue University Fort Wayne, USA
Cheng, Maggie, New Jersey Institute of Technology, USA
Cheng, Xiuzhen (Susan), The George Washington University, USA
Coll-Perales, Baldomero, Universidad Miguel Hernández de Elche, Spain
Douligeris, Christos, University of Piraeus, Greece
Du, Ding-zhu, University of Texas at Dallas, USA
Duan, Qiang, Pennsylvania State University, USA
Elmallah, Ehab S., University of Alberta, Canada
Erbad, Aiman, Hamad Bin Khalifa University, Qatar
Fei, Zongming, University of Kentucky, USA
Guizani, Mohsen, University of Idaho, USA
Guizani, Sghaier, Alfaisal University, Saudi Arabia
Gupta, Nitin, National Institute of Technology, Hamirpur, India
Jian, Mao, Beihang University, China
Leung, Kin K., Imperial College, UK
Leung, Victor C. M., The University of British Columbia, Canada
Li, Wei, Texas Southern University, USA
Lin, Jason Yi-Bing, National Chiao Tung University, Taiwan, Province of China
Lloret Mauri, Jaime, Polytechnic University of Valencia, Spain
Lv, Zhihan, Qingdao University, China
Malekian, Reza, Malmö University, Sweden
Misic, Jelena, Ryerson University, Canada
Mohamed, Amr M., Qatar University, Qatar
Nayyar, Anand, Duy Tan University, Vietnam
Nijim, Mais W., Texas A&M University-Kingsville, USA
Pathan, Al-Sakib Khan, United International University, Bangladesh
Raptis, Theofanis, National Research Council, Italy
Shen, Xuemin, University of Waterloo, Canada
Shi, Weisong, Wayne State University, USA
Sun, Bo, Lamar University , USA
Sun, Wei, Hefei University of Technology, China
Wang, Shengling, Beijing Normal University , China
Wang, Xiaoyan, Ibaraki University, Japan
Wu, Jie, Temple University, USA
Xia, Xiaofang, Xidian University, China
Xu, Shengjie, San Diego State University, USA
Xue, Guoliang, Arizona State University, USA
Yang, Jie, Florida State University, USA
Yang, Yue, Wuhan University of Technology, China
Yu, Jiguo, Qufu Normal University, China
Yuan, Xiaojing, University of Houston, USA
Zhang, Jingyuan (Alex), University of Alabama, USA
Znati, Taieb, University of Pittsburgh, USA
Zonta, Daniele, University of Trento, Italy
Zorzi, Michele, Universita' di Ferrara, Italy
A few essentials for publishing in this journal
Submitted articles should not have been previously published or be currently under consideration for publication elsewhere.
Conference papers may only be submitted if the paper has been completely re-written (more details available here) and the author has cleared any necessary permissions with the copyright owner if it has been previously copyrighted.
Briefs and research notes are not published in this journal.
All our articles go through a double-blind review process.
All authors must declare they have read and agreed to the content of the submitted article. A full statement of our Ethical Guidelines for Authors (PDF) is available.
There are no charges for publishing with Inderscience, unless you require your article to be Open Access (OA). You can find more information on OA here.



Submission process

All articles for this journal must be submitted using our online submissions system.
View Author guidelines.