International Journal of Social and Humanistic Computing
This journal also publishes Open Access articles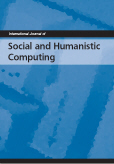 Editor in Chief

Prof. Neil Y. Yen

ISSN online

1752-6132

ISSN print

1752-6124
4 issues per year

IJSHC addresses multidisciplinary research/practice on computing approaches to the agendas of humanity and society, providing an outlet for an emerging discipline converging from high-tech technologies, intelligent systems and human-sensitive, context-aware experiences. 'Social and humanistic computing' stands for holistic approaches to human/social-centric design of pervasive, ubiquitous systems, providing/supporting a new era of human/social experience going beyond traditional perceptions of the interaction of humans with IT/IS, exploiting social/humanistic research for the provision of high-tech services and human-centric systems promoting social sustainability development.
Topics covered include
Human and social computing in living, science, health, culture, government, education, knowledge, learning, commerce, business, education, tourism
Social networks research, social software
Collaborative platforms
Personalisation and adaptation
Usability studies, interaction design
Context awareness
Community computing/community informatics
Social informatics
Participatory/cooperative design
Participatory action research (PAR) methods
Policy development
Privacy and security
Ubiquity and pervasiveness
Emotional intelligence
Web 2.0
More on this journal...
Objectives
The statement above provides the key differentiation of our journal from others and its unique value proposition. IJSHC diffuses knowledge in horizontal and vertical pillars
On the one hand, we aim to investigate the social and humanistic computing issues in different contexts as illustrated by the human activities eg: living, science, health, culture, education, knowledge, learning, commerce, business, education, construction, etc.
On the other hand we promote in horizontal lines the different views of social computing by supporting a scientific debate with the participation of the industry for the new kinds of human- and social-centric systems.
Readership
IJSHC aims to establish value-adding knowledge transfer and personal development channels in three distinctive areas: Academia, Industry and Government, which summarise the three pillars where a new scientific publication can play a significant role.
Contents
IJSHC publishes original research papers providing significant results, and also short communications about innovative ideas and news, announcements and reviews regarding the topics of the journal.
Editor in Chief
Yen, Neil Y., The University of Aizu, Japan
(eic.ijshcgmail.com)
Managing Editor
Zefkili, Konstantina N., Athens University of Economics and Business (AUEB), Greece
Associate Editors
Chen, Mu-Yen, National Cheng Kung University, Taiwan, Province of China
Nakata, Keiichi, University of Reading, UK
Editorial Board Members
Bardzell, Jeffrey, Indiana University, USA
Bray, David A., Emory University, USA
Bruque-Camara, Sebastian, University of Jaen, Spain
Calvi, Licia, K.U.Leuven, Belgium
Carroll, John M., The Pennsylvania State University, USA
Chamberlain, Alan, University of Nottingham, UK
Chen, Chia-Chen, National Chung-Hsing University, Taiwan, Province of China
Chen, Ting-Hsuan, National Taichung University of Science and Technology, Taiwan, Province of China
Chiang, Hsiu-Sen, National Taichung University of Science and Technology, Taiwan, Province of China
Ding, Wenxuan (Amy), University of Illinois at Chicago, USA
Dong, Ming, Wayne State University, USA
Farmer, Rod, The University of Melbourne, Australia
Garcia, Laura Sαnchez, Universidade Federal do Paraná, Brazil
Hartley, Dick, Manchester Metropolitan University, UK
Hilty, Lorenz M., Swiss Federal Laboratories for Materials Testing and Research (EMPA), Switzerland
Jones, Nory B., University of Maine, USA
Li, Jianqiang, Beijing University of Technology, China
Liao, Chien Hsiang, Fu Jen Catholic University, Taiwan, Province of China
Merkle, Luiz Ernesto, Universidade Tecnologica Federal do Paraná (UTFPR), Brazil
Moore, Tony Alex, Deloitte Touche Tohmatsu Limited, USA
Muller, Michael, IBM Research, USA
Nguyen, Lemai, Deakin University, Australia
Rasmuissen, Leif Bloch, Copenhagen Business School, Denmark
Rebman Jr., Carl M., The University of San Diego, USA
Roibás, Anxo Cereijo, University of Brighton, UK
Ruth, Alison, Griffith University, Australia
Scacchi, Walt, University of California, Irvine, USA
Shanker, Udai, Madan Mohan Malaviya Engineering College, India
Taneja, Aakash, The Richard Stockton College of New Jersey, USA
Vetere, Frank, University of Melbourne, Australia
Wang, Bing, University of Hull, UK
Wu, Chin-Shan, Tunghai University, Taiwan, Province of China
Zaphiris, Panayiotis, City University, UK
Zhou, Lina, University of Maryland Baltimore County, USA
A few essentials for publishing in this journal
Submitted articles should not have been previously published or be currently under consideration for publication elsewhere.
Conference papers may only be submitted if the paper has been completely re-written (more details available here) and the author has cleared any necessary permissions with the copyright owner if it has been previously copyrighted.
Briefs and research notes are not published in this journal.
All our articles go through a double-blind review process.
All authors must declare they have read and agreed to the content of the submitted article. A full statement of our Ethical Guidelines for Authors (PDF) is available.
There are no charges for publishing with Inderscience, unless you require your article to be Open Access (OA). You can find more information on OA here.



Submission process

All articles for this journal must be submitted using our online submissions system.
View Author guidelines.