International Journal of Sustainable Economy
This journal also publishes Open Access articles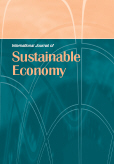 Editor in Chief

Prof. Dr. Egon Žižmond

ISSN online

1756-5812

ISSN print

1756-5804
4 issues per year


CiteScore

1.9 (2022)

At the beginning of 21st century the sustainability concept was mainly a basis for developing policies consistent with a continued use of resources into the future without causing environmental crisis. But the situation has evolved, and the global economic crisis in 2009 was the ultimate consequence of short-term economic thinking. We need a new form of economic development, addressing the needs of the present without undermining the needs of the future. IJSE addresses sustainability issues within economic theory and analysis.
Topics covered include
Business fluctuation/cycles
Econometric/mathematical modelling of economic processes
Economic growth and development
Enterprise development
Environmental economics
Finance, finance institutions, corporative finance
Fiscal policy
Industrial organisation, market structure, competition
Innovation, competitive advantage, knowledge management
International trade and globalisation
Labour and demographic economics
Law and economics
Monetary policy, money supply/credit
Public economics, welfare
Relations between consumption, saving, investment
More on this journal...
Objectives
The objective of IJSE is to publish research papers which analyse all aspects of sustainable economic growth and development and to offer researchers and professionals the opportunity to discuss the most demanding issues regarding the sustainable economy.
Readership
IJSE should be of interest to a broad interdisciplinary audience including academics, researchers, practitioners, business managers and consultants, policy makers and public administrators in local, provincial and state government.
Contents
IJSE publishes original and review papers, technical reports, and case studies.
Editor in Chief
Žižmond, Egon, University of Primorska, Slovenia
(egon.zizmondguest.arnes.si)
Editorial Board Members
Adamczewski, Piotr, WSB University in Poznań, Poland
Atukeren, Erdal, Business School Lausanne and Swiss Business School, Switzerland
Bekő, Jani, University of Maribor, Slovenia
Bojnec, Štefan, University of Primorska, Slovenia
Borghesi, Simone, European University Institute and University of Siena, Italy
Brada, Josef C., Arizona State University and CERGE, USA
Çevik, Emrah İsmail, Tekirdağ Namik Kemal University, Turkey
Cucari, Nicola, Sapienza University of Rome, Italy
Dimitrova, Vesselina, University of Economics-Varna, Bulgaria
Fertő, Imre, Institute of Economics Centre for Economic and Regional Studies of the Hungarian Academy of Sciences, Hungary
Gallucci, Teodoro, University of Bari Aldo Moro, Italy
Gulev, Rune Ellemose, Kiel University of Applied Sciences, Germany
Gurgul, Henryk, AGH University of Science and Technology, Poland
Inotai, András, Hungarian Academy of Sciences, Hungary
Jagrič, Timotej, University of Maribor, Slovenia
Karman, Agnieszka, Maria Curie-Skłodowska University, Poland
Kess, Pekka, University of Oulu, Finland
Kračun, Davorin, University of Maribor and Republic of Slovenia Fiscal Council, Slovenia
Lagioia, Giovanni, University of Bari Aldo Moro, Italy
Lin, Binshan, Louisiana State University in Shreveport, USA
Mączyńska, Elżbieta, Polish Economic Society, Poland
Malindžák, Dušan, Technical University of Košice, Slovakia
Milfelner, Borut, University of Maribor, Slovenia
Mitra, Sovan, University of Westminster, UK
Muñoz-Torres, María J., University Jaume I, Spain
Neck, Reinhard, Klagenfurt University, Austria
Novak, Matjaž, University of Primorska, Slovenia
Ortas, Eduardo, University of Zaragoza, Spain
Pastuszak, Zbigniew, Maria Curie-Sklodowska University, Poland
Phiri, Andrew, Nelson Mandela University, South Africa
Phusavat, Kongkiti, Kasetsart University, Thailand
Šušteršič, Janez, RE-FORMA Research and Development, Slovenia
Wohlgemuth, Norbert, University of Klagenfurt, Austria
Zhu, Zhiwei, University of Louisiana at Lafayette, USA
A few essentials for publishing in this journal
Submitted articles should not have been previously published or be currently under consideration for publication elsewhere.
Conference papers may only be submitted if the paper has been completely re-written (more details available here) and the author has cleared any necessary permissions with the copyright owner if it has been previously copyrighted.
Briefs and research notes are not published in this journal.
All our articles go through a double-blind review process.
All authors must declare they have read and agreed to the content of the submitted article. A full statement of our Ethical Guidelines for Authors (PDF) is available.
There are no charges for publishing with Inderscience, unless you require your article to be Open Access (OA). You can find more information on OA here.



Submission process

All articles for this journal must be submitted using our online submissions system.
View Author guidelines.
Journal news
Building resilience in the face of crises and climate
17 October, 2023
Research in the International Journal of Sustainable Economy has looked at the interplay between climate variability and the financial health of listed companies in Vietnam with a particular focus on the impact of the COVID-19 pandemic. The researchers, Nguyen Thi Hoa Hong, Pham Thi Mai Huong, and Nguyen Yen Linh of the Foreign Trade University in Ha Noi, Vietnam, emphasize the importance of risk management for businesses during times of combined challenges. The work could have implications for other developing nations that are particularly vulnerable to the effects of climate change and not necessarily resilient in the face of a pandemic. The team found that there is a negative correlation between financial performance of listed companies in Vietnam and the seemingly unrelated factors of atmospheric pressure, humidity, precipitation, but also the number of COVID-19 cases. Variability in extreme weather conditions and surges in cases of this lethal and highly infectious disease led to worse financial performance and increased economic risks for many businesses in the region [...]
More details...