International Journal of Sustainable Development
This journal also publishes Open Access articles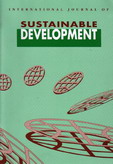 Editor in Chief

Dr. M.A. Dorgham

ISSN online

1741-5268

ISSN print

0960-1406
4 issues per year


CiteScore

2.1 (2022)

IJSD is a forum for publication of refereed scientific work, of an interdisciplinary character, at the interface of science, technology, policy and society. A particular emphasis is placed on the value and importance of stakeholder partnerships for effective communication on issues of sustainability.
Topics covered include
Review and assessment of policies
Strategy for policy making
Environment and sustainable development
Ecology and sustainability
Social aspects of sustainability
Economic dimensions of sustainability
Political dimensions of sustainability
Economic, social and natural resources issues
Control, regulations and policy
Future visions and scenarios
More on this journal...
Objectives
The objectives of IJSD are to establish an effective channel of communication between policy-makers, government agencies, academics and research institutions, and professionals working in the field, and to provide a forum for them to disseminate information and to learn from each other|s work. The international dimension is emphasised in order to overcome cultural and national barriers and to meet the needs of accelerating technological change and changes in the global economy.
Readership
Professionals, academics, researchers and policy makers.
Contents
IJSD publishes original and review papers, technical reports, case studies, conference reports, management reports, book reviews, and notes, commentaries, and news. Contribution may be by submission or invitation, and suggestions for special issues and publications are welcome.
Editor in Chief
Dorgham, M.A., International Centre for Technology and Management, UK
(supportinderscience.com)
Editor
Gheorghe, Adrian V., Old Dominion University, USA
Associate Editor
Pereira, Ângela Guimarães, European Commission - Joint Research Centre, Italy
Editorial Board Members
Baranzini, Andrea, University of Applied Sciences Western Switzerland, Switzerland
Bürgenmeier, Beat, Université de Genève, Switzerland
Diaw, Amadou Tahirou, Université Cheikh Anta Diop, Senegal
Erten-Unal, Mujde, Old Dominion University, USA
Faucheux, Sylvie, INSEEC U, France
Funtowicz, Silvio, University of Bergen, Norway
Garrod, Brian, Swansea University, UK
Goldemberg, Jose, University of São Paulo, Brazil
Gupta, Anil K., Indian Institute of Management Vastrapur, India
Gupta, Joyeeta, Universiteit Van Amsterdam, Netherlands
Hinterberger, Friedrich, Sustainable Europe Research Institute (SERI), Austria
Howarth, Richard B., Dartmouth College, USA
Jiggins, Janice, Wageningen University, Netherlands
Jollands, Nigel, European Bank for Reconstruction and Development, UK
Köhn, Jörg, Germany
Kane, Alioune, Université Cheikh Anta Diop, Senegal
Martinez Alier, Joan, Universitat Autonoma de Barcelona, Spain
May, Peter H., Federal Rural University of Rio de Janeiro, Brazil
Muradian, Roldan, Tilburg University, Netherlands
O'Connor, Martin Paul, L'Association ePLANETe Bue, France
Papayannis, Thymio, Med-INA (Mediterranean Institute for Nature and Anthropos), Greece
Patterson, Murray, Massey University, New Zealand
Pernice, lngolf, Humboldt-Universität zu Berlin, Germany
Presas, Teresa, Tetra Pak Europe & Africa, Belgium
Réveret, Jean-Pierre, Greige – UQUAM, Université du Québec à Montréal, Canada
Radermacher, Walter J., Federal Statistical Office, Germany
Renn, Ortwin, Institute for Advanced Sustainability Studies (IASS), Potsdam, Germany
Requier-Desjardins, Denis, LEREPS – Université de Toulouse, France
Ricoveri, Giovanna, piazza San Francesco d'Assisi n.91, Italy
Sachs, Ignacy, Ecole des Hautes études en sciences sociales (EHESS), France
Schembri, Patrick, University of Versailles, France
Scoullos, Michael, University of Athens, Greece
Segura-Bonilla, Olman, Centro Intl. Politica Economica (CINPE), Costa Rica
Senhaji, Faouzi, Institut Agronomique et Vétérinaire Hassan II, Morocco
Shmelev, Stanislav, Environment Europe, UK
Spangenberg, Joachim H., Helmholtz Centre for Environmental Research - UFZ, Germany
Svedin, Uno, FORMAS, Sweden
Theys, Jacques, Ministère du Logement et du Tourisme, France
Toman, Michael A., The World Bank, USA
Vidal-Madjar, Daniel, Université de Versailles Saint Quentin, France
Wedderburn, Liz, AgResearch Limited, New Zealand
Yamaji, Kenji, Research Institute of Innovative Technology for the Earth (RITE), Japan
A few essentials for publishing in this journal
Submitted articles should not have been previously published or be currently under consideration for publication elsewhere.
Conference papers may only be submitted if the paper has been completely re-written (more details available here) and the author has cleared any necessary permissions with the copyright owner if it has been previously copyrighted.
Briefs and research notes are not published in this journal.
All our articles go through a double-blind review process.
All authors must declare they have read and agreed to the content of the submitted article. A full statement of our Ethical Guidelines for Authors (PDF) is available.
There are no charges for publishing with Inderscience, unless you require your article to be Open Access (OA). You can find more information on OA here.



Submission process

All articles for this journal must be submitted using our online submissions system.
View Author guidelines.