International Journal of Research, Innovation and Commercialisation
This journal also publishes Open Access articles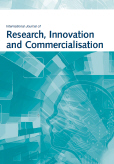 Editor in Chief

Prof. Dr. Ibrahim Dincer

ISSN online

2051-994X

ISSN print

2051-9931
2 issues per year

IJRIC primarily focuses on the commercialisation of research and innovation results. This critical process is now recognised as the RIC (Research-Innovation-Commercialisation) concept for technological success. As a result of this, there is increasing interest in streamlining research and innovation efforts to bring the outcomes to commercialisable products. IJRIC is in a prime position to fill a gap in the literature by bringing together the three key categories of research, innovation and commercialisation and their theories and practices.
Topics covered include
Benchmarking and best practices in innovation activities
Building relationships for technological innovation
Commercialisation strategies and policies
Empirical analysis and case studies in business innovation and research
Entrepreneurship and innovations
Innovation incubation and incubators
Innovation issues, management approaches, policies and strategies
Inter-organisational relations and open innovation models
Managing creativity and innovation culture and its eco-world
New product and process innovation
Performance measures and metrics in business innovation and research
Research management/policy/strategy, partnerships and innovative approaches
Spin-off companies
Strategic planning, business development and commercialisation practices
Technology transfer and licensing
More on this journal...
Objectives
During the past two decades it has been clear in industrialised countries that many research efforts and outcomes are wasted and cannot be converted into useful products for the marketplace. Although most or all fully and nearly developed countries have established either ministries or special departments to deal with and develop policies and strategies to overcome these issues, not much success has been achieved. This is due to the fact that this is not an easy policy- or strategy-related issue. It is rather a new domain, a new science field, a new culture, etc.
There are three key parties involved in this phenomenon: universities (including research labs, institutes, centres, etc.), industries and government agencies. The relationships between these parties determine the level of success. It has also become apparent that economic independence is not possible without technological success. This therefore puts a tremendous pressure on all developed and developing countries to now pay more attention to not only research and innovation, but also to commercialisation.
In this regard, the prime objective of IJRIC is to understand and analyse the theory and practice of the interactions of research, innovation, and commercialisation (RIC) with economic, social, environmental, political and organisational processes and challenges. IJRIC aims to discuss policies, strategies, methodologies, approaches, issues, barriers, etc., for better outcomes of RIC. The journal focuses on the development of the RIC fields by providing a platform for sharing the latest research findings in these respective areas.
Readership
IJRIC provides a vehicle to help professionals, academics, researchers, scientists, engineers, technologists, practitioners, strategists, policy makers, business developers and related people working in the fields of research, innovation and commercialisation to disseminate information and to learn from each other's work.
Contents
IJRIC encompasses all aspects of the process of research and innovation from the conceptualisation of a new technology-based product or process through to its commercialisation. IJRIC seeks to unite all disciplines involved in the understanding of and response to RIC and their relationships with other factors. The journal therefore welcomes papers from disciplines as diverse as - but not limited to - engineering, environmental science, economics, education, management, information sciences, politics and strategy development, etc. IJRIC will occasionally publish special issues on specifically important topics of RIC and the interactions, policies, strategies, technologies, global processes, opportunities, challenges, etc. involved.
Editor in Chief
Dincer, Ibrahim, University of Ontario Institute of Technology, Canada
(Ibrahim.Dinceruoit.ca)
Editorial Board Members
Bae, Zong-tae, Korea Advanced Institute of Science and Technology (KAIST), South Korea
Burke, Andrew, Cranfield University, UK
Colpan, A.M., Kyoto University , Japan
Gunasekaran, Angappa, Penn State Harrisburg, USA
Intarakumnerd, Patarapong, National Graduate Institute for Policy Studies (GRIPS), Japan
Komninos, Nicos, Aristotle University of Thessaloniki, Greece
Lund, Peter, Aalto University, Finland
Riffat, S., University of Nottingham, UK
Rouach, Daniel, ESCP Europe, Germany
Sen, Z., Istanbul Technical University, Turkey
Sparrow, John, Birmingham City University, UK
Teece, David John, University of California, USA
Von Zedtwitz, Max, Tongji University, China
Yilbas, Bekir Sami, King Fahd University of Petroleum and Minerals, Saudi Arabia
A few essentials for publishing in this journal
Submitted articles should not have been previously published or be currently under consideration for publication elsewhere.
Conference papers may only be submitted if the paper has been completely re-written (more details available here) and the author has cleared any necessary permissions with the copyright owner if it has been previously copyrighted.
Briefs and research notes are not published in this journal.
All our articles go through a double-blind review process.
All authors must declare they have read and agreed to the content of the submitted article. A full statement of our Ethical Guidelines for Authors (PDF) is available.
There are no charges for publishing with Inderscience, unless you require your article to be Open Access (OA). You can find more information on OA here.



Submission process

All articles for this journal must be submitted using our online submissions system.
View Author guidelines.