International Journal of Project Organisation and Management
This journal also publishes Open Access articles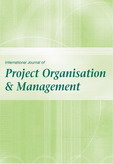 Editor in Chief

Prof. John Wang

ISSN online

1740-2905

ISSN print

1740-2891
4 issues per year


CiteScore

1.7 (2022)

Traditionally, project management has been neglected by business schools and by default it has become the preserve of more specialised professional faculties such as engineering and architecture. By taking a broader organisational perspective and by covering a wider range of industries and professions, IJPOM will appeal to a wider readership which includes not only those with an interest in mainstream management topics but also practitioners engaged in an unlimited variety of projects.
Topics covered include
Pre-project activities
Project proposals/initial analysis, conception/design, management models
Post-deployment review/documentation
Engineering, production, service, construction projects
Public sector programmes/campaigns, public/private sector partnerships
Consultancy projects, public relations campaigns
Mergers/acquisitions, outsourcing, alliances
Particular events, humanitarian aid programmes, disasters projects
Virtual projects, web-based PM, open-ended projects
Communication/collaboration, negotiation skills, risk assessment/management
Current/emerging standards, facilities/equipment support, quality assurance/testing
Goals/objectives setting, budgeting, time/cost estimating
HRM challenges, staffing, organisation change projects
Opportunity management, marketing/branding strategies, measurement/metrics
Project coordination/scheduling/governance, knowledge management
More topics...
Pre-project activities
(e.g. feasibility studies and industry benchmarking)
Project proposals and initial analysisProject conception and designProject management modelsPost-deployment review and documentationProject types:
Short-term, long-term, open-ended
Engineering, production, service, construction
Public sector programmes and campaigns
Public/private sector partnerships
Consultancy projects
Mergers and acquisitions
Public relations campaigns
Humanitarian aid programmes
Film and multimedia production
Particular events (eg. Olympics, space missions, product launches)
Disasters
Virtual projects
Project management functions, issues, themes and techniques, including:
Budgeting
Communication and collaboration
Current and emerging standards
Facilities and equipment support
Goals and objective setting
HRM challenges
Organisation change projects
Marketing and branding strategies
Measurement and metrics
Negotiation skills
Opportunity management
Outsourcing and alliances
Project coordination and scheduling
Project governance
Project knowledge management
Project management teams
Project review and evaluation
Quality assurance and testing
Resource allocation
Risk assessment and management
Scheduling
Software and systems
Staffing
Time and cost estimating
Web-based PM
More on this journal...
Objectives
The aim of IJPOM is to attract contributions, and especially case studies, from a wide spectrum of academics and practitioners. As managers and business schools are increasingly placing increasing emphasis on strategy implementation issues, a project management approach will undoubtedly become more compelling and thus more acceptable in a wide range of fields.
Readership
IJPOM's readership will come from professionals and managers dealing with project management on a daily basis. It also includes academics and researchers from various fields (business administration, economics and social sciences) concerned with the topic as well as policy makers and project planners in the field of business, commerce and industry.
Contents
IJPOM publishes original, theoretical, conceptual and empirical papers on a wide range of issues about project management. It also includes best practice examples as well as technical reports on the latest project management tools.
Editor in Chief
Wang, John, Montclair State University, USA
(prof.johnwanggmail.com)
Managing Editor
Gu, Vicky, University of Houston-Clear Lake, USA
Associate Editors
Arditi, David, Illinois Institute of Technology, USA
Bresnen, Mike, Manchester Metropolitan University, UK
Loosemore, Martin, University of New South Wales, Australia
Shen, Li-Yin, The Hong Kong Polytechnic University, Hong Kong SAR, China
Vitner, Gad, Ruppin Academic Center, Israel
Wang, ShouQing, Tsinghua University, China
European Editor
Caron, Franco, Politecnico di Milano, Italy
Far East Editor
Ling, Florence Yean Yng, National University of Singapore, Singapore
Japanese Editor
Morita, Hiroshi, Osaka University, Japan
Editorial Board Members
Adenfelt, Maria, Swedish Defence Research Agency, Sweden
Ahsan, Kamrul, RMIT University, Australia
Alderman, Neil, Newcastle University, UK
Andersen, Erling S., BI Norwegian School of Management, Norway
Ballesteros Pérez, Pablo, Universidad Politécnica de Valencia, Spain
Bao, Jinsong, Shanghai Jiao Tong University, China
Bourgault, Mario, University of Montreal, Ecole Polytechnique, Canada
Bowen, Paul, University of Cape Town , South Africa
Bryde, David, Liverpool John Moores University, UK
Burns, James, Texas Tech University, USA
Burström, Thommie, Hanken School of Economics, Finland
Bygdås, Arne Lindseth, Oslo and Akershus University College, Norway
Castellano, Davide, Università degli Studi di Modena e Reggio Emilia, Italy
Chen, Chuan, University of Melbourne, Australia
Chen, Wei Tong, National Yunlin University of Science & Technology, Taiwan, Province of China
Cheung, Sai On, City University of Hong Kong, Hong Kong SAR, China
Chiocchio, François, University of Ottawa, Canada
Chong, Heap-Yih, Universiti Tunku Abdul Rahman, Malaysia
Davis, Jonathan, University of Houston Downtown, USA
Eriksson, Per Erik, Luleå University of Technology, Sweden
Espinosa, J. Alberto, American University, USA
Fortune, Joyce, Open University, UK
Furlong, Shauneen, University of Liverpool, Canada
Gottlieb, Stefan Christoffer, Aalborg University, Denmark
Gunawan, Indra, University of Adelaide, Australia
Guo, Hongling, The Hong Kong Polytechnic University, Hong Kong SAR, China
Gustafsson, Magnus, Åbo Akademi University, Finland
Hussein, Bassam, Norwegian University of Science and Technology, Norway
Hwang, Bon-Gang, National University of Singapore, Singapore
Jaafar, Mastura, Universiti Sains Malaysia, Malaysia
Karrbom Gustavsson, Tina, KTH Royal Institute of Technology, Sweden
Ke, Yongjian, University of Technology Sydney, Australia
Kirytopoulos, Konstantinos, University of South Australia, Australia
Korn, Michael, Hochschule Karlsruhe, University of Applied Sciences, Germany
Kutsch, Elmar, Cranfield University, UK
Lee, Hong Tau, National Chin-Yi University of Technology, Taiwan, Province of China
Liu, Julie Yu-Chih, Yuan Ze University, Taiwan, Province of China
Loke, Siew-Phaik, Quest International University Perak, Malaysia
Lu, Yujie, National University of Singapore, Singapore
Maqbool, Rashid, Northumbria University, UK
Marle, Franck, CentraleSupélec, France
Martinsuo, Miia, Tampere University of Technology, Finland
Maylor, Harvey, Cranfield University, UK
Meng, Xianhai, Queen's University Belfast, UK
Müller, Ralf, BI Norwegian Business School, Norway
Ochieng, Edward, The British University in Dubai, United Arab Emirates
Olsson, Nils, Norwegian University of Science and Technology, Norway
Oyedele, Lukumon, Queen's University Belfast, UK
Packendorff, Johann, KTH - Royal Institute of Technology, Sweden
Patnaik, Srikanta, Interscience Institute of Management and Technology, Bhubaneswar, India
Pesämaa, Ossi, Luleå University of Technology, Sweden
Pons, Dirk, University of Canterbury, New Zealand
Prasher, Vikram Singh, Harrisburg University of Science and Technology, USA
Rajablu, Mahmoud, Canadian Business Success Centre (CBSC), Canada
Ram, Jiwat, University of Adelaide, Australia
Rathod, Urvashi, International Institute of Information Technology, India
Schniederjans, Dara, University of Rhode Island, USA
Sense, Andrew, University of Wollongong, Australia
Sertyesilisik, Begum, Izmir Democracy University, Turkey
Sirakoulis, Kleanthis, Technological Education Institute of Larissa, Greece
Sirisomboonsuk, Pinyarat, University of Texas Permian Basin, USA
Smyth, Hedley, University College London, UK
Sun, Ming, Nottingham Trent University, UK
Svejvig, Per, Aarhus University, Denmark
Swain, Ajaya, St. Mary's University, USA
Tam, Vivian, University of Western Sydney, Australia
Teerajetgul, Wasan, Srinakharinwirot University, Thailand
Unger-Aviram, Esther, Sapir Academic College, Israel
Watt, David, Australian Institute of Project Management, Australia
White, Anthony, Middlesex University, UK
Wierschem, David, Texas State University, USA
Wong, Peter S.P., RMIT University, Australia
Xue, Xiaolong, Harbin Institute of Technology, China
Yan, Hong, Hong Kong Polytechnic University, Hong Kong SAR, China
Yang, Jyh-Bin, National Central University, Taiwan, Province of China
Yang, Li-Ren, Tamkang University, Taiwan, Province of China
Yeung, John F.Y., Hong Kong Baptist University, Hong Kong SAR, China
Yung, Ping, Leeds Beckett University, UK
Zainul-Abidin, Nazirah, University Science of Malaysia (USM), Malaysia
Zalila, Faiza, University of Houston-Clear Lake, USA
Zaneldin, Essam, Indiana University - Purdue University, USA
Zhao, Xianbo, Central Queensland University, Australia
Zwikael, Ofer, Australian National University, Australia
A few essentials for publishing in this journal
Submitted articles should not have been previously published or be currently under consideration for publication elsewhere.
Conference papers may only be submitted if the paper has been completely re-written (more details available here) and the author has cleared any necessary permissions with the copyright owner if it has been previously copyrighted.
Briefs and research notes are not published in this journal.
All our articles go through a double-blind review process.
All authors must declare they have read and agreed to the content of the submitted article. A full statement of our Ethical Guidelines for Authors (PDF) is available.
There are no charges for publishing with Inderscience, unless you require your article to be Open Access (OA). You can find more information on OA here.



Submission process

All articles for this journal must be submitted using our online submissions system.
View Author guidelines.