International Journal of Pluralism and Economics Education
This journal also publishes Open Access articles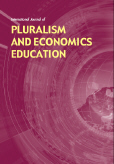 Editor in Chief

Dr. Jack Reardon

ISSN online

1757-5656

ISSN print

1757-5648
4 issues per year


CiteScore

0.5 (2022)

Key elements of pluralism include respect for diversity/alternative views, toleration, willingness to learn, curiosity, friendliness. Among economists, Edward Fullbrook dissects weaknesses of traditional economics while advocating pluralism; John Groenewegen exhorts universities to incorporate pluralism and connect to other social sciences; Mark Maier and Julie Nelson provide suggestions for making economics relevant to high-school students within a pluralist framework; Jack Reardon offers hands-on approaches for incorporating pluralism in the classroom. IJPEE addresses pluralism's further development and implementation into the classroom.
Topics covered include
Defining pluralism; what is pluralism, how can we incorporate it into the classroom?
Rhetoric of pluralism: communicating within/across disciplines
Teaching theory of the firm from a pluralist perspective
Teaching pluralism in developing countries
What can pluralists learn from Adam Smith and other classical economists?
Incorporating pluralism into online courses
Using pluralism to construct a framework for solving global problems
Are there limits to extending pluralism?
Pluralism and the individual
Pluralism as a central component of honours courses
Pluralism at the community college, encouraging pluralism at high school level
Necessary mathematics for pluralism
Reaching out to other social sciences
Teaching ecology, understanding the financial crisis from a pluralist perspective
Pluralism and system dynamics
More on this journal...
Objectives
The objectives of IJPEE are:
to provide a forum for the exchange of ideas thereby fostering communication within the growing pluralist community;
to advance the techniques and concepts of pluralist economics by providing practical suggestions to incorporate pluralism into the classroom;
to offer teachers and educators interested in pluralism an outlet for their research; and
to change the emphasis of economic education by making pluralism a central feature.
Readership
We expect an international audience, not just in Europe and North America but also in Central America, Asia and the former Soviet Union. Pluralism is vital for solving our pressing economic and ecological problems, in developed and developing countries.
Contents
Issue will contain solicited articles and a book review section. In addition, two sections, "Notes, Communications and Dialogue" and "Pedagogical Techniques", will be included to foster communication and implement pluralist techniques. Each issue will contain articles of interest to all pluralist economists, as well as more specialised articles devoted to teaching pluralism in the classroom, book reviews and the notes section. IJPEE will also publish special issues devoted to solving current problems from a pluralist perspective.
Editor in Chief
Reardon, Jack, University of Wisconsin-Eau Claire, USA
(jackreardon864gmail.com)
Associate Editor
Madi, Maria Alejandra Caporale, State University of Campinas (UNICAMP) and World Economics Association (WEA), Brazil
Advisory Board
Bhattacharyya, Sudipta, Visva-Bharati University, India
Dimante, Dzineta, University of Latvia , Latvia
Engartner, Tim, Goethe-Universität Frankfurt am Main, Germany
Hermann, Arturo, Italian National Institute of Statistics, Italy
Keen, Steve, University of Western Sydney, Australia
Kemp, Tom, University of Wisconsin-Eau Claire, USA
O'Hara, Phillip, Global Political Economy Research Unit, Australia
Reyes Bonilla, Mauro Alejandro, Sergio Arboleda University, Colombia
Rundshagen, Volker, European University of Applied Sciences, Germany
Sanchez, Gustavo Vargas, Universidad Nacional Autonoma de Mexico, Mexico
Söderbaum, Peter, Mälardalen University, Sweden
Warnecke, Tonia, Rollins College, USA
Wei, Lu, University of Science and Technology of China, China
Wheat, I. David, University of Bergen, Norway
Zaman, Asad, Pakistan Institute of Development Economics, Pakistan
Editorial Board Members
Ali, Shujahat, Mirpur University of Science and Technology, Pakistan
Alperovitz, Gar, University of Maryland, USA
Azim, Parvez, GC University, Pakistan
Bigo, Vinca, Euromed Management School, France
Brown, Judy, Victoria University of Wellington, New Zealand
Chester, Lynne, University of Sydney , Australia
Cojanu, Valentin, Bucharest University of Economics, Romania
Davis, John, University of Amsterdam, The Netherlands and Marquette University, USA
De Ruyter, Alex, University of Birmingham, UK
Denis, Andy, City University London, UK
Dereniowska, Małgorzata, Aix-Marseille University, France
Dohnalová, Marie, Charles University, Czech Republic
Dow, Sheila, University of Stirling, UK
Feiner, Susan, University of Southern Maine, USA
Figart, Deborah M., The Richard Stockton College of New Jersey, USA
Freeman, Alan, University of Greenwich, USA
Garnett, Rob, Texas Christian University, USA
Graupe, Silja, Cusanus University, Germany
Groenewegen, John, Delft University of Technology, Netherlands
Guerrien, Bernard, University Paris 1 the Pantheon-Sorbonne, France
Islahi, Abdul Azim, King Abdul Aziz University, Saudi Arabia
Lavoie, Marc, University of Ottawa, Canada
McCloskey, Deirdre, University of Illinois at Chicago, USA
McDonough, Terrence, National University of Ireland, Galway, Ireland
Mearman, Andrew, University of the West of England, UK
Negru, Ioana, Anglia Ruskin University, UK
Nelson, Julie, Tufts University, USA
Ozel, Huseyin, Hacettepe University, Turkey
Peterson, Janice, California State University-Fresno, Fresno, USA
Pundziene, Asta, ISM University of Management, Lithuania
Sangle, Shirish, National Institute of Industrial Engineering (NITIE), India
Schuster, Julian, Webster University, USA
Singh, Pritam, Oxford Brookes University, UK
Sougou, Omar, Gaston Berger University, Senegal
Starr, Martha, American University, USA
Strassmann, Diana, Rice University, USA
Sumilo, Erika, University of Latvia, Latvia
Varoufakis, Yanis, University of Athens, Greece
Ziliak, Steve, Roosevelt University, USA
A few essentials for publishing in this journal
Submitted articles should not have been previously published or be currently under consideration for publication elsewhere.
Conference papers may only be submitted if the paper has been completely re-written (more details available here) and the author has cleared any necessary permissions with the copyright owner if it has been previously copyrighted.
Briefs and research notes are not published in this journal.
Guidance for authors wishing to submit to the Teaching Commons section is available.
All our articles go through a double-blind review process.
All authors must declare they have read and agreed to the content of the submitted article. A full statement of our Ethical Guidelines for Authors (PDF) is available.
There are no charges for publishing with Inderscience, unless you require your article to be Open Access (OA). You can find more information on OA here.



Submission process

All articles for this journal must be submitted using our online submissions system.
View Author guidelines.