International Journal of Nanomanufacturing
This journal also publishes Open Access articles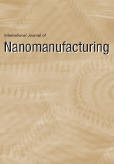 Editor in Chief

Prof. Jiang Zhuangde

ISSN online

1746-9406

ISSN print

1746-9392
4 issues per year


CiteScore

1.8 (2022)

The increasing drive towards miniaturisation has dictated that new micro- and nanomanufacturing technologies are developed in parallel with nanotechnology, molecular engineering and biotechnology in order to keep abreast of future technological developments. IJNM provides a principal forum for the interchange of information on the science, process technology and applications of micro- and nanomanufacturing processes.
Topics covered include
Nanomanufacturing
Micromanufacturing
Materials in micromanufacturing and nanomanufacturing
Tools and processes for micromanufacturing and nanomanufacturing
Management of micromanufacturing and nanomanufacturing processes
Micromanufacturing and nanomanufacturing enterprises
More on this journal...
Objectives
The objectives of IJNM are to establish effective channel of communication on the latest developments in micro- and nanomanufacturing science, processes, technology and applications between engineers, scientists, industry, policy makers, academic and research institutions, and persons concerned with any aspect of nanomanufacturing. The interdisciplinary nature of nanomanufacturing will serve to break down cultural, international and academic barriers to meet the needs of accelerating technological developments in the international community for a global change.
Readership
IJNM provides a vehicle to help academics, researchers, industrial companies, trade associations and policy-makers in the fields of manufacturing technology, materials science, engineering, biotechnology, nanotechnology, electronics and business to disseminate information and learn from each other's work.
Contents
IJNM publishes original high quality papers, rapid communications, timely review papers, technical reports, case studies. Special Issues devoted to developments in important topics in micro- and nanomanufacturing will be published periodically.
Editor in Chief
Zhuangde, Jiang, Xi'an Jiaotong University, China
(ijnm.editorhotmail.com)
Editorial Board Members
Aurich, Jan C., University of Kaiserslautern, Germany
Byrne, Gerry, University College Dublin, Ireland
Carlisle, Keith, Lawrence Livermore National Laboratory, USA
Estler, W. Tyler, National Institute of Standards and Technology, USA
Fang, Xudong, State Key Laboratory for Manufacturing Systems Engineering, China
Foord, John, University of Oxford, UK
Hu, Xiaotang, Tianjin University, China
Huang, Han, The University of Queensland, Australia
Kuriyagawa, Tsunemoto, Tohoku University, Japan
Li, Lin, University of Manchester, UK
Lu, Bingheng, Xian Jiaotong University, China
Lucca, D. A., Oklahoma State University, USA
Ohmori, Hitoshi, RIKEN, Japan
Riemer, Oltmann, University of Bremen, Germany
Shi, Junfeng, Ohio State University, USA
Tian, Zhongqun, Xiamen University, China
Yadavali, Sagar, University of Pennsylvania, USA
Zhang, Liangchi, Southern University of Science and Technology, China
Zhou, Libo, Ibaraki University, Japan
A few essentials for publishing in this journal
Submitted articles should not have been previously published or be currently under consideration for publication elsewhere.
Conference papers may only be submitted if the paper has been completely re-written (more details available here) and the author has cleared any necessary permissions with the copyright owner if it has been previously copyrighted.
Briefs and research notes are not published in this journal.
All our articles go through a double-blind review process.
All authors must declare they have read and agreed to the content of the submitted article. A full statement of our Ethical Guidelines for Authors (PDF) is available.
There are no charges for publishing with Inderscience, unless you require your article to be Open Access (OA). You can find more information on OA here.



Submission process

All articles for this journal must be submitted using our online submissions system.
View Author guidelines.