International Journal of Manufacturing Technology and Management
This journal also publishes Open Access articles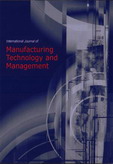 Editor in Chief

Dr. M.A. Dorgham

ISSN online

1741-5195

ISSN print

1368-2148
6 issues per year


CiteScore

0.8 (2022)

IJMTM is a refereed and authoritative source of information in the field of manufacturing technology and management and related areas.
Topics covered include
Future/lean enterprise, factory of the future, fractal company, virtual enterprise
New types of organisations, structural changes, change management
Business of process systems engineering
Agile/holonic manufacturing, biological/autonomous/distributed systems
Manufacturing innovation/strategy/policy/economics, globalisation
Product development, production management, DFMA, systems integration
Decentralisation/''de-verticalisation''in production management
Microelectronic manufacturing systems, embedded software
High-precision manufacturing, computer-based/time-based technologies
Supply chain, supplier partnerships, outsourcing
Production planning, scheduling, control, logistics
Ecology-driven manufacturing/services
Productivity, performance evaluation, [virtual] benchmarking
Manufacturing science, advanced manufacturing systems
Human resources/professional development
More on this journal...
Objectives
IJMTM aims:
To establish channels of communication and disseminate knowledge between policy makers and professionals working in manufacturing and related industries and services and investment institutions, as well as experts and researchers in relevant research and academic institutions
To further knowledge and research, as well as theory and practice, in the field of manufacturing technology and management
Readership
Policy-makers, executives and professionals in manufacturing and related industries, and researchers and academics, as well as consultants and advisers in manufacturing and related services.
Contents
IJMTM publishes original, empirical and review papers; case studies; conference reports; technology reports and new; book reviews and notes; commentaries. In addition to the regular issues of the journal, IJMTM publishes Special Issues devoted to important topics in manufacturing technology and management.
Editor in Chief
Dorgham, M.A., International Centre for Technology and Management, UK
(editorialinderscience.com)
Associate Editors
Harrington, Tomás S., University of East Anglia (UEA), UK
Rayna, Thierry, Novancia Business School Paris, France
Far East Editor
Wu, David M-C, National Chiao Tung University, Taiwan, Province of China
Editorial Board Members
Bartezzaghi, Emilio, Politecnico di Milano, Italy
Bessant, John, University of Exeter, UK
Browne, Jim, National University of Ireland, Galway, Ireland
Bullinger, Hans-Jörg, Fraunhofer Gesellschaft, Germany
Cavinato, Joseph, Thunderbird School of Global Management, USA
Chanaron, Jean-Jacques, Groupe ESC Grenoble, France
Cohen, Morris, University of Pennsylvania, USA
Dolgui, Alexandre, IMT Atlantique, France
Doumeingts, Guy, University Bordeaux 1, France
Filippini, Roberto, University of Padova, Italy
Flynn, Barbara B., Indiana University, USA
Gen, Mitsuo, Fuzzy Logic Systems Institute and Tokyo University of Science, Japan
Gregory, Mike, Cambridge University, UK
Hwang, Hark, Korea Advanced Institute of Science and Technology, South Korea
Ishikura, Hiroki, Osaka Gakuin University, Japan
Jain, V.K., (Prof. Retired) Indian Institute of Technology Kanpur, India
Jiang, Pingyu, Xi'an Jiaotong University, China
Kaebernick, Hartmut, University of New South Wales, Australia
Kovács, George L., Technical University of Budapest and University of Pecs, Hungary
Krabbendam, Koos, University of Twente, Netherlands
Lai, Kin Keung, City University of Hong Kong, Hong Kong SAR, China
Lin, Grier, University of South Australia, Australia
Lin, Zone-Ching, National Taiwan University of Science and Technology, Taiwan, Province of China
Lu, Iuan-Yuan, National Sun Yat-sen University, Taiwan, Province of China
Machuca, Jose A.D., Universidad de Sevilla, Spain
Martinez, Michel, Universite Lyon I/IUT-B, France
Mathe, Hervé, ESSEC, France
Mertins, Kai, FHG – IPK, Germany
Mital, Anil, University of Cincinnati, USA
Mohanty, R.P., Siksha O Anusandhan University, India
Monden, Yasuhiro, University of Tsukuba, Japan
Morita, Michiya, Gakushuin University, Japan
Olhager, Jan, Linkoping Institute of Technology, Sweden
Riis, Jens O., Aalborg University, Denmark
Rolstadås, Asbjorn, Norwegian University of Science and Technology, Norway
Shang, Jennifer S., University of Pittsburgh , USA
Taylor, W. Andrew, University of Bradford, UK
Upton, David M., Harvard Business School, USA
Voss, Chris, London Business School, UK
Westkamper, Engelbat, Fraunhofer IPA, Germany
Woo, Tony C., Nanyang Technological University, Singapore
Xi, Jeff, Ryerson University, Canada
A few essentials for publishing in this journal
Submitted articles should not have been previously published or be currently under consideration for publication elsewhere.
Conference papers may only be submitted if the paper has been completely re-written (more details available here) and the author has cleared any necessary permissions with the copyright owner if it has been previously copyrighted.
Briefs and research notes are not published in this journal.
All our articles go through a double-blind review process.
All authors must declare they have read and agreed to the content of the submitted article. A full statement of our Ethical Guidelines for Authors (PDF) is available.
There are no charges for publishing with Inderscience, unless you require your article to be Open Access (OA). You can find more information on OA here.



Submission process

All articles for this journal must be submitted using our online submissions system.
View Author guidelines.
Journal news
A new framework for Product-Service Systems
2 October, 2023
Research in the International Journal of Manufacturing Technology and Management could help industries grappling with the challenges of creating effective Product-Service Systems (PSS). The work introduces an innovative framework designed to streamline the design and implementation of these systems. PSS represent intricate combinations of products and services aimed at meeting the ever-evolving needs of customers. However, the success of such systems hinges on building a solid foundation in order to support the value network. Sophie Peillon of the University of Lyon, Khaled Medini of the University Clermont Auvergne, France, and Thorsten Wuest of West Virginia University, USA have focused on PSS models in the cheese industry in order to help mature the role of value networks. With their work, they introduce a structured approach to decision-making in PSS design [...]
More details...