International Journal of Monetary Economics and Finance
This journal also publishes Open Access articles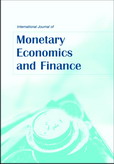 Editor

Prof. Bruno S. Sergi

ISSN online

1752-0487

ISSN print

1752-0479
6 issues per year


CiteScore

1.2 (2022)

International money, banking and finance have become central to understanding how modern open economies and national economic policies work and interact. IJMEF is an international, peer-reviewed journal at the forefront of economic research, fostering discussion on advances in research which have a significant, long-term impact. With articles from both economists and finance experts, IJMEF represents a focal point for understanding issues involved in economic growth, providing a truly global perspective on monetary and financial questions at national and international levels.
Topics covered include
International financial institutions
Monetary theory
Exchange rates and interest rates
Bank services and development
Central banking
International banking
Credit and financial markets
Open economy macroeconomics
Macroeconometrics
International finance
Financial markets and institutions
Corporate governance
Financial liberalisation
Financial performance
Credit channels
More on this journal...
Objectives
IJMEF is a platform for the dissemination of applied and policy-oriented research. It applies a rigid peer-reviewed approach, which aims to publish only very selective, substantive new empirical, methodological and theoretical research. The journal's emphasis is on empirical studies on monetary economics, international economics, financial economics and financial markets from developed and developing economies. Editors particularly encourage the submission of papers that are relevant for economic policy and bridge the gap between theory and policy in macroeconomics and finance. Submissions to IJMEF must be original in their motivation, modelling structure or results. IJMEF seeks to facilitate communications between academics and practitioners on domestic and international issues.
Readership
IJMEF provides a scientific vehicle for researchers, policy makers, national and corporate treasuries, central and investment banks, international organisations, and academic institutions.
Contents
IJMEF invites and welcomes theoretical and applied papers, case studies, and special issues. The journal will also publish review papers, technical reports, and case studies.
Editor
Sergi, Bruno S., University of Messina, Italy
(bsergiunime.it)
Managing Editors
Choudhry, Moorad, Habib Bank AG, London, UK
Matousek, Roman, Queen Mary University of London, UK
Pamungkas, Putra, Universitas Sebelas Maret, Indonesia
Associate Editor
Hassan, Mohammad Kabir, University of New Orleans, USA
Editorial Board Members
Barghouthi, Sameer Al, Al Falah University, United Arab Emirates
Constantinides, George M., University of Chicago Booth, USA
Courakis, Anthony S., Permanent Delegation of Greece to the OECD, France
Elfakhani, Said, American University of Beirut, Lebanon
Errunza, Vihang, McGill University, Canada
Essayyad, Musa, McNeese State University, USA
Fidanoski, Filip, University of Luxembourg, Luxembourg
Fonseca, José Soares da, University of Coimbra, Portugal
Golemi, Ela, University "Aleksandër Moisiu" Durrës, Albania
Islam, Sardar M. N., Victoria University, Australia
Limosani, Michele, University of Messina, Italy
Mallick, Sushanta, Queen Mary, University of London, UK
McGoun, Elton G., Bucknell University, USA
Naghshpour, Shahdad, Alabama A&M University, USA
Navarra, Pietro, University of Messina, Italy
Olmo, Jose, City University (London), UK
Onour, Ibrahim A., University of Khartoum, Sudan
Petrevski, Goran, Ss. Cyril and Methodius University, North Macedonia
Pilbeam, Keith, City University (London), UK
Rahman, Matiur, McNeese State University, USA
Rehman, Ijaz Ur, Al Falah University, United Arab Emirates
Rossi, Sergio, University of Fribourg, Switzerland
Roussenova, Lena, Bulgarian National Bank , Bulgaria
Šević, Željko, Universiti Utara Malaysia, Malaysia
Smith, Julie K, Lafayette College, USA
Stavárek, Daniel, Silesian University, Czech Republic
Trinugroho, Irwan, Universitas Sebelas Maret (UNS), Indonesia
Walter, Ingo, New York University, USA
Editorial Assistant
Korpysa, Jarosław, University of Szczecin, Poland
A few essentials for publishing in this journal
Submitted articles should not have been previously published or be currently under consideration for publication elsewhere.
Conference papers may only be submitted if the paper has been completely re-written (more details available here) and the author has cleared any necessary permissions with the copyright owner if it has been previously copyrighted.
Briefs and research notes are not published in this journal.
All our articles go through a double-blind review process.
All authors must declare they have read and agreed to the content of the submitted article. A full statement of our Ethical Guidelines for Authors (PDF) is available.
There are no charges for publishing with Inderscience, unless you require your article to be Open Access (OA). You can find more information on OA here.
It is essential that authors basing their papers on datasets use the most up-to-date available. Papers based on outdated datasets will be rejected.
If using their own dataset, authors are required to
∘ deposit their research data in a relevant data repository
∘ cite and link to this dataset in their article. If this is not possible, please add
a statement explaining why the research data cannot be shared.
Submission process
All articles for this journal must be submitted using our online submissions system.
View Author guidelines.