International Journal of Multinational Corporation Strategy
This journal also publishes Open Access articles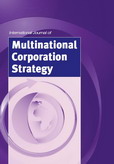 Editor in Chief

Dr. Shufeng Simon Xiao

ISSN online

2059-1055

ISSN print

2059-1047
2 issues per year

Scholars have long been raising the question of why multinational corporations (MNCs) invest across borders and how they maximise earnings in unfamiliar markets. In the ongoing search for solutions, scholars realise in particular that they need to grapple with appropriate MNC strategies. IJMCS provides a forum for in-depth exploration of this research area. In addition to papers in this field, IJMCS also welcomes studies focusing on local firms battling against MNCs and how the insights can inform local firms' strategies.
Topics covered include
Multinational corporation strategy and governance
Global business strategy
New international business models
International dimensions of local firm strategy
Multinational corporations based on emerging and developing markets
Corporate strategies in global environments
Multinational innovation strategy
The strategy and organisational structure of multinational corporations
Global trade and investment environment
Foreign market entry strategies for multinational corporations
Corporate social responsibility
Knowledge management strategy
Research methods for multinational corporation strategy
Theories on multinational corporations and foreign direct investment
More on this journal...
Objectives
The objectives of IJMCS are to discuss any and all aspects of multinational corporation strategies, such as innovation, corporate social responsibility, knowledge management, market entry strategies, foreign business environments and corporate governance, etc. By doing this, this journal will function as an effective conduit helping to communicate crucial strategic knowledge between MNC managers, policy makers, academic institutions, educators and scholars studying international business and strategy in the global context.
Readership
IJMCS provides a vehicle to help professionals, academics, researchers and policy makers working in the domain of multinational corporation strategy to deliver, influence and develop key knowledge on international business.
Contents
This journal publishes original papers, either qualitative or quantitative, which provide managerial and practical implications based on rigorous empirical evidence. In addition, it seeks research papers applying, extending and building theory and/or theoretical concepts that can impact the general discipline of international business. The editor also welcomes literature reviews, case studies and book reviews. Special Issues focusing on important topics in multinational corporation strategy will also be published from time to time.
Honorary Editor
Park, Byung Il, Hankuk University of Foreign Studies, South Korea
Editor in Chief
Xiao, Shufeng Simon, Sookmyung Women's University, South Korea
(bizsxiaosookmyung.ac.kr)
Editor
Amankwah-Amoah, Joseph, University of Kent, UK
Associate Editor
Khan, Zaheer, University of Aberdeen, UK
Senior Advisory Board
Ghauri, Pervez N., University of Birmingham, UK
Inkpen, Andrew, Thunderbird School of Global Management, USA
Santangelo, Grazia, Copenhagen Business School, Denmark
Sinkovics, Rudolf R., University of Glasgow, United Kingdom and LUT University, Finland
Yamin, Mo, University of Manchester, UK
Editorial Board Members
Adomako, Samuel, Birmingham Business School, University of Birmingham, UK
Bu, Maoliang, Nanjing University and Hopkins-Nanjing Center, China
Chung, Chul, University of Reading, UK
Cui, Lin, Australian National University, Australia
Dolores, Añón Higón, University of Valencia, Spain
Driffield, Nigel, University of Warwick, UK
Froese, Fabian Jintae, Yonsei University, South Korea and University of Goettingen, Germany
Gaur, Ajai, Rutgers University, USA
Haakonsson, Stine, Copenhagen Business School, Denmark
He, Shaowei, University of Northampton, UK
Hilmersson, Mikael, University of Gothenburg, Sweden
Hong, Eunsuk, University of London, UK
Hong, Sungjin, Yeungnam University, South Korea
Jang, Seung Hoon, Bloomsburg University of Pennsylvania, USA
Jiménez, Alfredo, Kedge Business School, France
Knight, Gary, Willamette University, USA
Kolade, Seun, De Montfort University, UK
Kuivalainen, Olli, Lappeenranta University of Technology (LUT), Finland
Lee, Jeoung Yul, Hongik University, South Korea
Lee, Seung-Hyun, University of Texas at Dallas, USA
Li, Quan, Texas A&M University, USA
Li, Shaomin, Old Dominion University, USA
Liao, Zhongju, Sci-Tech University, China
Liu, Feng, Shandong University, China
Mata, José, HEC Lausanne, Switzerland
Moon, Jon Jungbien, Korea University, South Korea
Ogasavara, Mario Henrique, Escola Superior de Propaganda e Marketing, Brazil
Oh, Chang Hoon, University of Kansas School of Business, USA
Pattnaik, Chinmay, University of Sydney, Australia
Perri, Alessandra, Ca' Foscari University of Venice, Italy
Pla-Barber, José, University of Valencia, Spain
Rao-Nicholson, Rekha, Essex University, UK
Scott-Kennel, Joanna, University of Waikato, New Zealand
Song, Jaeyong, Seoul National University, South Korea
Tatoglu, Ekrem, Ibn Haldun University, Turkey
Wach, Krzysztof, Cracow University of Economics, Poland
A few essentials for publishing in this journal
Submitted articles should not have been previously published or be currently under consideration for publication elsewhere.
Conference papers may only be submitted if the paper has been completely re-written (more details available here) and the author has cleared any necessary permissions with the copyright owner if it has been previously copyrighted.
Briefs and research notes are not published in this journal.
All our articles go through a double-blind review process.
All authors must declare they have read and agreed to the content of the submitted article. A full statement of our Ethical Guidelines for Authors (PDF) is available.
There are no charges for publishing with Inderscience, unless you require your article to be Open Access (OA). You can find more information on OA here.



Submission process

All articles for this journal must be submitted using our online submissions system.
View Author guidelines.