International Journal of Management Concepts and Philosophy
This journal also publishes Open Access articles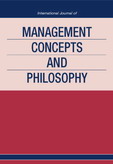 Editor in Chief

Prof. Angappa Gunasekaran

ISSN online

1741-8135

ISSN print

1478-1484
4 issues per year

Many ideas and many innovative and creative approaches to management are lost because of the intrinsic tendency to reject the new, the novel, the ground challenging and the ground-breaking idea. IJMCP encourages novel yet rigorously thought-out and rigorously developed ground-challenging and ground-breaking ideas and perspectives. It encourages multi-disciplinary perspectives and diverse cross-pollination of thought and approaches to management practice.
Topics covered include
Definition of challenges/problems ahead
Development of new management concepts
Development/refinement of management tools/techniques
Critical evaluation of current management practices
New axiomatic principles/philosophical perspectives
Critical evaluation of assumptions/pre-suppositions/axioms of management
New drivers of business organisation/practice
New methodological perspectives/standpoints for management research
Future visions of business, lessons from the past
Description of evolutionary trajectories of management thought/practice
Examination of new corporate responsibilities/past management achievements
Clarification of new organisational structures, business forms
Shifts/developments in market/consumer behaviour
Thoughts on new strategies/philosophies
Challenge of transition from old to new forms
More on this journal...
Objectives
The objectives of the IJMCP are to encourage and support development of new management thinking, concepts and paradigms for business management practice and philosophy. The journal will particularly encourage fresh solutions to critical management problems. As we move into the new millennium, the landscape of management challenges has changed, yet management thought is deeply embedded with concepts and philosophies from the era of the industrial revolution, steeped within one sided rational assumptions and philosophies that are universally applied. What is important at this juncture is to inject fresh and novel ways of looking at current problems, defining the challenges ahead, and searching for solutions to the problems that are likely to lie ahead. IJMCP aims to raise fundamental questions about current practice, ask questions that have yet to be asked and propose solutions.
Readership
Professionals, academics, researchers, and managers.
Contents
IJMCP will publish a range of conceptual and theory papers as well as empirical pieces that develop new or revise existing thought and practice. It will encourage pluralism and multidisciplinary thought by promoting a diversity of view by publications that challenge and develop current thinking and practice. IJMCP aims to do this through numerous routes; for example, by rigorous literature reviews, thought pieces, reflective commentary, or empirical evidence. The role of the journal is to be a platform for rigorous development of management thought, theory, concept and practice. IJMCP is:
Multi-disciplinary: addressing all aspects of management forms and function, encouraging cross-functional dialogue and encouraging a range of different approaches
Creative: publishing high quality work derived from innovative, rigorous critical enquiry that builds new ideas and developments
Integrative: linking, theory, concepts and practice
Honorary Editor in Chief
Ahmed, Pervaiz K., Monash University Malaysia, Malaysia
Editor in Chief
Gunasekaran, Angappa, Penn State Harrisburg, USA
(an.gunasekarangmail.com)
Associate Editor
Schinckus, Christophe, University of Leicester, UK
Editorial Board Members
Brown, John Seeley, Palo Alto Research Center, USA
Dehler, Gordon E., College of Charleston, USA
Graham, Gary, Leeds University Business School, UK
Hardaker, Glenn, Universiti Brunei Darussalam, Brunei Darussalam
Haynes, Michael J., University of Wolverhampton, UK
Kernaghan, Ken, Brock University, Canada
Klefsjö, Bengt, Luleå University, Sweden
Miller, Danny, HEC Montreal, Canada
Morelli, Carlo, University of Dundee, UK
Neergaard, Peter, Copenhagen Business School, Denmark
Nutt, Paul, The Ohio State University, USA
Rafiq, Mohammed, Loughborough University, UK
Simintiras, Antonis, University of Wales, UK
Talaq, Jaleel, Bahrain Training Institute, Bahrain
Tjosvold, Dean, Lingnan University, Hong Kong SAR, China
Wang, Catherine L., Oxford Brookes University, UK
Wang, Yong, University of Wolverhampton, UK
Zaheer, Akbar S, University of Minnesota, Twin Cities, USA
A few essentials for publishing in this journal
Submitted articles should not have been previously published or be currently under consideration for publication elsewhere.
Conference papers may only be submitted if the paper has been completely re-written (more details available here) and the author has cleared any necessary permissions with the copyright owner if it has been previously copyrighted.
Briefs and research notes are not published in this journal.
All our articles go through a double-blind review process.
All authors must declare they have read and agreed to the content of the submitted article. A full statement of our Ethical Guidelines for Authors (PDF) is available.
There are no charges for publishing with Inderscience, unless you require your article to be Open Access (OA). You can find more information on OA here.



Submission process

All articles for this journal must be submitted using our online submissions system.
View Author guidelines.