International Journal of Mechatronics and Automation
This journal also publishes Open Access articles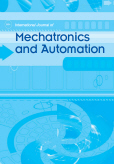 Editor in Chief

Dr. M.A. Dorgham

ISSN online

2045-1067

ISSN print

2045-1059
4 issues per year


CiteScore

0.9 (2022)

IJMA is a fully refereed international journal that presents state-of-the-art research in the area of mechatronics and industrial automation. The intention of IJMA is to provide an international forum to report latest developments from interdisciplinary theoretical studies, computational algorithm development and practical applications. It particularly welcomes those emerging methodologies and techniques which bridge theoretical studies and applications and have significant potential for real-world applications.
Topics covered include
Intelligent mechatronics, robotics and biomimetics
Novel and unconventional mechatronic systems and robots
Modelling and control of mechatronics systems and robots
Elements, structures, mechanisms of micro and nano systems
Sensors, wireless sensor networks and multi-sensor data fusion
Biomedical and rehabilitation engineering, prosthetics and artificial organs
AI, neural networks and fuzzy logic in mechatronics and robotics
Industrial automation, process control and networked control systems
Telerobotics, human computer interaction, human-robot interaction
More on this journal...
Objectives
The main objective of IJMA is to establish an excellent channel of communication between experts in academic and research institutions, practitioners and professionals working in the industry, and policy makers.
Readership
IJMA provides a forum for information exchange between professionals, academicians and engineers who are working in the area of mechatronics, control engineering, and industrial automation, helping them to disseminate information and to learn from each other's work.
Contents
IJMA publishes original papers, technical reports, case studies, review papers and tutorials. Special Issues devoted to important topics in advanced mechatronic systems, robotics, control engineering and industrial automation will be published from time to time.
Editor in Chief
Dorgham, M.A., International Centre for Technology and Management, UK
(supportinderscience.com)
Executive Editor
Hu, Huosheng, University of Essex, UK
Editorial Board Members
Adams, Martin, Nanyang Technological University , Singapore
Alici, Gursel, University of Wollongong, Australia
Asama, Hajime, University of Tokyo, Japan
Caldwell, Darwin G, Italian Institute of Technology, Italy
Celani, Fabio, Sapienza University of Rome, Italy
Ferworn, Alexander, Ryerson University, Canada
Fukuda, Toshio, Nagoya University, Japan
Hamel, William R., University of Tennessee, USA
Huang, Dagui, University of Electronic Science and Technology of China , China
Johnson, Jeffrey, Open University, UK
Kim, Jong-Hwan, KAIST, South Korea
Liu, Chang, Northwestern University, USA
Meng, Max, Chinese University of Hong Kong, Hong Kong SAR, China
Mills, James K., University of Toronto, Canada
Ming, Aiguo, University of Electro-Communications, Japan
Mir-Nasiri, Nazim, Nazarbayev University, Kazakhstan
Tarn, T.J., Washington University in St. Louis, USA
Zhang, Hong, University of Alberta, Canada
Zhang, Jianwei, University of Hamburg, Germany
A few essentials for publishing in this journal
Submitted articles should not have been previously published or be currently under consideration for publication elsewhere.
Conference papers may only be submitted if the paper has been completely re-written (more details available here) and the author has cleared any necessary permissions with the copyright owner if it has been previously copyrighted.
Briefs and research notes are not published in this journal.
All our articles go through a double-blind review process.
All authors must declare they have read and agreed to the content of the submitted article. A full statement of our Ethical Guidelines for Authors (PDF) is available.
There are no charges for publishing with Inderscience, unless you require your article to be Open Access (OA). You can find more information on OA here.



Submission process

All articles for this journal must be submitted using our online submissions system.
View Author guidelines.