International Journal of Leisure and Tourism Marketing
This journal also publishes Open Access articles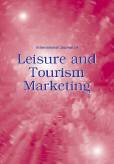 Editor in Chief

Prof. Rajagopal

ISSN online

1757-5575

ISSN print

1757-5567
4 issues per year

IJLTM contributes innovative knowledge and understanding to leisure, recreation and tourism studies with an international orientation, encouraging conceptual/empirical papers that advance knowledge in leisure/tourism research, highlighting marketing issues. It envisages the tourism/leisure role as a major factor influenced by globalisation and growing competition. IJLTM fosters research incorporating concepts of interrelated structures and processes in tourism/leisure activities and provides a global medium for contributions on contemporary marketing practices in leisure activities, travel, hotels, tourism management, events and destinations.
Topics covered include
Marketing and management issues in the leisure industry
Leisure and entertainment products
Leisure behaviour in the arts and sports, cultural activities
Urban leisure centres, recreational and holiday parks
Rural recreation and leisure activities
Consumer spending behaviour in leisure activities, leisure shopping
Economics and planning of leisure services
Performance measure of leisure services
Pricing/promotion of leisure activities, information processing/sales
Marketing and vacation management
Hospitality services and place branding
Ecotourism, sports tourism, health tourism
Tourism marketing, e-tourism, globalisation, government policies
Planning, implementation, forecasting, quality systems/processes, HRM
Financial/revenue management
More on this journal...
Objectives
The principal objective of IJLTM is to serve as an academic forum for publication of refereed research papers related to marketing of the leisure and tourism industry, and to bring together the high standards of academic insights and strengths. The journal aims at developing an interdisciplinary knowledge base meeting academic research and marketing/management practices applied in the leisure and tourism industry. The international dimension of the journal is emphasised towards converging cultural, economic, marketing, and sociological issues with leisure and tourism research to offer advanced knowledge and management skills on the subject. The scope of IJLTM also includes policy and planning issues for pursuing research in leisure and tourism areas.
Readership
IJLTM provides motivation, knowledge and tools to improve decision skills to professionals, academics, researchers and policy makers associated with leisure property, services, products, hospitality industry, tourism and travel services, government departments, planners and consultants.
Contents
IJLTM publishes original papers, review papers, best practices, management notes, case studies, conference reports, book reviews, notes, commentaries, and news related to leisure and tourism industry. Special Issues of the journal are devoted to important topics such as leisure parks, eco-tourism, technology and leisure marketing, and destination tourism will occasionally be published. All papers submitted to the journal are initially screened by the Editor-in-Chief and if found consistent with the broad objectives of the journal, are double blind peer reviewed.
Editor in Chief
Rajagopal, , Monterrey Institute of Technology and Higher Education, ITESM, Mexico
(rajagopalitesm.mx)
Editorial Board Members
Andriotis, Konstantinos, Middlesex University, UK
Beise-Zee, Rian, Ritsumeikan Asia Pacific University, Japan
Bordelon, Bridget M., University of New Orleans, USA
Carrillo, Miguel, Arthur Lok Jack Graduate School of Business, Trinidad and Tobago
Castaño, Raquel, Monterrey Institute of Technology and Higher Education, ITESM, Mexico
Festeu, Dorin, Buckinghamshire New University, UK
Gunasekaran, Angappa, Penn State Harrisburg, USA
Kantarelis, Demetri, Assumption University, USA
Lee, Hong Tau, National Chin-Yi University of Technology, Taiwan, Province of China
Nath, Hiranya K., Sam Houston State University, USA
Nedelea, Alexandru, University Stefan cel Mare Suceava, Romania
Patiar, Anoop K., Griffith University, Australia
Sharma, Sourabh, International Management Institute, India
Singh, Dipendra, University of Central Florida, USA
Singh, Satyendra, Academy of Business and Emerging Markets and University of Winnipeg, Canada
Sung, HeeKyung, California State University, USA
Tuma, Lorie, Grand Valley University, USA
A few essentials for publishing in this journal
Submitted articles should not have been previously published or be currently under consideration for publication elsewhere.
Conference papers may only be submitted if the paper has been completely re-written (more details available here) and the author has cleared any necessary permissions with the copyright owner if it has been previously copyrighted.
Briefs and research notes are not published in this journal.
All our articles go through a double-blind review process.
All authors must declare they have read and agreed to the content of the submitted article. A full statement of our Ethical Guidelines for Authors (PDF) is available.
There are no charges for publishing with Inderscience, unless you require your article to be Open Access (OA). You can find more information on OA here.



Submission process

All articles for this journal must be submitted using our online submissions system.
View Author guidelines.