International Journal of Logistics Systems and Management
This journal also publishes Open Access articles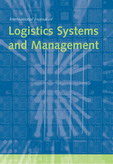 Editor in Chief

Prof. Angappa Gunasekaran

ISSN online

1742-7975

ISSN print

1742-7967
12 issues per year


CiteScore

2.0 (2022)

IJLSM addresses the development of logistics resources, emphasising the implications that logistics strategies and systems have on organisational productivity and competitiveness in global and electronic markets. Globalisation of markets and logistics services is closely related to the success of a company. This perspective indicates the importance of effective logistics systems and their management for organisational effectiveness and competitiveness. The journal intends to provide executives and academics with the state of the art of logistics systems and supply chain management.
Topics covered include
Logistics enterprise network
Logistical systems design/development/optimisation
Performance management, benchmarking
E-logistics, global logistics
Logistics information systems, ERP
Customer relationship management
Materials handling
Supply chain management
Warehouse management
Purchasing
Transport management
Supply chain management information
Inventory/demand management
Project/distribution management
Modelling and analysis
More on this journal...
Objectives
The main objective of the IJLSM is to provide a platform for interaction between researchers and practitioners who are dealing with logistics systems and management. It also aims to promote and coordinate developments in the field of logistics systems and management. The global dimension is emphasised, with the objective of overcoming various cultural barriers and in turn of meeting the needs of technological and organisational changes in the global e-markets. The journal intends to provide executives and academics with the state of the art of logistics systems and supply chain management and also to facilitate the exchange of information about logistics systems and supply chain management among logistics researchers and practitioners.
Readership
IJLSM acts as a vehicle to help professionals, academics and researchers, working in the field of logistics systems and management, to disseminate information and latest developments and to learn from each other|s research.
Contents
IJLSM publishes original papers, review papers, technical reports, case studies, conference reports, management reports, book reviews, notes, commentaries, and news. Special Issues devoted to important topics in logistics systems and management will occasionally be published.
Editor in Chief
Gunasekaran, Angappa, Penn State Harrisburg, USA
(an.gunasekarangmail.com)
Editorial Board Members
Assimakopoulos, Dimitris G., EMLYON Business School, France
Bagchi, Prabir K., The George Washington University, USA
Bititci, Umit S., Heriot Watt University, UK
Camarinha-Matos, Luis M., New University of Lisbon, Portugal
Christopher, Martin, Cranfield University, UK
Croom, Simon, University of San Diego, USA
Fernie, John, Heriot-Watt University, UK
Goh, Mark, National University of Singapore, Singapore
Goyal, Suresh, Concordia University, Canada
Grubbström, Robert W., Linköping Institute of Technology, Sweden
Gupta, Jatinder (Jeet) N.D., University of Alabama, Huntsville, USA
Hellebust, Anders, SINTEF Industrial Management, Norway
Helo, Petri T., University of Vaasa, Finland
Iijima, Masaki, Aichi-Gakuin University, Japan
Koh, Siau Ching Lenny, University of Sheffield, UK
Lee, W. B., The Hong Kong Polytechnic University, Hong Kong SAR, China
Lee, Young Hae, Hanyang University, South Korea
Lin, Binshan, Louisiana State University in Shreveport, USA
Macdonald, Stuart, University of Leicester, UK
Min, Hokey, Bowling Green State University, USA
Motwani, Jaideep, Grand Valley State University, USA
Olhager, Jan, Linkoping Institute of Technology, Sweden
Rajendran, Chandrasekharan, Indian Institute of Technology Madras, India
Sarkis, Joseph, Worcester Polytechnic Institute, USA
Singh, Nanua, RGBSI, USA
Sohal, Amrik, Monash University, Australia
Taylor, W. Andrew, University of Bradford, UK
Tsui, Kwok L., Georgia Institute of Technology, USA
Xie, Min, City University of Hong Kong, Hong Kong SAR, China
Yusuf, Yahaya, University of Central Lancashire, UK
A few essentials for publishing in this journal
Submitted articles should not have been previously published or be currently under consideration for publication elsewhere.
Conference papers may only be submitted if the paper has been completely re-written (more details available here) and the author has cleared any necessary permissions with the copyright owner if it has been previously copyrighted.
Briefs and research notes are not published in this journal.
All our articles go through a double-blind review process.
All authors must declare they have read and agreed to the content of the submitted article. A full statement of our Ethical Guidelines for Authors (PDF) is available.
There are no charges for publishing with Inderscience, unless you require your article to be Open Access (OA). You can find more information on OA here.



Submission process

All articles for this journal must be submitted using our online submissions system.
View Author guidelines.
Journal news
Crowd deliveries
13 September, 2023
Research in the International Journal of Logistics Systems and Management has looked at how well the implementation of P2P crowdsourced delivery is going in Egypt. The findings shed light on the potential benefits and the remaining challenges. Karim Soliman of the College of International Transport and Logistics at the Arab Academy for Science, Technology, and Maritime Transport in Cairo, employed a deductive approach and quantitative research methods to gauge public sentiment towards this innovative delivery model. Soliman writes that encouragingly, respondents of various ages and education were already familiar with crowdsourcing, even if they were not familiar with the term itself [...]
More details...