International Journal of Learning and Intellectual Capital
This journal also publishes Open Access articles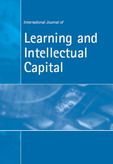 Editor in Chief

Prof. Patricia Ordóñez de Pablos

ISSN online

1479-4861

ISSN print

1479-4853
6 issues per year


Impact factor (Clarivate Analytics) 2023

2.2
JCI 0.38

CiteScore

2.5 (2022)

Strategy management involves understanding the forces and causes that explain performance differences between organisations, a result of different stocks of knowledge-based resources and capabilities. The intellectual capital literature focuses on the measurement of firms'knowledge base. It also addresses building guidelines for the development of ''intellectual capital accounts''. IJLIC covers the latest advances on organisational learning, knowledge management and intellectual capital measuring and reporting. It promotes ways in which these impact on firms'competitive advantage in the New Economy.
Topics covered include
Intangible resources
Competitive strategy
Knowledge-based view of the firm
Human/relational/social/organisational capital
Human resource management
Intellectual capital reporting
Organisational learning
Social networks
Innovation and knowledge management
Innovation and leadership
Product and process innovation
Technology and innovation management
Dynamic capabilities and routines
Quality
Case studies
More on this journal...
Objectives
The topics of Organisational Learning (OL), Knowledge Management (KM) and Intellectual Capital (IC) are receiving increased interest both from the academic community and companies because of the influence of innovation and learning on the achievement of a competitive advantage for the firm in the New Economy. Literature on knowledge management and intellectual capital suggests that competitive advantage flows from the creation, ownership, protection, storage and use of certain knowledge-based organisational resources. Superior organisational performance depends on firms| ability to be good at innovation, learning, protecting, deploying, amplifying and measuring these strategic intangible resources.
The objective of IJLIC is to bring together a selection of new perspectives that collectively articulate a knowledge-based view of strategy management. It adopts a knowledge-based view that considers the role of the firm in the nurturing, deployment, storage and measurement of the organisation|s knowledge.
Readership
Organisational Learning, Intellectual Capital and Knowledge Management have a broad appeal and IJLIC readership will include:
Corporate heads of firms
Senior general managers
Managing directors
Chief knowledge officers
Chief intellectual capital officers
Board directors
Academics and researchers in the field both in universities and business schools
Auditors
Information technology directors and managers
Quality managers and directors
Human resource directors
Libraries and information centres serving the needs of the above
Contents
IJLIC offers a holistic view of the resources, tools, techniques, strategies and technologies necessary for the effective implementation of knowledge management, intellectual capital measuring and reporting and organisational learning in firms. It is double blind peer-reviewed and publishes both high-quality academic (theoretical or empirical) and practical papers in the broad ranges of knowledge management and intellectual capital topics
Editor in Chief
Ordóñez de Pablos, Patricia, Universidad de Oviedo, Spain
(patriopuniovi.es)
Associate Editors
Edvinsson, Leif, Lund University, Sweden
Karwowski, Waldemar, University of Central Florida, USA
Lee, W. B., The Hong Kong Polytechnic University, Hong Kong SAR, China
Marques, José Luís Sales, Institute of European Studies of Macao, Macao
Tennyson, Robert D., University of Minnesota, USA
Zack, Michael H., Northeastern University, USA
Editorial Advisory Board
Cillo, Valentina, Università Politecnica delle Marche, Italy
Del Giudice, Manlio, University of Rome "Link Campus", Italy
Editorial Board Members
Ahonen, Guy, Swedish School of Economics and Business Administration, Finland
Ash, Ruth C., Samford University, USA
Bierly III, Paul Emerson, Zane Showker Professor of Entrepreneurship, USA
Bukh, Per Nikolaj, Aalborg University, Denmark
Chakrabarti, Alok K., New Jersey Institute of Technology, USA
Crossan, Mary, The University of Western Ontario, Canada
Dal Mas, Francesca, Ca' Foscari University, UK
Gupta, Anil K., University of Maryland, USA
Haridimos, Tsoukas, ALBA, UK
Holtham, Clive, City University London, UK
Kaliannan, Maniam, Nottingham University Business School, Malaysia
Lepak, David P., Rutgers University, USA
Magni, Domitilla, Roma Tre University, Italy
Magnusson, Mats, Royal Institute of Technology - KTH, Sweden
Mentzas, Gregoris, National Technical University of Athens, Greece
Roos, Göran, Intellectual Capital Services Ltd., UK
Schiuma, Giovanni, University of the Arts, UK
Shanley, Mark, University of Illinois at Chicago, USA
Skyrme, David J., David Skyrme Associates Limited, UK
Snell, Scott A., Cornell University, USA
Sohal, Amrik, Monash University, Australia
Sveiby, Karl-Erik, Hanken Business School, Finland
Thomas, Howard, Singapore Management University, Singapore
Van Den Bossche, Piet, University of Maastricht, Netherlands
Vickery, Graham, Directorate for Science, Technology and Industry, France
Wu, Xiaobo, Zhejiang University, China
Xiao, Zhu Nai, Jinan University, China
Zhao, Jingyuan, University of Toronto, Canada
A few essentials for publishing in this journal
Submitted articles should not have been previously published or be currently under consideration for publication elsewhere.
Conference papers may only be submitted if the paper has been completely re-written (more details available here) and the author has cleared any necessary permissions with the copyright owner if it has been previously copyrighted.
Briefs and research notes are not published in this journal.
All our articles go through a double-blind review process.
All authors must declare they have read and agreed to the content of the submitted article. A full statement of our Ethical Guidelines for Authors (PDF) is available.
There are no charges for publishing with Inderscience, unless you require your article to be Open Access (OA). You can find more information on OA here.



Submission process

All articles for this journal must be submitted using our online submissions system.
View Author guidelines.