International Journal of Knowledge Management Studies
This journal also publishes Open Access articles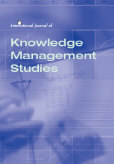 Editor in Chief

Prof. Jin Chen

ISSN online

1743-8276

ISSN print

1743-8268
4 issues per year


Impact factor (Clarivate Analytics) 2023

0.7
JCI 0.16

CiteScore

1.2 (2022)

Knowledge as a key resource will contribute to improving organisational performance if it is properly leveraged and harnessed. IJKMS is a refereed and authoritative source of information in knowledge management and related fields that is driven by new science, technology and philosophy. IJKMS is an interdisciplinary journal devoted to advancing all aspects of managing knowledge. It provides an outlet for high-quality, rigorous and original research by academics and practitioners that emphasises knowledge management both theoretically and practically.
Topics covered include
Knowledge creation, acquisition, codification, classification, organisation
Knowledge sharing, transfer, application, protection, retention
Knowledge management design and development
Knowledge management and implementation
Measurement of knowledge management performance and benefits
Techniques and methods for managing knowledge
Technological tools for knowledge management, e.g.
∘ Knowledge bases, collaborative tools
∘ Expert/intelligent systems, knowledge mining/extraction
∘ Content/document management
∘ Portals, search and retrieval
∘ e-Learning, virtual reality, business intelligence, etc.
Human, organisational, strategic, behavioural and socio-cultural aspects
Public policy, economics, education policy, intellectual capital, ethics
Other related aspects of knowledge management
More on this journal...
Objectives
The main objectives of IJKMS are geared towards:
Capturing the latest information pertaining to all aspects of knowledge management
Disseminating both theoretical and practical information of knowledge management
Providing a platform to gain and exchange knowledge in the discipline
Readership
Academics, researchers, scholars, practitioners and managers working in various areas such as engineering, management, consultancy, education, finance, manufacturing, marketing, telecommunication, etc.
Contents
IJKMS publishes original, theoretical and empirical papers; case studies; conference reports; management reports; book reviews; notes; commentaries and news. In addition to the regular issues of the journal, IJKMS publishes Special Issues devoted to interesting topics in knowledge management.
Editor in Chief
Chen, Jin, Tsinghua University, China
(chenjinsem.tsinghua.edu.cn)
Regional Editor Asia Pacific
Wong, Kuan Yew, Universiti Teknologi Malaysia, Malaysia
Regional Editor Europe, Middle East and Africa
Venkitachalam, Krishna, Ajman University, United Arab Emirates
Editorial Board Members
Anantatmula, Vittal S, Western Carolina University, USA
Awazu, Yukika, The Engaged Enterprise, USA
Bhatt, Ganesh D, Morgan State University, USA
Clegg, Stewart, University of Technology, Sydney, Australia
Desouza, Kevin C., Queensland University of Technology, Australia
Despres, Charles, Conservatoire national des Arts et Métiers, France
Ermine, Jean-Louis, Institut National des Télécommunications, France
Jih, Wen-Jang (Kenny), Middle Tennessee State University, USA
Kallinikos, Jannis, London School of Economics, UK
Kaur, Vaneet, Kent State University, USA
Kierkegaard, Sylvia Mercado, International Association of IT Lawyers, Denmark
Martin, Bill, RMIT University, Australia
Pawar, Kulwant S., University of Nottingham, UK
Roy, Rajkumar, University of London, UK
Sena, James A., California Polytechnic State University, USA
Singh, Sanjay Kumar, Abu Dhabi University, United Arab Emirates
Skyrme, David J., David Skyrme Associates Limited, UK
Styhre, Alexander, University of Gothenburg, Sweden
Tsui, Eric Y.H., The Hong Kong Polytechnic University, Hong Kong SAR, China
Umemoto, Katsuhiro, The Japan Advanced Institute of Science and Technology, Japan
Weber, Frithjof, EDDEG AIRBUS Deutschland Knowledge, Germany
Wu, Desheng (Dash), University of Toronto, Canada
A few essentials for publishing in this journal
Submitted articles should not have been previously published or be currently under consideration for publication elsewhere.
Conference papers may only be submitted if the paper has been completely re-written (more details available here) and the author has cleared any necessary permissions with the copyright owner if it has been previously copyrighted.
Briefs and research notes are not published in this journal.
All our articles go through a double-blind review process.
All authors must declare they have read and agreed to the content of the submitted article. A full statement of our Ethical Guidelines for Authors (PDF) is available.
There are no charges for publishing with Inderscience, unless you require your article to be Open Access (OA). You can find more information on OA here.



Submission process

All articles for this journal must be submitted using our online submissions system.
View Author guidelines.