International Journal of Knowledge and Learning
This journal also publishes Open Access articles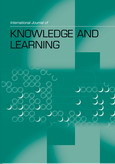 Editor in Chief

Prof. Saša Mladenović

ISSN online

1741-1017

ISSN print

1741-1009
4 issues per year


Impact factor (Clarivate Analytics) 2023

0.9 (5 Year Impact Factor 0.8)
JCI 0.43

CiteScore

1.2 (2022)

IJKL aims at fostering multidisciplinary discussion and research on knowledge-intensive approaches to learning management and learning processes at the individual, organisational and national levels, emphasising knowledge representation issues, social and organisational elements, and architectural and design issues of learning management systems.
Topics covered include
Knowledge-based learning management systems
Knowledge-based approaches to competence management
Design/conceptual issues about learning objects, knowledge/learning flows
Learning and knowledge in social networks
Knowledge and learning strategies, and their benchmarking
Learning and knowledge exploitation in health, corporate and government
Learning/knowledge portals, virtual learning symposiums/communities/universities
Ubiquitous and pervasive learning, epistemology of knowledge and learning
Innovative case studies, lessons learned (successes and failures)
Focused studies of learning and knowledge in sectors
Intelligent learning infrastructures in knowledge intensive organisations
Maturity models of learning and knowledge exploitation
Effective learning/knowledge exploitation methodologies, emerging technologies
Corporate universities, new approaches/models to learning content diffusion
Knowledge/learning towards the support of excluded/people with disabilities
More on this journal...
Objectives
IJKL targets the emerging new landscape of knowledge intensive organisations, which require an integrated approach to the management of learning and knowledge. The promotion of leading edge research in the converging area of knowledge and learning management is treated with a strategic point of view: the fact that the deployment of technologies requires a multidisciplinary approach in which new models for learning have to be built upon effective knowledge management mechanisms. This general statement outlines the ultimate objective but towards this direction a number of other goals and objectives can be stressed:
Promotion of the discipline
Communication of the differences that electronic evolution brings to learning and knowledge exploitation
Communication of lessons learned from both failures and successes of advanced learning applications
Craft of strategies for effective learning and knowledge management convergence
Contextual studies in sectors: main emphasis will be paid on the following sectors: Health, Government, Education, Business, Entertainment Industry, Tourism, etc
Promotion of International Collaborations towards new projects aiming at the development of new tools and at the specification of new services
Identification of best practices that could support consultation in many levels
Benchmarking winning practices in the corporate field
Readership
IJKL aims to establish value-adding knowledge transfer and personal development channels in three distinctive areas: Academia, Industry and Government summarise the three pillars where a new scientific publication can play a significant role.
Contents
IJKL publishes original research papers providing significant results, and also short communications about innovative ideas and news, announcements and reviews regarding the topics of the journal.
Editor in Chief
Mladenović, Saša, University of Split, Croatia
(ijkl.editorgmail.com)
Executive Editor
Ceravolo, Paolo, Università degli Studi di Milano, Italy
Managing Editor
Zefkili, Konstantina N., Athens University of Economics and Business (AUEB), Greece
Associate Editors
Elia, Gianluca, University of Salento, Italy
Guetl, Christian, Curtin University of Technology, Australia and Graz University of Technology, Austria
Sicilia, Miguel-Angel, University of Alcalá, Spain
Vargas-Vera, Maria, Open University, UK
Assistant Editor
Viola, Francesco, University of Milan, Italy
Book Editor
Goh, Andrew L.S., University of South Australia, Australia
Editorial Board Advisor
Sheth, Amit P., University of Georgia, USA
Editorial Board Members
Abdulmuhsin, Amir. A., University of Mosul, Iraq
Aristovnik, Aleksander, University of Ljubljana, Slovenia
Azzini, Antonia, Consortium for Technology Transfer - C2T, Italy
Barbon, Sylvio, Londrina State University, Brazil
Becerra-Fernandez, Irma, Marymount University, USA
Brancher, Jacques Duílio, Londrina State University, Brazil
Bueno Campos, Eduardo, Universidad Autónoma de Madrid, Spain
Chan, Tak-Wai, National Central University, Taiwan, Province of China
Chew, Fong Peng, University of Malaya, Malaysia
Crespo, Nuno, University Institute of Lisbon, Portugal
David, Solomon Arulraj, The British University in Dubai, United Arab Emirates
Devedzic, Vladan, University of Belgrade, Serbia
Dzbor, Martin, The Open University, UK
Edwards, John, Aston University, UK
Ehlers, Ulf-Daniel, University Duisburg-Essen, Germany
Eseryel, Deniz, University of Oklahoma, USA
Gasevic, Dragan, Monash University, Australia
Gordon, John, Applied Knowledge Research Institute, UK
Grew, Philip, Università degli Studi di Milano, Italy
Guizzardi, Renata Silva Souza, Federal University of Espírito Santo, Brazil
Hakkarainen, Kai, University of Helsinki, Finland
Ho, Tu Bao, Japan Advanced Institute of Science and Technology (JAIST), Japan
Jashapara, Ashok, Royal Holloway, University of London, UK
Jonassen, David, University of Missouri, USA
Karacapilidis, Nikos, University of Patras, Greece
Karvalics, Laszlo Z., University of Szeged, Hungary
Kashyap, Vipul, Partners Healthcare System, Inc., USA
Kinshuk, , Athabasca University, Canada
Lê, Tang-Ho, Université de Moncton, Canada
Lee, Denise, NASA Academy of Program and Project Leadership, USA
Lichtenstein, Sharman, Deakin University, Australia
Liu, Jie, Institute of Computing Technology - Chinese Academy of Sciences, China
Malkawi, Bashar H., H.H. Dubai Ruler's Court, United Arab Emirates
Martin, Bill, RMIT University, Australia
Milani, Manuela, Université de Cergy-Pontoise, France
Moreale, Emanuela, University of Nottingham, UK
Naeve, Ambjörn, Royal Institute of Technology, Sweden
Ngai, Eric W.T., The Hong Kong Polytechnic University, Hong Kong SAR, China
Nobanee, Haitham, Abu Dhabi University, United Arab Emirates
Pouloudi, Nancy, ELTRUN - The Research Center, Greece
Rafaeli, Sheizaf, University of Haifa, Israel
Ramos, Wilsa Maria, University of Brasilia, Brazil
Ritrovato, Pierluigi, University of Salerno, Italy
Rosic, Marko, University of Split, Croatia
Sampson, Demetrios G., University of Piraeus, Greece
Secundo, Giusy, University of Salento, Italy
Senteni, Alain, University of Mauritius, Mauritius
Senthilkumar, Sukumar, Vellore Institute of Technology, India
Shneier, Lesley, World Bank Group, USA
Soderquist, Klas Eric, Athens University of Economics and Business, Greece
Sutinen, Erkki, University of Turku, Finland
Valenti, Salvatore, University of Ancona, Italy
Vossen, Gottfried, University of Muenster, Germany
Wagner, Roland, Johannes Kepler University of Linz, Austria
Watanabe, Toyohide, Nagoya Industrial Science Research Institute, Japan
Wolpers, Martin, Fraunhofer Gesellschaft, Germany
Yang, Stephen J.H., National Central University, Taiwan, Province of China
Yeung, Christopher Kwok-Tung, Nanyang Technological University, Singapore
Zilli, Antonio, University of Salento, Italy
A few essentials for publishing in this journal
Submitted articles should not have been previously published or be currently under consideration for publication elsewhere.
Conference papers may only be submitted if the paper has been completely re-written (more details available here) and the author has cleared any necessary permissions with the copyright owner if it has been previously copyrighted.
Briefs and research notes are not published in this journal.
All our articles go through a double-blind review process.
All authors must declare they have read and agreed to the content of the submitted article. A full statement of our Ethical Guidelines for Authors (PDF) is available.
There are no charges for publishing with Inderscience, unless you require your article to be Open Access (OA). You can find more information on OA here.



Submission process

All articles for this journal must be submitted using our online submissions system.
View Author guidelines.
Journal news
Prof. Saša Mladenović appointed as new Editor in Chief of International Journal of Knowledge and Learning
5 September, 2023
Prof. Saša Mladenović from the University of Split in Croatia has been appointed to take over editorship of the International Journal of Knowledge and Learning.