International Journal of Information Systems and Change Management
This journal also publishes Open Access articles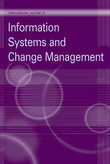 Editor in Chief

Prof. David C. Chou

ISSN online

1479-313X

ISSN print

1479-3121
4 issues per year


CiteScore

0.8 (2022)

IJISCM covers information systems and change management theories, methodologies, modelling, processes and tools, highlighting management, problem-solving and strategies for dealing with business changes. Information systems increasingly change people's lives, including relationships, communications, transactions, data collection, decision-making. Changes in IT lead to innovation, new business models and services. Change management and how people deal with it has gained attention across various fields. Finding effective ways for managing the process of changes is key to success in a highly competitive/global business environment.
Topics covered include
Information systems and organisational change management
Leadership, education/training and individual development
Information system project management, software version control/management
Global dimension, methodologies/strategies/innovation
Information systems integration process and management
Tools for, and managing risk in, change management
Measuring change management, cost analysis and economics
TQM, six sigma for performance improvement
Business process reengineering, information systems consulting/outsourcing
Security, quality, social, cultural, legal, ethical issues
Human resource/information technology/supply chain management
Enterprise resource planning (ERP), enterprise application integration (EAI)
E-business/m-commerce, internet/organisational change, best practices, standards
Knowledge management, business intelligence/process management
Software version control and management
More on this journal...
Objectives
The objectives of IJISCM are to promote the research and practice of information systems and change management. IJISCM aims to establish an effective channel of communication between academic educators, information systems workers, managers, industry consultants, and practitioners to contribute, disseminate and learn from each other's work. The global dimension is emphasised to overcome cultural and national barriers and to meet the technological changes in the global economy. IJISCM aims to act as a forum for the exchange of innovative ideas and for sharing practical experiences in the information systems and change management.
Readership
IJISCM is a forum to help professionals, academics, researchers and practitioners working in the field of information systems and change management to discuss important ideas, concepts, methodologies, and to disseminate information and learn from each other's work.
Contents
IJISCM publishes original papers, review papers, technical reports, case studies, conference reports, management reports, book reviews, notes, commentaries, and news. Special issues devoted to important topics in information systems and change management will occasionally be published.
Editor in Chief
Chou, David C., Eastern Michigan University, USA
(david.chouemich.edu)
Editorial Board Members
Chen, Injazz J., Cleveland State University, USA
Chen, Jim Q., St. Cloud State University, USA
Chen, Kuanchin, Western Michigan University, USA
Chen, Rung Ching, Chaoyang University of Technology, Taiwan, Province of China
Chen, Shaw K., University of Rhode Island, USA
Chou, Amy Y., Eastern Michigan University, USA
Chu, Chao-Hsien, The Pennsylvania State University, USA
Chung, Chen H., University of Kentucky, USA
Deng, Xiaodong, Oakland University, USA
Dong, Linying, Ryerson University, Canada
Hackbarth, Gary, Iowa State University, USA
Huang, Shi-Ming, National Chung Cheng University, Taiwan, Province of China
Hung, Shin-Yuan, National Chung Cheng University, Taiwan, Province of China
Huszczo, Gregory E., Eastern Michigan University, USA
Irani, Zahir, Brunel University, UK
Jiang, James J., National Taiwan University, Taiwan, Province of China
Langabeer II, James R., University of Texas at Houston, USA
Lesjak, Dušan, International School for Social and Business Studies, Slovenia
Mahatanankoon, Pruthikrai, Illinois State University, USA
Mandal, Purnendu, Lamar University, USA
McCabe, Darren, Lancaster University, UK
Sutcliffe, Norma, DePaul University, USA
Tung, Y. Alex, University of Connecticut, USA
Wang, Eric T.G., National Central University, Taiwan, Province of China
Wong, Zachary, Sonoma State University, USA
Yang, Heng-Li, National Cheng-Chi University, Taiwan, Province of China
Yen, David C., State University of New York, USA
A few essentials for publishing in this journal
Submitted articles should not have been previously published or be currently under consideration for publication elsewhere.
Conference papers may only be submitted if the paper has been completely re-written (more details available here) and the author has cleared any necessary permissions with the copyright owner if it has been previously copyrighted.
Briefs and research notes are not published in this journal.
All our articles go through a double-blind review process.
All authors must declare they have read and agreed to the content of the submitted article. A full statement of our Ethical Guidelines for Authors (PDF) is available.
There are no charges for publishing with Inderscience, unless you require your article to be Open Access (OA). You can find more information on OA here.



Submission process

All articles for this journal must be submitted using our online submissions system.
View Author guidelines.