International Journal of Intellectual Property Management
This journal also publishes Open Access articles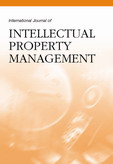 Editor in Chief

Prof. Rosa Puertas

ISSN online

1478-9655

ISSN print

1478-9647
4 issues per year


CiteScore

1.2 (2022)

IJIPM focuses on the study of intellectual property (IP) across a wide range of topics, and embraces studies of IP from the fields of business, management, economics and government policy. Different perspectives that encourage innovation and knowledge creation and transfer are welcome, particularly those which reflect IJIPM's special emphasis on how the topic has evolved considerably from an initial focus on legislation to the current debate surrounding ways of approaching IP in the digital context.
Topics covered include
History of IP, from international/national or context/sector perspectives
IP culture/ideologies
International IP harmonisation
IP valuation methods: disparities and economic significance
Internal and external corporate and organisational strategies
Licensing in and out
Cooperative R&D in IP
Innovation and technology management
IP litigation and policy
Entrepreneurship and venturing, spin-offs, start-ups and IP
Finance and IP
IP information management,
Contextual differences in IP
Decision making in IP commercialisation
Global piracy and IP
More on this journal...
Objectives
The objectives of IJIPM are to enhance the critical understanding of intellectual property in theory and practice, to appreciate the strategic importance of intellectual property to corporate and organisational success, and to disseminate knowledge on the management of intellectual property and the commercialisation of different forms of intellectual property.
Readership
IJIPM ensures that such studies reach a global readership of scholars, students, consultants, practitioners and policymakers who recognise the importance of IP as a means of improving people's quality of life and enriching society.
Contents
IJIPM publishes theoretical articles, empirical studies based on quantitative or qualitative methods, practice-oriented papers, teaching-oriented papers, case studies, book reviews, conference reports, short articles on current trends in science and social science, abstracts of recent PhDs on innovation and knowledge, and shorter opinion-based and review articles, commentaries and debates.
Editor in Chief
Puertas, Rosa, Universidad Politécnica de Valencia, Spain
(rpuertasesp.upv.es)
Executive Editor
Ribeiro-Soriano, Domingo Enrique, Universitat de València, Spain
Associate Editors
Palau, Felipe, Universitat Politècnica de València, Spain
Santarelli, Enrico, University of Bologna, Italy
Singh, Bhopendra, Amity University, Dubai, United Arab Emirates
Regional Editors Europe
Alegría, María Sarabia, University of Alcala , Spain
Berbegal Mirabent, Jasmina, Universitat Politècnica de Catalunya, Spain
Regional Editor USA and Canada
Férnandez Vázquez, Jose Santiago, University of Alcala , Spain
Editorial Board Members
Bader, Martin, University of Applied Sciences Ingolstadt (THI), Germany
Bargoni, Augusto, University of Turin, Italy
Benassi, Mario, University of Milan, Italy
Blanco González-Tejero, Cristina, University of Alcala, Spain
Bounfour, Ahmed, Paris-Sud University, France
Crammond, Robert, University of the West of Scotland, UK
Cunningham, James, Newcastle University, UK
Gupta, Anil K., Indian Institute of Management Vastrapur, India
Huang, Chi-Yo, National Taiwan Normal University, Taiwan, Province of China
Hurmelinna-Laukkanen, Pia, University of Oulu, Finland
Murray, Alan, University of the West of Scotland, UK
Park, Walter G., American University, USA
Pletnev, Dmitri, Chelyabinsk State University, Russian Federation
Rodrigues, Ricardo, University of Lisbon, Portugal
Rulo, Kevin, The Catholic University of America, USA
Shane, Scott, Case Western Reserve University, USA
Singh, Abhilasha, American University in the Emirates, United Arab Emirates
Val Núñez, Maria Teresa del, University of Alcala, Spain
Vasconcellos, E., University of Sao Paulo, Brazil
Willoughby, Kelvin Wayne, HHL Leipzig Graduate School of Management, Germany
A few essentials for publishing in this journal
Submitted articles should not have been previously published or be currently under consideration for publication elsewhere.
Conference papers may only be submitted if the paper has been completely re-written (more details available here) and the author has cleared any necessary permissions with the copyright owner if it has been previously copyrighted.
Briefs and research notes are not published in this journal.
All our articles go through a double-blind review process.
All authors must declare they have read and agreed to the content of the submitted article. A full statement of our Ethical Guidelines for Authors (PDF) is available.
There are no charges for publishing with Inderscience, unless you require your article to be Open Access (OA). You can find more information on OA here.



Submission process

All articles for this journal must be submitted using our online submissions system.
View Author guidelines.
Journal news
AI disentangles quantum patents
18 March, 2023
A new study in the International Journal of Intellectual Property Management, demonstrates how so-called artificial intelligence (AI) techniques can be used instead of conventional text analysis to disentangle information from a large body of work. Proof of principle was undertaken using a patents database and focusing on research and technologies utilising the field of quantum science. The specific case revealed interesting dynamics concerning global innovation and national organisational profiles pertaining to competition in this area between China and the USA. Zeki Can Seskir of the Institute for Technology Assessment and Systems Analysis at Karlsruhe Institute of Technology and Kelvin W. Willoughby of the HHL Leipzig Graduate School of Management, Germany, built an operating definition of quantum technology and then used AI to create a global patent database. The approach allowed them to extract pertinent information in this field that could be useful to policymakers and managers looking to understand international innovation in this field. The same approach might work just as well in other fields. The approach blended human analysis and AI processing of the body of work [...]
More details...