International Journal of Internet and Enterprise Management
This journal also publishes Open Access articles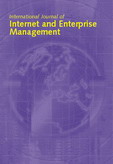 Editor in Chief

Prof. Yue Guo

ISSN online

1741-5330

ISSN print

1476-1300
4 issues per year

IJIEM is a double-blind refereed, highly professional and authoritative source of information in the field of the Internet and its applications in enterprise management. IJIEM also publishes theories and practices that are useful to executives in managing enterprises.
Topics covered include
Business ethics/excellence and infrastructure management
Capital markets and the virtual economy
Collaborative commerce, e-business integration, e-enterprise structure/organisation
Data mining, business intelligence, data quality improvement
Decision support and group systems, HRM, CRM
Enterprise process management/resource planning, reorganisation, strategies
Entrepreneurship/creativity, innovation/product development, innovative financing
Globalisation issues, strategic planning/control
Internet/emerging technologies, internet economy, law, compliance, security/privacy
Knowledge/operations management, operations/strategy for e-commerce
Optimisation models and the web
Process reengineering and redesign
Service operations on the web
Service/product quality management, TQM
Supply chain management and e-logistics
More on this journal...
Objectives
IJIEM focuses on the emerging changes in enterprise management, its organisational structure, competitive strategies, and management methods, brought about by the Internet and information technology applications, and their implications on the associated process, products, and services. Emphasis will also be on the related social, political and economic issues as well as emerging issues of interest to professionals and academics.
Readership
Professionals, policy-makers, academics, researchers, and managers in IT, business and commerce.
Contents
IJIEM publishes original and review papers, technical reports, case studies, conference reports, management reports, book reviews, and notes, commentaries, and news. Contribution may be by submission or invitation, and suggestions for special issues and publications are welcome.
Honorary Editor in Chief
Li, Eldon Y., National Chung Cheng University, Taiwan, Province of China
Editor in Chief
Guo, Yue, Southern University of Science and Technology, China
(guoysustech.edu.cn)
Former Editors in Chief
Huang, Wei (Wayne), Southern University of Science and Technology, China
Selen, Willem, United Arab Emirates University, United Arab Emirates
Executive Editor
Jia, Qiong, Hohai University, China
Associate Editors
Clifford, Gari, Georgia Institute of Technology, USA
Fan, Weiguo (Patrick), University of Iowa, USA
Figueiredo, Paulo N., Getulio Vargas Foundation (FGV), Brazil
Geng, Xianjun, University of Texas at Dallas, USA
Jardim-Goncalves, Ricardo, New University of Lisbon, Portugal
Onari, Hisashi, Waseda University, Japan
Paolucci, Emilio, Politecnico di Torino, Italy
Xu, Dongming, The University of Queensland, Australia
Senior Editors
Ang, James S.K., National University of Singapore, Singapore
Bao, Helen, Cambridge University, UK
Chen, Houn-Gee, National Taiwan University, Taiwan, Province of China
Chen, Yuxin, New York University Shanghai, China
Cheng, Hsing Kenneth, University of Florida, USA
Cheung, Waiman, The Chinese University of Hong Kong, Hong Kong SAR, China
Advisory Board
Ahn, Sang-Hyung, Seoul National University, South Korea
Chen, Hsinchun, The University of Arizona, USA
Jiang, James J., National Taiwan University, Taiwan, Province of China
Keil, Mark, Georgia State University, USA
Lee, Jae Kyu, Korea Advanced Institute of Science and Technology, South Korea
Wang, Richard, Massachusetts Institute of Technology, USA
Watson, Richard, University of Georgia, USA
Editorial Board Members
Brown, Terrence E., KTH Royal Institute of Technology, Sweden
Chen, Ping, University of Massachusetts-Boston, USA
Dai, Hua, University of Wisconsin, USA
Ding, Yi, Georgia Gwinnett College, USA
Gong, Yeming, EMLYON Business School, France
Gu, Dongxiao, Hefei University of Technology, China
Hung, Shin-Yuan, National Chung Cheng University, Taiwan, Province of China
Li, Xue, The University of Queensland, Australia
Luo, Xin, University of New Mexico, USA
Quan, Jim Jing, Salisbury University, USA
Robben, Henry, Universiteit Nyenrode, Netherlands
Shen, Xiao-Liang, Wuhan University, China
Tayi, Giri Kumar, State University of New York at Albany, USA
Wang, Donghan, Communication University of China, China
Wang, Maggie, The University of Hong Kong, Hong Kong SAR, China
A few essentials for publishing in this journal
Submitted articles should not have been previously published or be currently under consideration for publication elsewhere.
Conference papers may only be submitted if the paper has been completely re-written (more details available here) and the author has cleared any necessary permissions with the copyright owner if it has been previously copyrighted.
Briefs and research notes are not published in this journal.
All our articles go through a double-blind review process.
All authors must declare they have read and agreed to the content of the submitted article. A full statement of our Ethical Guidelines for Authors (PDF) is available.
There are no charges for publishing with Inderscience, unless you require your article to be Open Access (OA). You can find more information on OA here.



Submission process

All articles for this journal must be submitted using our online submissions system.
View Author guidelines.