International Journal of Human Resources Development and Management
This journal also publishes Open Access articles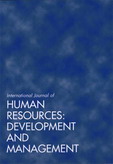 Editor in Chief

Dr. M.A. Dorgham

ISSN online

1741-5160

ISSN print

1465-6612
4 issues per year


CiteScore

1.9 (2022)

IJHRDM covers all issues that arise when dealing with the most important of all resources - the human resource. This includes issues that are related to their growth and development as a tool in the workplace (e.g. skill training and proficiency enhancement) and in managing them effectively as a resource. The workplace is defined very broadly - it could be in a manufacturing setting or in a service setting in a changing and dynamic global environment.
Topics covered include
Policy initiatives
Worker rights, benefits and responsibilities
Employee-management relations
Strategic planning and allocation
Education and training
Recruitment and work practices
Professional development and leadership
Cultural, cross-cultural and gender issues
Role of the unions andtheir impact on organisational productivity and worker satisfaction
Worker employability and transferability of skills
Wage and incentive aspects of employment
Worker retirement issues
Impact of technology on human resources practices
Employees as a source of innovation and creation
More on this journal...
Objectives
To enrich the quality of human life at work by serving as a forum for exchanging experiences and disseminating information in human resources development and management originating in diverse disciplines such as engineering, business and commerce, politics, health and biological sciences, law enforcement and defence, management, and education, among others.
To establish and develop channels of communication between policy makers, researchers, practitioners, and other professionals working in human resources development and management in manufacturing and service sectors.
To provide a forum for exchange of human resources development and management initiatives and practices in different countries and cultures of the world, recognising that enriching the quality of human life is not the exclusive preserve of one country or culture, and that every country and culture could benefit from the experiences of other countries and cultures.
Readership
IJHRDM is intended to be a resource to those interested in the growth and management of human resources. This includes, but is not limited to, managers, engineers, policy makers and planners, legal experts, union leaders, researchers, practitioners, consultants, business leaders and employers, educators, and recruiters in manufacturing and service enterprises. The nature of the topic is such that readership will be global.
Contents
IJHRDM will publish original work advancing theoretical constructs (including concepts, models, algorithms, methods, etc.), field and laboratory based experimental evaluations of such theoretical constructs and policy initiatives, case studies, state-of-the-art reviews, commentaries on policies, meeting and conference reports, book reviews and notes, and other significant news relevant to the discipline. From time-to-time, IJHRDM will devote special issues to pressing roblems in human resources development and management.
Editor in Chief
Dorgham, M.A., International Centre for Technology and Management, UK
(editorialinderscience.com)
Associate Editors
Chew, Rosalind, Nanyang Technological University, Singapore
Chew, Soon Beng, Nanyang Technological University, Singapore
Guettel, Wolfgang H., Johannes Kepler University Linz, Austria
Jolly, Dominique, CERAM Sophia Antipolis, France
Laßleben, Hermann, Hochschule Reutlingen, Germany
Streumer, Jan N., Rotterdam University of Applied Sciences/Edutec, Netherlands
Editorial Board Members
Asfour, Shihab S., University of Miami, USA
Buechtemann, Christoph F., International Centre for Research on Innovation and Society, USA
Carnoy, Martin, Stanford University, USA
Compton, Robert-Leigh, University of Newcastle, Australia
Corpakis, Dimitri, European Commission, Belgium
Dryden, Robert D., Portland State University, USA
Fatehi, Kamal, Kennesaw State University, USA
Herstatt, Cornelius, Technische Universität Hamburg-Harburg (TUHH), Germany
Jain, Ravi, University of the Pacific, USA
Ko, Jyh-Jer Roger, National Taiwan University, Taiwan, Province of China
Lyu, Bei, Huaibei Normal University, China
Monden, Yasuhiro, University of Tsukuba, Japan
Plosila, Walter H., Technology Partnership Practice, USA
Price, Andrew D. F., Loughborough University, UK
Rice, Valerie, US Army Medical Department Center and School, USA
Saxena, S.K., Directorate General Factory Advice Service & Labor Institutes, India
Shelton, Stephen, University of New Mexico, USA
Teltumbde, Anand, Petronet India Limited, India
Tyson, Shaun, Cranfield University, UK
Welpe, Isabell, Ludwig-Maximilians-Universität, Germany
Yamada, Yoshiyasu, Tokyo University of Science, Japan
Yearout, Robert, University of North Carolina, USA
A few essentials for publishing in this journal
Submitted articles should not have been previously published or be currently under consideration for publication elsewhere.
Conference papers may only be submitted if the paper has been completely re-written (more details available here) and the author has cleared any necessary permissions with the copyright owner if it has been previously copyrighted.
Briefs and research notes are not published in this journal.
All our articles go through a double-blind review process.
All authors must declare they have read and agreed to the content of the submitted article. A full statement of our Ethical Guidelines for Authors (PDF) is available.
There are no charges for publishing with Inderscience, unless you require your article to be Open Access (OA). You can find more information on OA here.



Submission process

All articles for this journal must be submitted using our online submissions system.
View Author guidelines.