International Journal of Happiness and Development
This journal also publishes Open Access articles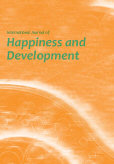 Editor in Chief

Dr. Parviz Dabir-Alai

ISSN online

2049-2804

ISSN print

2049-2790
4 issues per year


Impact factor (Clarivate Analytics) 2023

0.6 (5 Year Impact Factor 0.6)
JCI 0.25
IJHD is an interdisciplinary journal that seeks to broaden our understanding of 'happiness' and how it may relate to development from economic, political, psychological, and/or sociological perspectives. The journal entertains all definitions of happiness, including 'subjective well-being' or 'life satisfaction' – commonly used terms in economics. It welcomes rigorous and scientific papers that provide theoretical or empirical investigations which improve our understanding of how happiness is generated and how it may relate to development – interpreted at both micro and macro levels.
Topics covered include
Determinants or consequences of happiness
Country or societal development
Development economics
Economic and other forms of development
Individual or cross-country studies
Human development
Living standards and quality of life
Education and health
Technology, communications and infrastructure
Trade and environment
Foreign aid other international flows
Inequality in development or happiness
International relations, happiness and development
Peace, conflict resolution, development and happiness
Additional topics, such as those at http://worlddatabaseofhappiness.eur.nl/

More on this journal...

Objectives

The objective of IJHD is to encourage applied and pragmatic critical analysis of issues relating to happiness and development. The journal seeks to establish an effective channel of communication between researchers, policy makers, practitioners and readers interested in individual or societal happiness. IJHD contributes to policy debate or controversies which reflect a range of views on the causes of increased happiness and the consequences of individual or country levels of happiness.

Readership

IJHD engages a broad and international audience. Its content is essential reading for academics, researchers, public servants, advocates, journalists and policy makers.

Contents

IJHD publishes original papers, review papers, case studies and book reviews. Special Issues devoted to important topics in happiness, well-being and development are occasionally published.
Honorary Editor
Arvin, Mak B., Trent University, Canada
Editor in Chief
Dabir-Alai, Parviz, Richmond University, UK
(dabirprichmond.ac.uk)
Associate Editor
Graham, Carol, Brookings Institution and University of Maryland, USA
Book Review Editor
Wu, Fengyu, East China Normal University, China
Editorial Board Members
Arnott, Richard, University of California – Riverside , USA
Baltatescu, Sergiu, University of Oradea, Romania
Brinia, Vasiliki, Athens University of Economics and Business, Greece
Clark, Andrew, Ecole Normale Supérieure , France
Coccia, Mario, National Research Council of Italy, Italy
Cuesta-Valiño, Pedro, Universidad de Alcalá, Spain
De, Suvayan, University of Charleston, USA
Dunn, Elizabeth, University of British Columbia , Canada
Easterlin, Richard, University of Southern California , USA
Eisenbardt, Monika, University of Economics in Katowice, Poland
Gaston-Breton, Charlotte, ESCP Business School, Spain
Guisan, Carmen, University of Santiago de Compostela , Spain
Justinek, Gorazd, New University, Slovenia
Kaliterna Lipovčan, Ljiljana, Ivo Pilar Institute of Social Sciences, Croatia
Kittiprapas, Sauwalak, International Research Associates for Happy Societies (IRAH) and Rangsit University, Thailand
Lahiri, Sajal, Southern Illinois University Carbondale, USA
Lew, Byron, Trent University, Canada
Macleod, Andrew, Royal Holloway, University of London , UK
Pradhan, Rudra P., Indian Institute of Technology, India
Pugno, Maurizio, University of Cassino, Italy
Radcliff, Benjamin, University of Notre Dame , USA
Ravina-Ripoll, Rafael, Universidad de Cádiz, Spain
Spangenberg, Sabine, Richmond University, UK
Thin, Neil, University of Edinburgh, UK
Tonon, Graciela, Universidad de Palermo and Universidad Nacional de Lomas de Zamora, Argentina
Veenhoven, Ruut, Erasmus University Rotterdam, Netherlands
Voyer, Benjamin, ESCP Business School, UK
Zarin, Milad, University of Neuchâtel, Switzerland
A few essentials for publishing in this journal
Submitted articles should not have been previously published or be currently under consideration for publication elsewhere.
Conference papers may only be submitted if the paper has been completely re-written (more details available here) and the author has cleared any necessary permissions with the copyright owner if it has been previously copyrighted.
Briefs and research notes are not published in this journal.
All our articles go through a double-blind review process.
All authors must declare they have read and agreed to the content of the submitted article. A full statement of our Ethical Guidelines for Authors (PDF) is available.
There are no charges for publishing with Inderscience, unless you require your article to be Open Access (OA). You can find more information on OA here.



Submission process

All articles for this journal must be submitted using our online submissions system.
View Author guidelines.