International Journal of Financial Services Management
This journal also publishes Open Access articles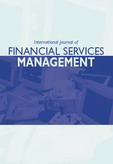 Editor in Chief

Dr. M.A. Dorgham

ISSN online

1741-8062

ISSN print

1460-6712
4 issues per year

IJFSM is a highly professional, fully refereed international journal publishing literature covering the broad area of financial services. It focuses on the development of the best practices of management among financial service companies. It serves both academics and practitioners, with an emphasis on case studies, innovations and forensics.
Topics covered include
Governance of financial service companies
Risk management
Board effectiveness
Customer service and development
Communication
Financial regulation
Technology and process efficiencies
Data management
Mergers and acquisitions
Modelling, model risk and model validation
Marketing
Portfolio management
Financial markets
Financial product innovation
Financial law
More on this journal...
Objectives
IJFSM publishes high quality original research papers and, when appropriate, literature surveys. It covers all aspects of financial services management worldwide, dealing with current practices as well as future prospects and developments. The journal is primarily interested in the financial sector|s structure, prospects, development and trends. It brings together and shares important information among expert writers and readers from different disciplines.
Readership
Bankers, financial executives, lawyers and accountants, academics and researchers, decision makers and managers within governmental and international financial institutions, and other professionals.
Contents
IJFSM publishes original and review papers, technical reports, case studies, conference reports, management reports, book reviews, and notes, commentaries, and news. Contribution may be by submission or invitation, and suggestions for special issues and publications are welcome.
Editor in Chief
Dorgham, M.A., International Centre for Technology and Management, UK
(supportinderscience.com)
Associate Editor
Luo, Amanda, Stockholm University, Sweden
Regional Editors
Barrutia, Jose Maria, Universidad del País Vasco/Euskal Herriko Unibersitatea, Spain
Kuo, Hsien-Chang, National Chi-Nan University, Taiwan, Province of China
Liao, Ziqi, Hong Kong Baptist University, Hong Kong SAR, China
Wonglimpiyarat, Jarunee, Massachusetts Institute of Technology, USA
Editorial Board Members
Agiomirgianakis, George M., The Hellenic Mediterranean University, Greece
Asteriou, Dimitrios, Oxford Brookes, UK
Branson, Joël, Vrije Universiteit Brussel, Belgium
Ciurel, Violeta, Academy of Economic Sciences, Romania
Essayyad, Musa, McNeese State University, USA
Günther, Johann, Danube University Krems, Austria
Gedeshy, Ilir, Center for Economic and Social Studies, Albania
Joseph, Mathew, St. Mary's University, USA
Jun, Minjoon, New Mexico State University, USA
Karjaluoto, Heikki, University of Jyväskylä, Finland
Khalfan, Abdulwahed, College of Business Studies, Kuwait
Koenig, David R., Ductilibility, USA
Lewis, Michael, Association for Payment Clearing Services (APACS), UK
McLeod, Robert W., University of Alabama, USA
Murinde, Victor, University of Birmingham, UK
Mylonakis, Ioannis, Ministry of Finance, Greece
Pilbeam, Keith, City University (London), UK
Raad, Elias, Lebanese American University, Lebanon
Regan, Tom H., University of South Carolina, USA
Seco, Luis A., University of Toronto, Canada
Statev, Statty, University for National and World Economy, Bulgaria
Tripipatkul, Rachanee, Standard Chartered Nakornthon Bank Plc, Thailand
Vilrokx, Jacques, TESA – Vakgroep voor social orderzoek Vrije Universiteit Brussel, Belgium
Worthington, Steve, Monash University, Australia
Wu, Dexter Dexiang, Stockholm University, Sweden
Yamamoto, Kiyoshi, Center for National University Finance and Management, Japan
Zhu, Faye X., Rowan University, USA
A few essentials for publishing in this journal
Submitted articles should not have been previously published or be currently under consideration for publication elsewhere.
Conference papers may only be submitted if the paper has been completely re-written (more details available here) and the author has cleared any necessary permissions with the copyright owner if it has been previously copyrighted.
Briefs and research notes are not published in this journal.
All our articles go through a double-blind review process.
All authors must declare they have read and agreed to the content of the submitted article. A full statement of our Ethical Guidelines for Authors (PDF) is available.
There are no charges for publishing with Inderscience, unless you require your article to be Open Access (OA). You can find more information on OA here.



Submission process

All articles for this journal must be submitted using our online submissions system.
View Author guidelines.