International Journal of Foresight and Innovation Policy
This journal also publishes Open Access articles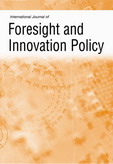 Editor in Chief

Dr. M.A. Dorgham

ISSN online

1740-2824

ISSN print

1740-2816
4 issues per year


CiteScore

1.6 (2022)

IJFIP addresses knowledge creation, diffusion and utilisation in innovation policy, thus covering all types of Strategic Intelligence (SI), defined as the set of actions that search, process, diffuse and protect information to make it available to the right person at the right time to make the right decision. SI examples in innovation include foresight, forecasting, Delphi studies, technology assessment, benchmarking, R&D evaluation and technology roadmapping. Use (actual/potential) of the various types/methods of SI (creation/diffusion) in the policy-making process is highlighted.
Topics covered include
Generation, diffusion and utilisation of strategic intelligence (SI)
Differences between types of SI
Types of and experiences with institutionalisation of the SI function
Contribution of SI to the quality, democratic content and rationality of decision making on innovation
Articulation of demand following SI
International cooperation, e.g. to stimulate international learning processes and realise economies of scale
Context dependency/transferability of SI
Impact of SI on decision making on innovation
Specific case studies
Methodological aspects of SI
More on this journal...
Objectives
The IJFIP aims to further develop insight into the role of strategic intelligence in innovation policy and practice by acting as a scientific forum and contributing to the interaction between researchers, policy makers and actors involved in innovation processes.
Readership
Scholars in the domains of innovation studies, (public) policy making and management sciences, (innovation) policy makers and other actors involved in innovation processes from the public as well as from the private sector.
Contents
The IJFIP publishes original and reviewed academic papers, case studies, conference reports and book reviews. Contributions may be by submission or invitation and suggestions for special issues and publications are welcome.
Editor in Chief
Dorgham, M.A., International Centre for Technology and Management, UK
(editorialinderscience.com)
Associate Editors
Ahamer, Gilbert, Graz University, Austria
Chen, Jin, Tsinghua University, China
Gerhard, Daniel, Friedrich-Alexander-Universität Erlangen-Nürnberg, Germany
Kuhlmann, Stefan, University of Twente, Netherlands
Kuwahara, Terutaka, National Institute of Science and Technology Policy, NISTEP, Japan
Shapira, Philip, Georgia Institute of Technology, USA
Smits, Ruud E., University of Utrecht, Netherlands
Yuan, Benjamin J.C., National Chiao Tung University, Taiwan, Province of China
Regional Editor China
Wei, Yi-Ming, Beijing Institute of Technology (BIT), China
Regional Editor Eastern Europe and Russia
Havas, Attila, Institute of Economics, Hungarian Academy of Sciences, Hungary
Regional Editor Japan
Eto, Hajime, University of Tsukuba, Japan
Regional Editor North America
Porter, Alan, Georgia Tech, USA
Regional Editor SE Asia and Australia
Johnston, Ron, University of Sydney, Australia
Regional Editor South America
Albornoz, Mario, Center for Science, Development and Higher Education Studies, (REDES), Argentina
Regional Editor Western Europe
Ducatel, K., European Commission, Belgium
Editorial Board Members
Acheson, Helena, Competitiveness and Innovation, Ireland
Arnold, Erik, Technopolis Ltd, UK
Fahrenkrog, Gustavo, European Commission Institute for Prospective Technological Studies, Spain
Grin, John, University of Amsterdam, Netherlands
Grunwald, Armin, Research Center Karlsruhe GmbH, Germany
Hicks, Diana, Georgia Institute of Technology, USA
Khoong, Chan Meng, National University of Singapore, Singapore
Klusacek, Karel, Academy of Sciences CR, Czech Republic
Kondo, Masayuki, Kaishi Professional University, Japan
Kozlowski, Jan, Warsaw University, Poland
Levner, Eugene, Holon Institute of Technology, Israel
Lin, Otto C.C., Hong Kong University of Science and Technology, Hong Kong SAR, China
Meng, Hsien-Chun, National Science Council, Taiwan, Province of China
Perrons, Robert K., Queensland University of Technology, Australia
Qiquan, Yang, National Research Center for Technology for Development, China
Renn, Ortwin, Institute for Advanced Sustainability Studies (IASS), Potsdam, Germany
Rip, Arie, University Twente, Netherlands
Roelandt, T., Ministry of Economic Affairs, Netherlands
Salo, Ahti, Helsinki University of Technology, Finland
Sorup, Per, European Commission, Spain
Tsipouri, Lena, National University of Athens, Greece
Van Lente, Harro, University of Utrecht, Netherlands
A few essentials for publishing in this journal
Submitted articles should not have been previously published or be currently under consideration for publication elsewhere.
Conference papers may only be submitted if the paper has been completely re-written (more details available here) and the author has cleared any necessary permissions with the copyright owner if it has been previously copyrighted.
Briefs and research notes are not published in this journal.
All our articles go through a double-blind review process.
All authors must declare they have read and agreed to the content of the submitted article. A full statement of our Ethical Guidelines for Authors (PDF) is available.
There are no charges for publishing with Inderscience, unless you require your article to be Open Access (OA). You can find more information on OA here.



Submission process

All articles for this journal must be submitted using our online submissions system.
View Author guidelines.