International Journal of Financial Engineering and Risk Management
This journal also publishes Open Access articles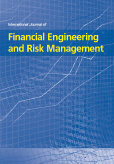 Editor in Chief

Prof. Constantin Zopounidis

ISSN online

2049-0917

ISSN print

2049-0909
4 issues per year

IJFERM is a scholarly peer-reviewed international journal covering all aspects of the theory and practice of financial engineering and risk management. IJFERM is particularly interested in promoting research related to the development and implementation of new quantitative models leading to operational decision aids in finance. This perspective is motivated by the increasing complexity of financial decisions and the rapidly increasing use of quantitative methods for the design and implementation of innovative financial instruments, processes and solutions to financial decision-making problems.
Topics covered include
Asset pricing
Asset-liability management
Capital budgeting and financial planning
Computational and mathematical finance
Corporate performance and efficiency analysis
Decision support systems for financial decision making
Financial forecasting and econometrics
Fund management
Hedging and trading strategies
Interest rate modelling
Investment appraisal and management
Operations research/management science models in finance
Quantitative behavioural finance
Project finance
Risk metrics and risk management
More on this journal...
Objectives
The purpose of IJFERM is to publish innovative, original and high-standard research aiming to provide as broad a coverage as possible of different relevant modelling approaches and paradigms stemming from traditional fields such as probability theory, stochastic calculus, statistics, econometrics, as well as from new approaches based on management science/operations research and artificial intelligence.
Readership
IJFERM is of interest to a broad audience including academics, researchers, professionals and policy makers.
Contents
IJFERM publishes high quality original and review papers as well as case studies. Special issues devoted to important topics relevant to the quantitative aspects of financial engineering financial risk management and financial decision-making will occasionally be published.
IJFERM is indexed in:
IJFERM is listed in:

This journal is yet to be included in any lists or directories.

Editor in Chief
Zopounidis, Constantin, Audencia Nantes School of Management, France and Technical University of Crete, Greece
(kostasdpem.tuc.gr)
Managing Editor
Doumpos, Michael, Technical University of Crete, Greece
Associate Editors
Andriosopoulos, Kostas, ESCP Europe, UK
D'Ecclesia, Rita, "La Sapienza" University of Rome, Italy
Galariotis, Emilios, Audencia Nantes School of Management, France
Tsekrekos, Andrianos, Athens University of Economics and Business, Greece
Regional Editor Asia and Oceania
Chen, Shu-Heng, National Chengchi University, Taiwan, Province of China
Regional Editor North America
Koutmos, Gregory, Fairfield University, USA
Editorial Board Members
Angilella, Silvia, University of Catania, Italy
Atiya, Amir, Cairo University, Egypt
Bancel, Franck, ESCP Europe, France
Brabazon, Anthony, University College Dublin, Ireland
Chevalier, Alain, ESCP Europe, France
Consigli, Giorgio, University of Bergamo, Italy
Dimitras, Augustinos I., Hellenic Open University, Greece
Fabozzi, Frank J., EDHEC Business School, USA
Frydman, Halina, New York University, USA
Gaganis, Chrysovalantis, University of Crete, Greece
Gil Aluja, Jaime, University of Barcelona, Spain
Gougeon, Patrick, ESCP Europe, UK
Hasan, Iftekhar, Fordham University, USA
Ioannidis, Christos, University of Bath, UK
Kosmidou, Kyriaki V., Aristotle University of Thessaloniki, Greece
Matarazzo, Benedetto, University of Catania, Italy
Nagurney, Anna, University of Massachusetts at Amherst, USA
Nomikos, Nikos, City University, London, UK
Pardalos, Panos M., University of Florida, USA
Pasiouras, Fotios, Montpellier Business School, France
Peccati, Lorenzo, Bocconi University, Italy
Satchell, Steve, University of Cambridge, UK
Siriopoulos, Kostas, University of Patras, Greece
Siskos, Yannis, University of Piraeus, Greece
Slowinski, Roman, Poznan University of Technology, Poland
Steuer, Ralph, University of Georgia, USA
Stulz, René M., Ohio State University, USA
Tapiero, Charles S., New York University Polytechnic Institute, USA
Uryasev, Stan, University of Florida, USA
Van Der Wijst, Nico, Norwegian University of Science and Technology, Norway
Ziemba, William T., University of British Columbia, Canada
A few essentials for publishing in this journal
Submitted articles should not have been previously published or be currently under consideration for publication elsewhere.
Conference papers may only be submitted if the paper has been completely re-written (more details available here) and the author has cleared any necessary permissions with the copyright owner if it has been previously copyrighted.
Briefs and research notes are not published in this journal.
All our articles go through a double-blind review process.
All authors must declare they have read and agreed to the content of the submitted article. A full statement of our Ethical Guidelines for Authors (PDF) is available.
There are no charges for publishing with Inderscience, unless you require your article to be Open Access (OA). You can find more information on OA here.



Submission process

All articles for this journal must be submitted using our online submissions system.
View Author guidelines.