International Journal of Energy Technology and Policy
This journal also publishes Open Access articles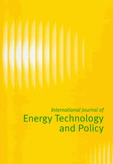 Editor in Chief

Dr. M.A. Dorgham

ISSN online

1741-508X

ISSN print

1472-8923
6 issues per year


CiteScore

2.3 (2022)

IJETP is a vehicle to provide a refereed and authoritative source of information in the field of energy technology and policy.
Topics covered include
Innovation and new development
Energy efficiency/saving, economics, security, risk
Cleaner/renewable energy technologies
Alternative energy technologies/sources
Environmental planning
Energy R&D strategies/policies
Energy foresight and scenarios
Experience curves, integrated design
Emerging generic technologies
National energy [research] policies
Energy system analysis, planning
Energy systems and services
Energy transmission/distribution
Distributed generation technologies
Rural/remote electrification and energy supply
More on this journal...
Objectives
The objective of the IJETP is to further the development of this dynamic and innovative topic: to disseminate knowledge and provide a global forum for professionals in the field to learn from each other|s work. IJETP also aims to establish channels of communication between relevant academics and research experts, policy makers and executives in industry, commerce and investment institutions.
Readership
Professionals, academics, researchers and policy makers.
Contents
The IJETP publishes original papers, review papers, case studies, conference reports, relevant technology and management reports, and news, book reviews ands notes. Commentaries on papers and reports published in the IJETP are encouraged.
Honorary Editor
Daim, Tugrul U., Portland State University, USA
Editor in Chief
Dorgham, M.A., International Centre for Technology and Management, UK
(supportinderscience.com)
Associate Editors
Lutzenhiser, Loren, Portland State University, USA
Solovev, Denis B., Far Eastern Federal University, Russian Federation
Editorial Board Members
Andersen, Per Dannemand, Technical University of Denmark, Denmark
Bandyopadhyay, Santanu, Indian Institute of Technology, Bombay, India
Benim, A. C., Duesseldorf University of Applied Sciences, Germany
Bowen, William M., Cleveland State University, USA
Estep, Judith, US Department of Energy, USA
Gopalakrishnan, Bhaskaran, West Virginia University, USA
Hannegan, Bryan, National Renewable Energy Laboratory, USA
Jenkins, Bryan M., University of California, Davis, USA
Karvonen, Matti, Lappeenranta University of Technology, Finland
Kassi, Tuomo Sakari, Lappeenranta University of Technology, Finland
Liu, Ronghou, Shanghai Jiao Tong University, China
Messineo, Antonio, Università degli Studi di Enna "Kore", Italy
Neij, Lena, Lund University, Sweden
Oliver, Terry, Bonneville Power Administration, USA
Reddy, M V Venkatashamy, Hydro Quebec, Canada
Sick, Nathalie, Helmholtz-Institute Muenster, Germany
Tsatsaronis, George, Technische Universität Berlin, Germany
Vasilakos, Athanasios, Lulea University of Technology, Sweden
Volpe, Roberto, Università degli Studi di Enna "Kore", Italy
Zhou, Yuan (Joseph), Tsinghua University, China
A few essentials for publishing in this journal
Submitted articles should not have been previously published or be currently under consideration for publication elsewhere.
Conference papers may only be submitted if the paper has been completely re-written (more details available here) and the author has cleared any necessary permissions with the copyright owner if it has been previously copyrighted.
Briefs and research notes are not published in this journal.
All our articles go through a double-blind review process.
All authors must declare they have read and agreed to the content of the submitted article. A full statement of our Ethical Guidelines for Authors (PDF) is available.
There are no charges for publishing with Inderscience, unless you require your article to be Open Access (OA). You can find more information on OA here.



Submission process

All articles for this journal must be submitted using our online submissions system.
View Author guidelines.