International Journal of Environmental Technology and Management
This journal also publishes Open Access articles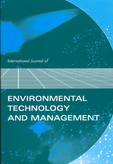 Editor in Chief

Dr. M.A. Dorgham

ISSN online

1741-511X

ISSN print

1466-2132
6 issues per year


Impact factor (Clarivate Analytics) 2023

0.6 (5 Year Impact Factor 0.6)
JCI 0.04

CiteScore

0.6 (2022)

IJETM is an authoritative source of information in the field of environmental technology, policy and management. It deals with the shorter term, covering engineering, technical, policy and management solutions. It is one of three key journals which together offer comprehensive coverage of key environmental issues: IJEP focuses on early and medium-term challenges involving scientific prediction, modelling and assessment, and IJGEnvI focuses on longer-term environmental scenarios, ecological economics, climate change and biodiversity.
Topics covered include
Cleaner and zero emission technologies
Technological developments for environmental improvements, pollution control and economic development
New industrial process methods, pollution control improvements and economic development
Industry and energy technologies for sustainable product development and sustainable production
Eco-design and eco-efficiency
Ecologically driven manufacturing and services
Concepts of environmental engineering and protection
European and international law, regulations and technological standards
Incentives for innovation in environmental improvements
International comparison of welfare and environmental enhancement of cutting-edge technologies
Investment and abatement technologies
Case studies and evaluation of emerging environmental technologies
Environmental audit
More on this journal...
Objectives
The objectives of IJETM are to establish an effective channel of communication between policy-makers, government agencies, academics and research institutions, and professionals working in the field, and to provide a forum for them to disseminate information and to learn from each other|s work. The international dimension is emphasised in order to overcome cultural and national barriers and to meet the needs of accelerating technological change and changes in the global economy.
Readership
Professionals, academics, managers, researchers and policy makers.
Contents
The IJETM publishes original and review papers, technical reports, case studies, conference reports, management reports, book reviews, and notes, commentaries, and news. Contribution may be by submission or invitation, and suggestions for special issues and publications are welcome.
Editor in Chief
Dorgham, M.A., International Centre for Technology and Management, UK
(editorialinderscience.com)
Associate Editors
Christensen, Per, Aalborg University, Denmark
Dinc, Mustafa, The World Bank, USA
Franchetti, Matthew J., University of Toledo, USA
Haynes, Kingsley E., George Mason University, USA
Jain, Ravi, University of the Pacific, USA
Sahajwalla, Veena, University of New South Wales, Australia
Editorial Board Members
Ashford, Nicholas, MIT, USA
Barrera-Hernandez, Lila K., University of Calgary, USA
Baveye, Philippe C., UMR Ecosys, AgroParisTech, Université Paris‐Saclay, France
Bell, John, Queensland University of Technology, Australia
Blok, Kornelis, Utrecht University, Netherlands
Bowen, William M., Cleveland State University, USA
Eyerer, Peter, Fraunhofer Institut für Chemische Technologie (ICT), Germany
Gillespie, Jr., John W., University of Delaware, USA
Glasbergen, Pieter, Utrecht University, Netherlands
Haasis, Hans-Dietrich, University of Bremen, Germany
Hawley, Robert, World Nuclear University, UK
Huang, H., Guangzhou Institute of Energy Conversion, China
Krimsky, Sheldon, Tufts University, USA
Leal Filho, Walter, Hamburg University of Applied Sciences, Germany
Moghissi, A. Alan, Institute for Regulatory Science, USA
Mumford, John, Imperial College London, UK
Nijkamp, Peter, Free University, Netherlands
Ofori, George, National University of Singapore, Singapore
Qiang, Pan Zi, China National Nuclear Corporation, China
Riahi-Belkaoui, Ahmed, University of Illinois at Chicago, USA
Shi, Han Chang, Tsinghue University, China
Taboas, Anibal L., ASME, USA
Unruh, Gregory Charles, George Mason University, USA
Zhang, Xiaoning, South China University of Technology, China
A few essentials for publishing in this journal
Submitted articles should not have been previously published or be currently under consideration for publication elsewhere.
Conference papers may only be submitted if the paper has been completely re-written (more details available here) and the author has cleared any necessary permissions with the copyright owner if it has been previously copyrighted.
Briefs and research notes are not published in this journal.
All our articles go through a double-blind review process.
All authors must declare they have read and agreed to the content of the submitted article. A full statement of our Ethical Guidelines for Authors (PDF) is available.
There are no charges for publishing with Inderscience, unless you require your article to be Open Access (OA). You can find more information on OA here.



Submission process

All articles for this journal must be submitted using our online submissions system.
View Author guidelines.
Journal news
Recycling and repurposing plastic waste
8 November, 2022
Researchers in India have reviewed the state of play when it comes to plastics recycling in the International Journal of Environmental Technology and Management. Their main conclusion is that there are huge inefficiencies in plastics recycling and that major improvements are needed to the reprocessing systems so that we might begin to address this growing problem urgently. Soubhagya Keshari Chand of the Central Institute of Petrochemicals Engineering and Technology (CIPET) pat of the Government of India in Odisha and Sasmita Chand of the Centre of Sustainable Built Environment at Manipal Academy of Higher Education in Karnataka, India explain that as with many other nations, plastic waste is an enormous problem thanks to huge consumption and arbitrary disposal. Even places that have recycling facilities in place are often failing to collect and process the vast majority of the plastic waste we produce [...]
More details...